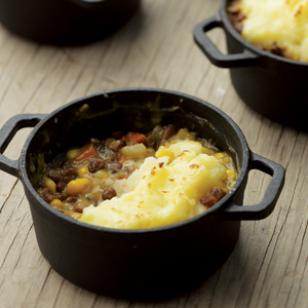 As a certified meat lover, it's hard to imagine cutting tasty bacon, savory chicken thighs or buttery steak from my diet. Still, I know that it's considerably healthier to reduce the amount of meat that I eat. A vegetarian diet could lower my risk of chronic conditions, including heart disease, high blood pressure and diabetes. And—no surprise—people who cut meat from their diet tend to take in less saturated fat and cholesterol and get more fiber, vitamins C and E and heart-healthy unsaturated fat. Getting the recommended 6 to 9 daily servings of fruits and vegetables is a cinch when you take meat out of the equation.
It's cheaper too. Since meat is the most expensive part of most meals, eating vegetarian will almost certainly save money. You can save $17.33 per month if you replace 1 pound of sirloin [$5.99] with a 14-ounce block of tofu [$1.96] once a week for 30 days.
There's more. While my wife and I try to do our part for the environment—bringing reusable bags to the supermarket, recycling, taking shorter showers, etc.—we could do a lot more simply by cutting back on the amount of meat we eat. Simply put, vegetarian sources of protein are much kinder to the planet. Livestock emissions contribute to global warming. And compared with growing vegetables, livestock require more land and resources including water, fertilizer, pesticides and fossil fuels.
But hold the celery sticks! Since I'm not ready to ditch my meaty favorites entirely, my wife and I are doing our best to eat meatless a few nights a week. That way, we still get some of the health benefits of vegetarianism without having to change our lifestyle completely. And, in the process, we've discovered that it's possible to make a meatless meal that's as satisfying as a porterhouse steak. The trick is umami, and the results are delicious.
You've probably heard of the four basic tastes: salty, sweet, sour and bitter. Well, the fifth taste is umami. It's best described as that round, mouth-coating sensation you get from eating a tasty meat dish. It's the reason why many low-fat versions of your favorite foods often don't taste quite right. But here's the thing: certain vegetarian foods actually have quite a bit of this satisfying flavor, including common kitchen staples like tomatoes, Parmesan cheese, tofu, corn and mushrooms. And if you mix those foods together, the effect is multiplied. The result? A meatless dish that satisfies just like a meaty one. Delicious!
Not convinced? Put it to the test: try one of these mouthwatering meatless versions of classic meaty meals and see whether you miss the meat. I'm sure you won't.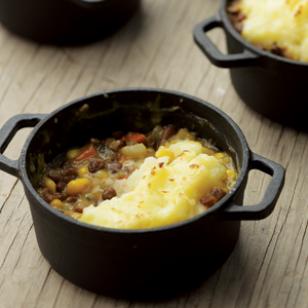 Vegetarian Shepherd's Pies:
These delicious mini vegetarian shepherd's pies feature lentils, carrot and corn, crowned with a velvety mashed potato topping. The recipe can also be made in a broiler-safe casserole dish.
Get the Recipe:
Vegetarian Shepherd's Pies & More Vegetarian Casseroles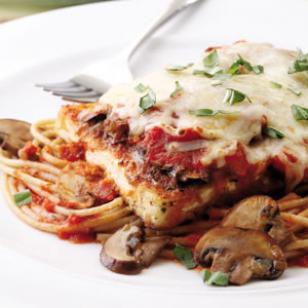 Tofu Parmigiana
:
The tofu "steaks" in our revamped Parmigiana are breaded and lightly pan-fried in just a small amount of oil then topped with part-skim mozzarella, fresh basil and your favorite marinara sauce, instead of having a greasy, battered coating. This Italian classic will please even those who are tofu-phobic.
Get the Recipe:
Tofu Parmigiana & More Meaty Tofu Recipes
Vegetarian Taco Salad
:
Nobody will miss the meat in this colorful, zesty vegetarian taco salad. The rice and bean mixture can be made ahead and the salad quickly assembled at mealtime.
Get the Recipe:
Vegetarian Taco Salad & More Satisfying Dinner Salads
Portobello "Philly Cheese Steak" Sandwich:
Cheese steaks are a Philadelphia tradition: thin slices from a rich and very fatty slab of beef, fried up and topped with a heavy cheese sauce. We've cut down on the fat considerably—but not on the taste. Make this fully vegetarian by using vegetable broth in place of chicken stock.
Get the Recipe:
Portobello "Philly Cheese Steak" Sandwich & More Satisfying Meatless Sandwiches