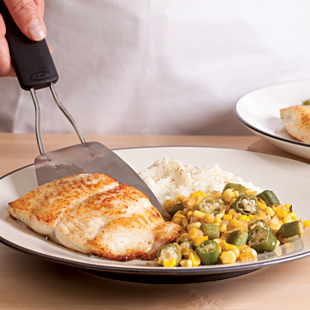 I'm pretty good in the kitchen, but there are a few areas that I feel I could improve upon. It's the simple things that trip me up the most–maybe because I don't feel like I really need to follow the recipe (it's so easy!) or pay that much attention to the specifics.
Like roasting a chicken, for example. I season it a little and throw it in the oven. It always comes out good–but not great. Why? Because I often overlook the little things I could do to make it even better. And I'll bet there are more people than just me in this boat. Here are 5 things I think we all should learn to cook or master in 2012 and a few tips to set you (and me) on the road to success.
1. Roast Chicken
Sounds easy (and it is), but there are some things you can do to make it great. Like invest in a good thermometer. Roast chicken can become dry in a hurry if it's overcooked. Temp your bird in the thickest part of the thigh until it reaches 165 degrees F. It will be thoroughly cooked, but still moist and juicy. And if you're like me and the million others who plan on eating healthier in the new year, the skin on the roast chicken is off limits. But you won't miss it if you remember to season your bird with salt and pepper
under
the skin. This way the seasoning makes direct contact with the meat so you'll get more flavor.
Recipes to Try:
Pan–Roasted Chicken & Gravy and More Roast Chicken Recipes
2. Stir-Fry
I'm in desperate need of quick weeknight recipes, so I'm setting out to master the stir-fry. I can't count the times I've wanted a stir-fry and ended up with a plate of steamed vegetables. One of the tricks here is to not go too crazy loading up your pan. This is a case where "the more the merrier" doesn't apply. Leave space in your pan to get a good sear on your food so it doesn't steam due to overcrowding.
Don't Miss:
4 Secrets to Speedy Weeknight Stir-Fries
3. A Healthy Burger
Everyone loves a juicy burger. But the classic juicy burger you probably had at your last barbecue was compliments of some not-so-lean beef. In the EatingWell Test Kitchen, we like to use 90%–lean ground beef or leaner. Good for the heart, but not so good for the juicy factor—lean beef can get incredibly dry. So I'm going to get creative about making healthier burgers by adding chopped vegetables and other things like barbecue sauce to the meat to boost flavor and moisture, and I'll be careful not to overwork the meat while I'm mixing it up so it doesn't become too tough.
Don't Miss:
6 Expert Tips for Cooking a Better, Juicy Burger
4. Pie Crust
Like anything in baking, pie crust can be temperamental. But if you perfect pie crust you have a great vessel for the season's best fruits and vegetables. I'm going to work on my pie-crust skills, such as always chilling my dough thoroughly before rolling it and taking care not to over mix so it doesn't toughen up and taste like cardboard.
Don't Miss:
How to Make Perfect Pie Crust
5. Fish
I'll be the first to admit, I don't eat as much fish as I should. I think it's because I don't know how to cook it perfectly. Well, this is the year of the fish for Hilary Meyer. I'm going to invest in a good nonstick pan (so I don't have to use a ton of oil to prevent my fish from sticking), keep tabs on what fish is sustainably caught and use our easy 3–step process for cooking up crispy fish fillets healthfully.
Don't Miss:
How to Cook Fish in 3 Easy Steps