Traditionally made with butter, canned soup and canned French-fried onions, Green Bean Casserole—a classic Thanksgiving side dish since its invention more than 55 years ago—is high in calories, sodium and saturated fat. When you taste the lighter version developed by my fellow cooks in the EatingWell Test Kitchen, we're sure you'll agree this is one culinary icon that was ready for a re-invention.
Don't Miss:
4 Ways to Make Healthier Sweet Potato Casserole
3 Secrets to Lighter Pecan Pie
Here's how our version stacks up nutritionally against the original recipe: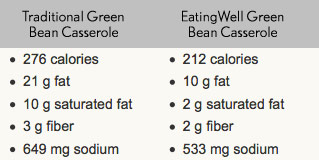 Here are our 5 secrets for making classic Green Bean Casserole healthier, and arguably more delicious:
1. Make Your Own Sauce
While condensed cream of mushroom soup is classic in a traditional green bean casserole, it is seriously high in sodium. Making your own mushroom cream sauce, using fresh mushrooms, lessens the sodium and bumps up the fresh flavor.
Related: How to Make Perfect Gravy
2. Use Frozen Green Beans
Take a healthier shortcut than canned green beans by using frozen green beans instead. Frozen green beans are a great quick-cooking item to have on hand, and are frozen at the peak of ripeness so they maintain their fresh flavor and vital nutrients.
3. Use Low-Fat Dairy
The traditional recipe for green bean casserole calls for butter, full-fat milk and sour cream, which, while adding richness, seriously bump up the saturated fat. We call for low-fat milk and reduced-fat sour cream. We also use tangy buttermilk powder to add depth of flavor but not a lot of calories or fat (look for it in the baking section of your supermarket). You get tons of flavor and 8 grams less saturated fat than traditional versions.
4. Add Flavor with Sherry
Sherry adds great depth of flavor to this recipe. Be careful when shopping, though: don't use the high-sodium "cooking sherry" sold in many supermarkets and instead look for dry sherry, sold with other fortified wines.
5. Skip the Canned Onions
Cut calories by skipping the canned fried onions and sautéing your own. Tossing fresh onion slices with garlic-seasoned flour and pan-frying them in just a small amount of oil gives you the texture and flavor of the canned version without all the calories.
Get the Recipe: Green Bean Casserole
More Must-Try Thanksgiving Recipes:
Mashed Potato Casserole & More Easy Thanksgiving Casseroles
Holiday Pumpkin Pie & More Simple Thanksgiving Desserts
---
This Recipe is Part of Food Network's Communal Table: Thanksgiving Edition
In honor of Thanksgiving, Food Network is getting the entire food community together to celebrate a Virtual Thanksgiving, called The Communal Table, on Wednesday, November 16 at noon EST. EatingWell is bringing the ever-popular healthy version of Green Bean Casserole.
See what our friends are bringing to the table and tell us what you would bring to the table on Twitter by using the hashtag: #pullupachair.
Cocktails, Appetizers, Salads and Breads:
Liquor.com: Thanksgiving Cocktails
The Kitchn: Goat Cheese Panna Cotta Topped With Canned Cranberry Jelly Cut-Outs
Big Girls Small Kitchen: Braided Biscuits
Epicurious: Chestnut and Sherry Soup
Yahoo! Shine: Spicy Caramelized Onion Jam With Goat Cheese
YumSugar: Kale and Chard Salad with Pomegranates and Hazelnuts
Whole Foods Market: Mixed Green Salad With Pears, Hazelnuts, Blue Cheese and Homemade Croutons
Mains:
FN Dish: Alton Brown's Good Eats Roast Turkey
Eatocracy: Country Ham With Pickled Peaches
BlogHer Food: Root Vegetable Pot Pie With Cheddar Biscuit Crust
Sides:
Cooking Light: Fennel, Sausage, and Caramelized Apple Stuffing
Bon Appetit: Maxine Rapoport's Turkey Stuffing
EatingWell: Green Bean Casserole
Serious Eats: Ultra-Crispy Roasted Potatoes
Oprah.com: David Chang's Roasted Brussels Sprouts With Asian Vinaigrette
Food Republic: Cavatappi With Fontina and Fall Vegetables
Healthy Eats: Green Bean Casserole With Crispy Shallots
Saveur: Green Beans and Tomatoes
Diner's Journal: Fiery Sweet Potatoes
Real Simple: Brown Sugar-Glazed Carrots With Rosemary and Pecans
The Daily Meal: Bacon Brussels Sprouts
AP/ J.M. Hirsch: Ginger-Pear Cranberry Sauce
Food52: Mashed Potatoes with Caramelized Onions and Goat Cheese
Food.com: Make-Ahead Mashed Potatoes
Food & Wine: Michael Symon's Swiss Chard and Leek Gratin
All You: Sweet Potato Bake
Desserts:
The Blender/ Williams-Sonoma: Deep-Dish Apple Bourbon Streusel Pie
Southern Living: Pumpkin-Pecan Cheesecake
Cooking Channel: Apple Bread Pudding
Fox News: Ginger Molasses Sugar Cookies
Gourmet Live: Pumpkin Coconut Panna Cotta
Melissa Clark: Sweet Potato Ginger Custard Pie
MyRecipes.com: White Chocolate Cheesecake With Cranberry Currant Compote
Jessie Price is the editor-in-chief of EatingWell magazine. Besides her work on 11 other EatingWell books, she is the author of the James Beard Award-winning The Simple Art of EatingWell and EatingWell One-Pot Meals. She lives in Charlotte, Vermont where she stays busy growing her own vegetables in the summer and tracking down great Vermont food products when she's not working.