Traditionally made with butter, canned soup and canned French-fried onions, Green Bean Casserole—a classic Thanksgiving side dish since its invention more than 55 years ago—is high in calories, sodium and saturated fat. When you taste the lighter version developed by my fellow cooks in the EatingWell Test Kitchen, we're sure you'll agree this is one culinary icon that was ready for a re-invention.
Don't Miss:
4 Ways to Make Healthier Sweet Potato Casserole
3 Secrets to Lighter Pecan Pie
Here's how our version stacks up nutritionally against the original recipe: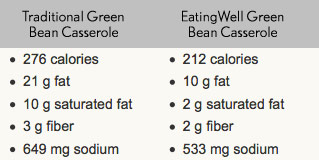 Here are our 5 secrets for making classic Green Bean Casserole healthier, and arguably more delicious:
1. Make Your Own Sauce
While condensed cream of mushroom soup is classic in a traditional green bean casserole, it is seriously high in sodium. Making your own mushroom cream sauce, using fresh mushrooms, lessens the sodium and bumps up the fresh flavor.
Related: How to Make Perfect Gravy
2. Use Frozen Green Beans
Take a healthier shortcut than canned green beans by using frozen green beans instead. Frozen green beans are a great quick-cooking item to have on hand, and are frozen at the peak of ripeness so they maintain their fresh flavor and vital nutrients.
3. Use Low-Fat Dairy
The traditional recipe for green bean casserole calls for butter, full-fat milk and sour cream, which, while adding richness, seriously bump up the saturated fat. We call for low-fat milk and reduced-fat sour cream. We also use tangy buttermilk powder to add depth of flavor but not a lot of calories or fat (look for it in the baking section of your supermarket). You get tons of flavor and 8 grams less saturated fat than traditional versions.
4. Add Flavor with Sherry
Sherry adds great depth of flavor to this recipe. Be careful when shopping, though: don't use the high-sodium "cooking sherry" sold in many supermarkets and instead look for dry sherry, sold with other fortified wines.
5. Skip the Canned Onions
Cut calories by skipping the canned fried onions and sautéing your own. Tossing fresh onion slices with garlic-seasoned flour and pan-frying them in just a small amount of oil gives you the texture and flavor of the canned version without all the calories.
Get the Recipe: Green Bean Casserole
More Must-Try Thanksgiving Recipes:
Mashed Potato Casserole & More Easy Thanksgiving Casseroles
Holiday Pumpkin Pie & More Simple Thanksgiving Desserts