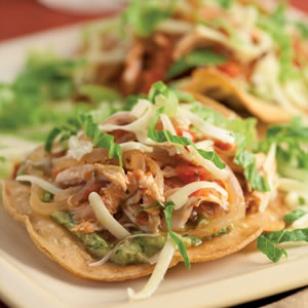 Q: "I ate way too much at Thanksgiving. How can I get back on track?"
A: OK, so you overate. We all did! For many people, Thanksgiving is a calculated calorie splurge—something they plan to pay for with good behavior in the following weeks. I know that I, for one, have a long history of redoubled jogging efforts starting the following Monday (after the long food coma of Thanksgiving afternoon).
But for many people, it's hard to know just how to get back on track. I was boggled when my co-worker Kerri-Ann Jennings calculated that it would take over 5 hours of walking through Black Friday sales to sweat off the average amount that people overeat on Thanksgiving. That's a lot of Sears sales! It's easy to get discouraged when thinking about it.
Fortunately, we at EatingWell have devised a plan to help you get back on track after the big day. By reaffirming the core values of healthy eating and calorie control, you can get back on track without any spinning-class heroics (or marathon shopping trips!). Even better: we've included what to eat when you're out, so if there is a sale you can't pass up, you won't have to sacrifice your diet to do so.
Countdown to Thanksgiving
For the two weeks leading up to Thanksgiving,
we'll be answering your most pressing Thanksgiving cooking questions
and offering up delicious Thanksgiving recipes, easy cooking advice and essential tips for making your Thanksgiving a meal to remember.