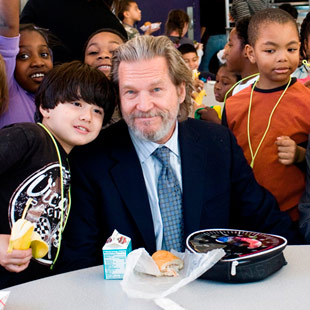 Learn more about hunger-related charities Jeff Bridges, Sheryl Crow and more celebs support and how you can give back too.
Lauren Bush-Lauren, niece of George W. Bush, co-founded FEED Projects after traveling with the World Food Program (WFP) and witnessing the need for funds and hunger awareness. "I thought creating a 'FEED bag'— made of the same burlap as the WFP's food drop bags—would be a compelling and tangible way for people to connect with the fight against hunger," says the designer, who has fashion in the family—husband is David Lauren, son of Ralph Lauren. Built into the cost of each bag is a donation tied to the number of people the purchase aids. The FEED 1 bag ($60) provides a year of school meals for one child in Africa. To date, sales have provided more than 64 million meals worldwide. How you can help: Buy a FEED bag and other products at
feedprojects.com
.
Jeff Bridges, Academy Award-winning actor and longtime hunger advocate, is dedicated to helping Share Our Strength's No Kid Hungry Campaign to end childhood hunger. "More than 17 million children in the U.S. don't receive the food they need to lead healthy, active lives. But our kids aren't hungry because we lack food… our children are hungry because we've lacked a big-picture strategy to connect them to the nutritious food they need to grow and thrive." No Kid Hungry helps eligible children and families enroll in food assistance programs, such as school breakfast, and teaches families to cook healthy, affordable meals. How you can help: Organize a bake sale, take the No Kid Hungry Pledge or donate at
NoKidHungry.org
.
Sheryl Crow, Grammy Award-winning singer, united with Feeding America, the largest collection of food banks in America, because "it is so important for everyone across the country to dare to be conscious and aware of the struggles of those around them." Feeding America provides food to more than 37 million people each year, via member food banks and independent agencies. How you can help: Visit
feedingamerica.org
to donate, start a virtual food drive and more, or call (800) 771-2303.
Photo Credit: Stephen Bobb