Is there anything better than fresh, in-season veggies straight from your local farm? Actually, yes. How about tender greens, crunchy snap peas and radishes that only have to travel the distance from your backyard to the salad bowl? That's the inspiration behind Plant Your Plate—a joint initiative between EatingWell and our sister publication Better Homes & Gardens. They're supplying the gardening advice and we're offering creative ways to transform your bounty into garden-fresh recipes and meals.
Get started with this step-by-step salad bar garden plan and pro advice for planting your own salad garden (both outdoors and in, for those of you who prefer to go the container-growing route).
Salad Bar Garden Layout Design
There's an old gardening truism that says what grows together goes together. This garden plan from Better Homes & Gardens is a case in point: all the salad greens and veggies can be mixed and matched in endless ways—and work no matter which combo you choose. They can also be planted in early spring in most locations. Best of all, BH&G picked vegetables that are foolproof and quick-growing, because everyone loves a little instant garden gratification.
Dimensions:
13 feet x 8 feet
What to Plant:
1. 'Green Salad Bowl' lettuce
2. 'Easter Egg' radish
3. Baby leaf spinach
4. 'Buttercrunch' lettuce
5. 'Red Salad Bowl' lettuce
6. 'Little Finger' carrot
7. Bunching onions
8. 'Bright Lights' chard
9. 'Snow Bird' snap pea
10. Mesclun mix
11. 'Maestro' pea
12. White & purple kohlrabi
13. Colored mix cauliflower
14. 'Pacman' broccoli
Must Read: 13 Easy-to-Grow Herbs and Vegetables
Gardening Tips to Grow Vegetables Like a Pro
Already a seasoned green thumb? Then by all means, go ahead and dig right in. But for gardening novices, this primer will help you get started.
1. Select the right spot.
These particular plants grow best in full sun, so scout your garden location accordingly. And check with your local garden cooperative extension to find out the best time to plant based on the area of the country you live in.
2. Map it out.
Want a bigger—or smaller—garden than our plan calls for? No problem. Scale the size up or down by adding or eliminating plants according to our basic layout.
3. Shape up.
Lay out a garden hose to mark the outline of each bed—or stake the four corners and run string between them for a straighter edge—then dig along the line to establish the edge of your bed. Finally, add a border, like stones or brick edging, to help keep weeds from creeping in, or a fence if hungry deer or rabbits might be a problem.
4. Prep the soil.
The plants in this salad garden thrive best in moist, well-drained, nutrient-rich soil. So consider adding a liberal layer of organic matter, like compost—especially if your soil contains lots of sand or clay. (You could also do a raised bed.)
5. Get growing!
Once the seeds or plants are in the ground, water them every other day for the first two weeks. Then make sure the garden gets around an inch of water a week (whether it comes from Mother Nature or your hose).
Get Inspired: 7 Easy Foods to Grow If You've Never Gardened Before
Tips for Growing a Salad Green Container Garden
If you don't have the space—or bandwidth—for a big outdoor garden, grow greens right on your countertop or small outdoor space, like a deck. These particular lettuces do well indoors and we love the unique flavor, color and texture they add to salads. Just snip, rinse and plate. No weeding required.
'Green Salad Bowl' lettuce
'Galactic' lettuce
'Green Forest' lettuce
'Red Salad Bowl' lettuce
'Tango' lettuce
Quick Tips: Make sure the container has good drainage. Plant your greens in good-quality potting soil. Place the container in a sunny place. Water every other day. The soil should be moist, but not drenched.
Get Full Instructions: How to Grow a Salad Container Garden
All-You Can Eat Salads!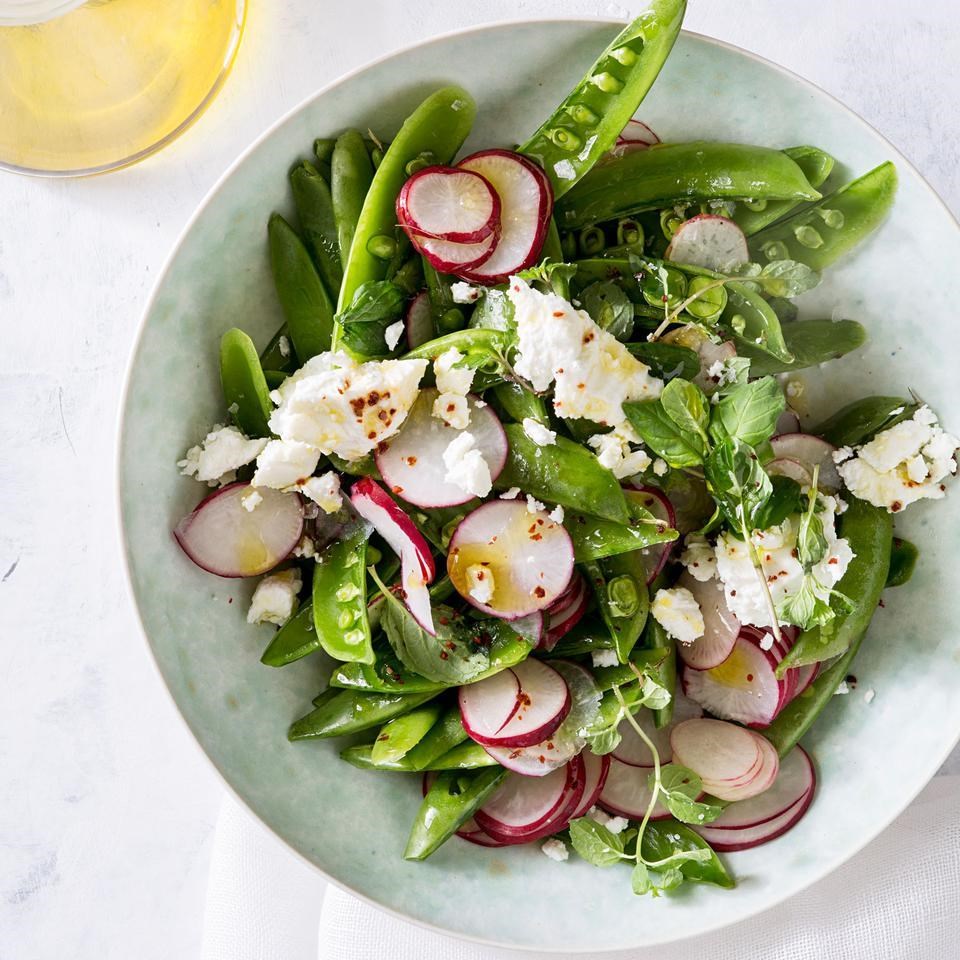 Pictured: Sugar Snap Pea Salad
When your garden is fully grown and ready to harvest, you will have a veritable salad bar at your fingertips. Maturation times for your plants will vary depending on your growing zone and what varieties of salad greens and vegetables you plant, so refer to your seed packet or seedling label for more exact times. You can begin harvesting lettuce leaves whenever leaves begin to form. For the freshest, crispest lettuce, harvest early in the morning before the sun begins to wilt the greens.
Step 1: Wash Your Greens
You need to wash all of the produce that you harvest from your garden. Wash greens right before you plan to eat them by soaking them a bowl of cold water for a few minutes. Swirl gently with your hand to loosen any dirt and then lift them out of the water and spin to dry in a salad spinner.
Step 2: Prep Your Veggies
Wash other salad veggies, such as carrots, peas and radishes, to remove dirt and debris. Trim and prep into bite-size pieces and add to your salad bowl.
Step 3: Snip Some Herbs
If you have an herb garden, snip some fresh herbs into the mix as well. This handy chart lists the best fresh herbs for salads.
Step 4: Toss It Up
Toss with a simple vinaigrette or find a new salad recipe to use up all those fresh veggies.
Read On:
6 Foolproof Herbs for Gardening Newbies
Healthy Salad Dressing Recipes
How to Grow Fruits & Veggies from Food Scraps