Let's face it, emojis have become as much a part of our language as good old-fashioned letters strung together into words. They can also make a super (and silly) birthday party theme with plenty of kid appeal. Take note of this roundup of fun ideas to get your party started. We're sure they'll give your little one a
.
Related: Magical Unicorn Birthday Party Ideas for Kids
Pictured Recipe: Poop Emoji Cupcakes
We've got a little secret: the frosting on top of these hilarious cupcakes contains a healthy dose of veggies (sweet potatoes to be exact). The kids will never know, so we'll leave it up to you on whether you want to spill the beans!
Related: Healthy Party-Food Ideas for Kids That Curb the Sugar Rush
2. Heart Fruit Skewers ❤️
These fruit kebabs might look elaborate, but all you need is a mini heart cookie cutter to pull them off (simply cut the fruit into thick slices, use the cutter to shape each slice, then slide the pieces onto skewers). We like the look of bright red strawberries and watermelon, but cantaloupe and kiwi would make tasty alternatives. Save the leftover fruit scraps for your next smoothie or make a watermelon slushie.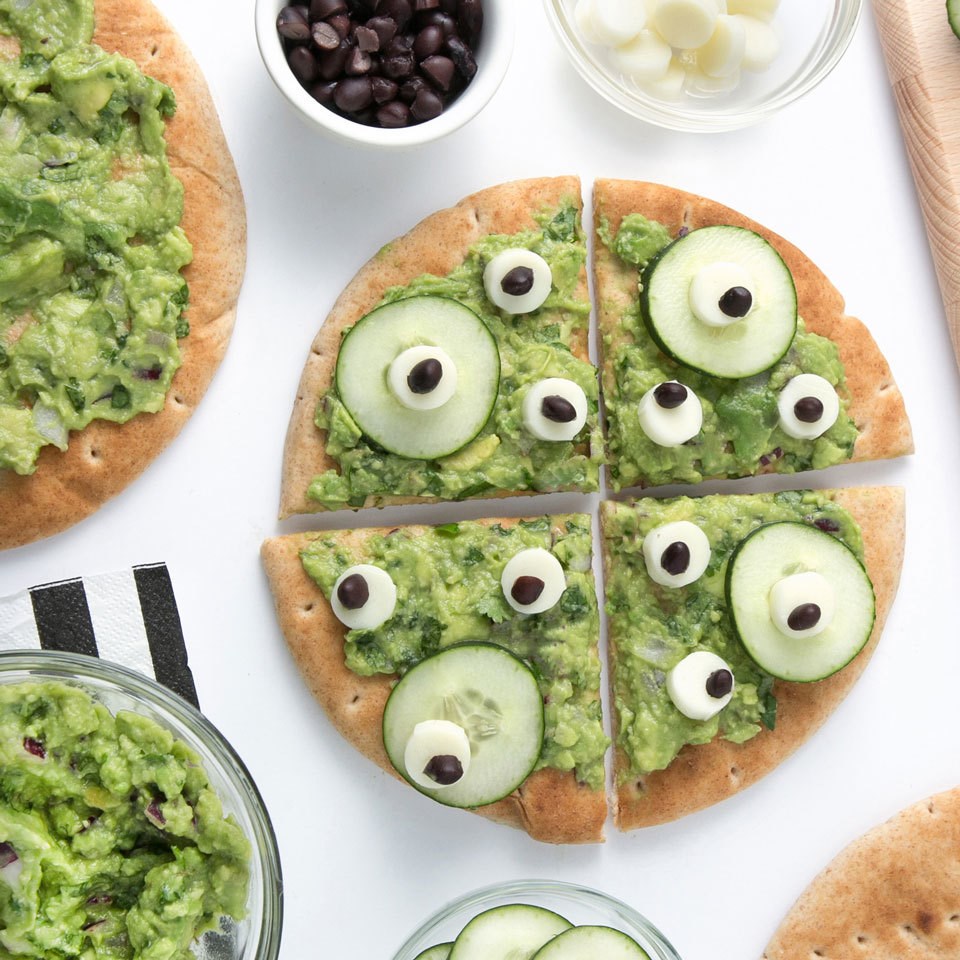 Pictured Recipe: No-Bake Monster Pita Pizza
This no-bake pita pizza with guacamole is so easy to make, and it's even more fun to eat! Kids will love the googly eyes made from cucumbers, cheese and beans.
(Photo: bloomdesignsonline.com)
We're so inspired by the DIY emoji party that blogger Jenny Raulli of Bloom Designs put together for her daughter Charlotte. The drink dispenser and snack cups—each embellished with cut pieces of adhesive craft vinyl—are simple enough for even a non-crafter to pull off. See more photos here.
(Photo: studiodiy.com)
Blogger Kelly Mindell ingeniously used adhesive craft vinyl to make a bright and cheery bouquet of emoji expressions on these yellow balloons. She gives a great step-by-step on how to make them yourself here, or if you don't want to DIY, you can also buy them from her site.
(Photo: Etsy.com)
If you search "emoji party" on Etsy you'll find plenty of DIY inspo for games and activities, but we especially love these coloring pages that combine elaborate Zentangle patterns with emoji smiles, winks and more. Even better, they're an instant download which means you can pay and print in just minutes. Buy them here.
(Photo: Amazon.com)
Complete the spread with these silly emoji-face plates for serving snacks or the special treat of the day. Buy them here.
(Photo: Amazon.com)
We're big fans of favors that won't end up in the waste bin, like these stampers kids can take home and use to craft their next postmillennial masterpiece. Buy them here.
Related:
Healthy Kids Birthday Party Food Ideas
Veggie Memes That Will Make You LOL