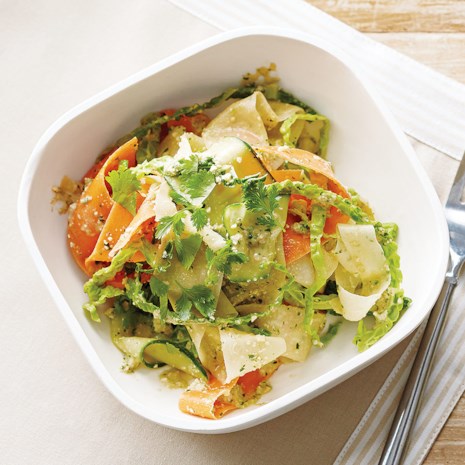 Cooking with herbs is an easy way to infuse a recipe with flavor without increasing calories or fat. Not sure where to start? Try stirring a handful of basil and some marjoram into your favorite tomato sauce or rubbing a chicken with a mixture of thyme and rosemary before you roast it. Herbs like cilantro and mint are excellent tossed in an Asian-inspired salad. Some herbs may be more familiar to you than others. Experiment with a few at a time until you find ones that you like.
Basil
No other herb epitomizes the taste of summer like basil. Available in a number of varieties, this tender annual gives cooks attractive options to strew generously over tomato salads—try opal basil with maroon leaves, for instance. Thai basil's anise tones enhance Thai and Vietnamese dishes. Dessert chefs will appreciate cinnamon basil and lemon basil, especially with peaches.
Cilantro
The pungent flavor and aroma of cilantro is popular in many ethnic cuisines, including Mexican and Vietnamese. The entire plant is edible: the dried seeds are sold whole or ground as coriander, the stems are as flavorful as the leaves and some Asian recipes even call for the roots. Heat can temper fresh cilantro's flavor, so add it to a dish right before serving.
Lavender
Fresh or dried blossoms impart a delicate perfume to herb mixtures, such as herbes de Provence (for lamb, chicken and vegetables), or can infuse the milk destined for a custard or ice cream. Easy does it when using lavender—you want a subtle fragrance, not the memory of your grandmother's attic. Dried lavender can be found in specialty and natural-foods stores.
Lemon Verbena
This herb captures the tangy scent of lemon without the tart flavor. Unfortunately, it is not commonly available at supermarkets, so look for it at farmers' markets or grow your own. It imparts an exquisite flavor to custards, cream toppings or yogurt; add a finely chopped tablespoon to whipped cream and serve with sliced strawberries. Lemon verbena also makes a beautiful and fragrant garnish for white-wine spritzers or iced tea.
Marjoram
Similar in flavor and appearance to oregano, marjoram is popular in many Mediterranean cuisines. Its slightly sweet flavor goes particularly well with meats and vegetables.
Oregano
A member of the mint family, oregano is related to both marjoram and thyme. Mediterranean oregano has a more mild flavor than its Mexican counterpart. Use it to season spaghetti and pizza sauces, or add a pinch to your favorite chili recipe for another flavor dimension.
Rosemary
With a distinctive piney aroma and a hint of lemon, this sturdy herb is highly appreciated in Italian cooking to flavor grilled and roasted pork, lamb and chicken, hearty pasta sauces and soups. Infuse a syrup for lemonade or lemon sorbet with sprigs of rosemary.
Sage
The distinctive flavor of sage has long been popular in the Mediterranean for both culinary and medicinal purposes. The long, oval, silver-green leaves have a slightly bitter, musty flavor. It's commonly used to flavor meats and dishes that accompany meat, like stuffing.
Spearmint & Peppermint
These hardy perennials have a reputation for taking over gardens, but considering their culinary uses, maybe that's not such a bad thing. The herb you buy in the supermarket is most likely spearmint. Also known as common mint or garden mint, this is the most practical variety for both sweet and savory dishes. Peppermint contains more menthol and is used primarily in candies, teas and sweets. Numerous varietals include gems like apple mint, orange mint, pineapple mint and chocolate mint. All make delightful flavorings and garnishes for desserts.
Tarragon
Long flat tender leaves identify tarragon. The French have perhaps most heartily embraced its bright licorice-like flavor, making it a star ingredient, along with chervil, parsley and chives, in the seasoning mixture fines herbes, as well as in traditional sauces, such as sauce béarnaise. To make the most of its particular flavor, add tarragon near the end of cooking.
Thyme
Best known as a background flavoring for stews and soups, thyme is one of the most versatile herbs. Although typically paired with savory robust flavors, such as red meat, poultry and root vegetables, it is also good with apples and pears. Try infusing hot apple cider with thyme sprigs. In summer, lemon thyme is excellent with fish, zucchini and corn and is delicious with raspberries, blackberries and blueberries.