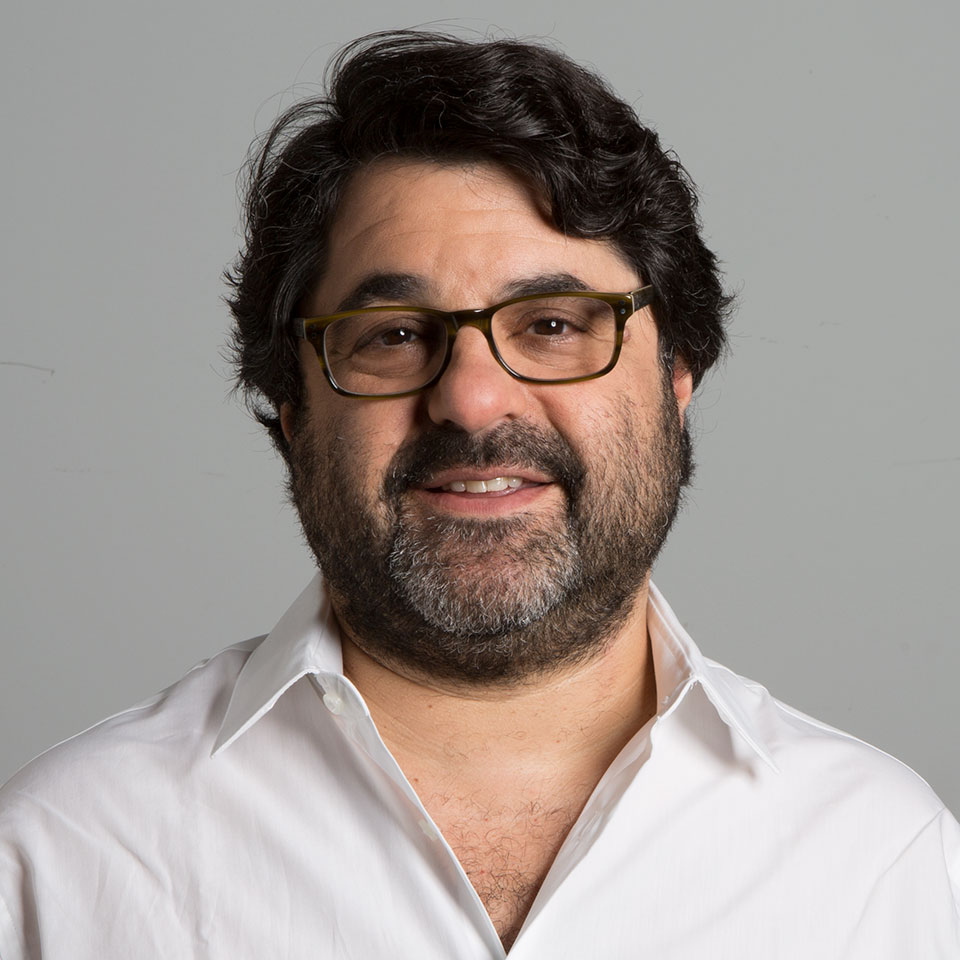 Avid home cook, food-shopping junkie and heavy-duty music lover who loves to fly airplanes.
Follow me on Facebook
Jim Romanoff has been writing about food for more than 20 years. As EatingWell's food editor, he is responsible for everything from assigning and editing articles about food to developing and testing recipes. Simply put: If it's about food, cooking or shopping (a personal favorite), he's had his eyes on it.
A longtime recipe developer for EatingWell as well as editor of EatingWell Healthy in a Hurry cookbook and EatingWell Serves Two, he wrote for the Associated Press before returning as the magazine's food editor in 2013. His career spans such diverse publications as Woman's Day, Rolling Stone, Us Magazine, Details and The Village Voice. A James Beard Award nominee, Jim has also won an IACP award (Bert Greene: Food Writing That Makes a Difference) and led panels on biodiversity and recipe development. He earned a degree in Medieval English from Oberlin College.
Jim grew up in Connecticut and spent his teenage years living just outside New York City. He loves Vermont, though, because people are focused on living a good life in terms of both health and enjoyment of free time. An avid shopper and home cook, he believes all vegetables are superfoods and loves eggplant so much he could live off it. When he's not cooking up a delicious meal, you'll find him flying single-engine airplanes and seaplanes (he has 250+ hours of flying under his belt). He's been known to fly to Maine for the afternoon to get a lobster roll, upstate New York for a tour of pancake breakfast fly-ins and even as far as South Carolina to pick up an airplane donated to a local flight school. Jim and his wife, Susan, have one son, Farley, who has followed his dad's passion for food and is an amazing cook.
My point of view:
What does "eating well" mean to me?
Eating well means being part of the world of food, not just a beneficiary of it. For me, this translates to learning enough about any food I'm interested in to cook it well, understand its connection to my health and make sustainable choices when buying or growing it. I find all of this makes me way more connected to what I eat, which in turn makes the whole experience more satisfying and enjoyable.
The three ingredients I simply couldn't live without…
• Salt: It makes food taste amazing.
• Olive Oil: It's good for me and makes for beautifully cooked food.
• Tomatoes: When perfectly in season, they are magical.
My go-to dinner for nights when there's no plan…
Poached eggs (from a local farm) on top of almost anything, but especially sautéed potatoes, green beans and wild mushrooms.
The healthy habit I've committed to…
I'm committed to eating enough servings a day of fruits and vegetables. I know it contributes to better health, but it's also easy to do. There are such great varieties to enjoy, and I know I'm helping to support farmers and encouraging them to grow more interesting things. Ultimately that means more biodiversity, a healthier environment and the preservation of so many tasty treats that will never be grown on an industrial farm.
My favorite EatingWell recipe…
My answer changes every time I'm asked this question, but a definite favorite is the Charred Broccoli with Almonds & Cherries from the Eat More Veg! challenge.
What I work on:
• Slow-Cooker Picadillo
• Shiitake & Noodle Hot & Sour Soup
• Crab Bisque with Avocado, Tomato & Corn Relish
• Maple-Pumpkin Custards with Crystallized Ginger