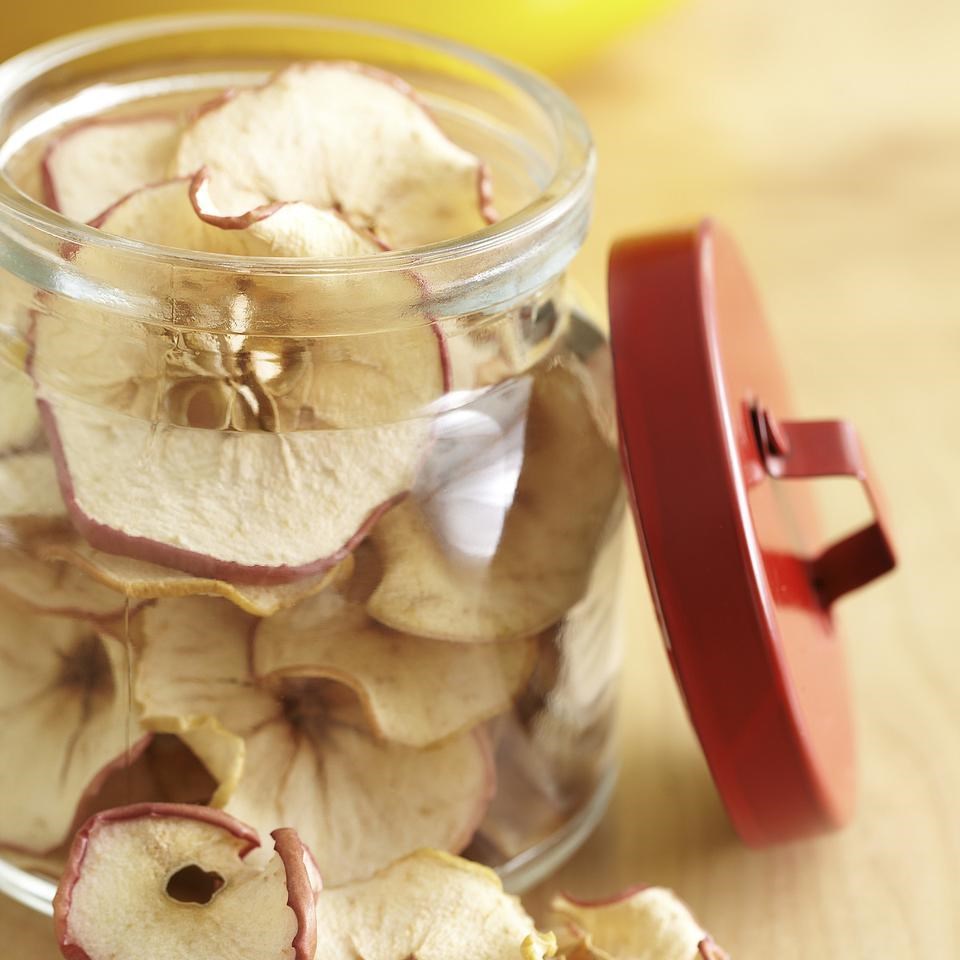 Pictured recipe: Dried Apples
Question: Organic—or Not? Is organic produce healthier than conventional?
Answer: There are at least two good arguments for eating organic: fewer pesticides and more nutrients. Let's start with pesticides. Pesticides can be absorbed into fruits and vegetables, and leave trace residues. The Environmental Working Group (EWG), a nonprofit, nonpartisan organization, pored over the results of nearly 51,000 USDA and FDA tests for pesticides on 44 popular produce items and identified the types of fruits and vegetables that were most likely to have higher trace amounts. Most people have no problems eating conventionally grown produce but if you feel strongly about pesticide residues, the EWG's list below should help you shop.
As for nutrients, in 2007 a study out of Newcastle University in the United Kingdom reported that organic produce boasted up to 40 percent higher levels of some nutrients (including vitamin C, zinc and iron) than its conventional counterparts. Additionally, a 2003 study in the Journal of Agricultural and Food Chemistry found that organically grown berries and corn contained 58 percent more polyphenols—antioxidants that help prevent cardiovascular disease—and up to 52 percent higher levels of vitamin C than those conventionally grown. Recent research by that study's lead author, Alyson Mitchell, Ph.D., an associate professor of food science and technology at the University of California, Davis, pinpoints a potential mechanism to explain why organic techniques may sometimes yield superior produce.
It's a difference in soil fertility, says Mitchell: "With organic methods, the nitrogen present in composted soil is released slowly and therefore plants grow at a normal rate, with their nutrients in balance. Vegetables fertilized with conventional fertilizers grow very rapidly and allocate less energy to develop nutrients." Buying conventional produce from local farmers also has benefits. Nutrient values in produce peak at prime ripeness, just after harvest. As a general rule, the less produce has to travel, the fresher and more nutrient-rich it remains.
A 2008 review by the Organic Center of almost 100 studies on the nutritional quality of organic produce compared the effects conventional and organic farming methods have on specific nutrients. The report's conclusion: "Yes, organic plant-based foods are, on average, more nutritious."
Bottom line: "Eating more fresh fruits and vegetables in general is the point," says Mitchell. If buying all organic isn't a priority—or a financial reality for you—you might opt to buy organic specifically when you're selecting foods that are most heavily contaminated with pesticide and insecticide residues. See next page for a handy chart for common fruits and vegetables.
Preferably Organic
—Most Commonly Contaminated*

If Budget Allows, Buy Organic

It's Your Call
—Least Commonly Contaminated

Apples
Celery
Strawberries
Peaches
Spinach
Nectarines
Grapes
Sweet Bell Peppers
Potatoes
Blueberries
Lettuce
Kale/Collard Greens

Green Beans
Summer Squash
Peppers
Cucumbers
Raspberries
Grapes - Domestic
Plums
Oranges
Cauliflower
Tangerines
Bananas
Winter Squash
Cranberries

Onions
Sweet Corn
Pineapples
Avocado
Asparagus
Sweet Peas
Mangoes
Eggplant
Cantaloupe
Kiwi
Cabbage
Watermelon
Sweet Potato
Grapefruit
Mushrooms

*Listed in order of pesticide load
Source: Environmental Working Group. Go to foodnews.org for updates. Updated June 2011.