Ready in about 30 minutes, the recipes in this meal plan use simple ingredients to create incredibly flavorful, healthy dinners in a flash. Featuring delicious summer ingredients, like plump tomatoes, colorful peppers, and fresh greens, these dinners are perfect for a warm summer night.
Prep time: 25 minutes
Ready in: 25 minutes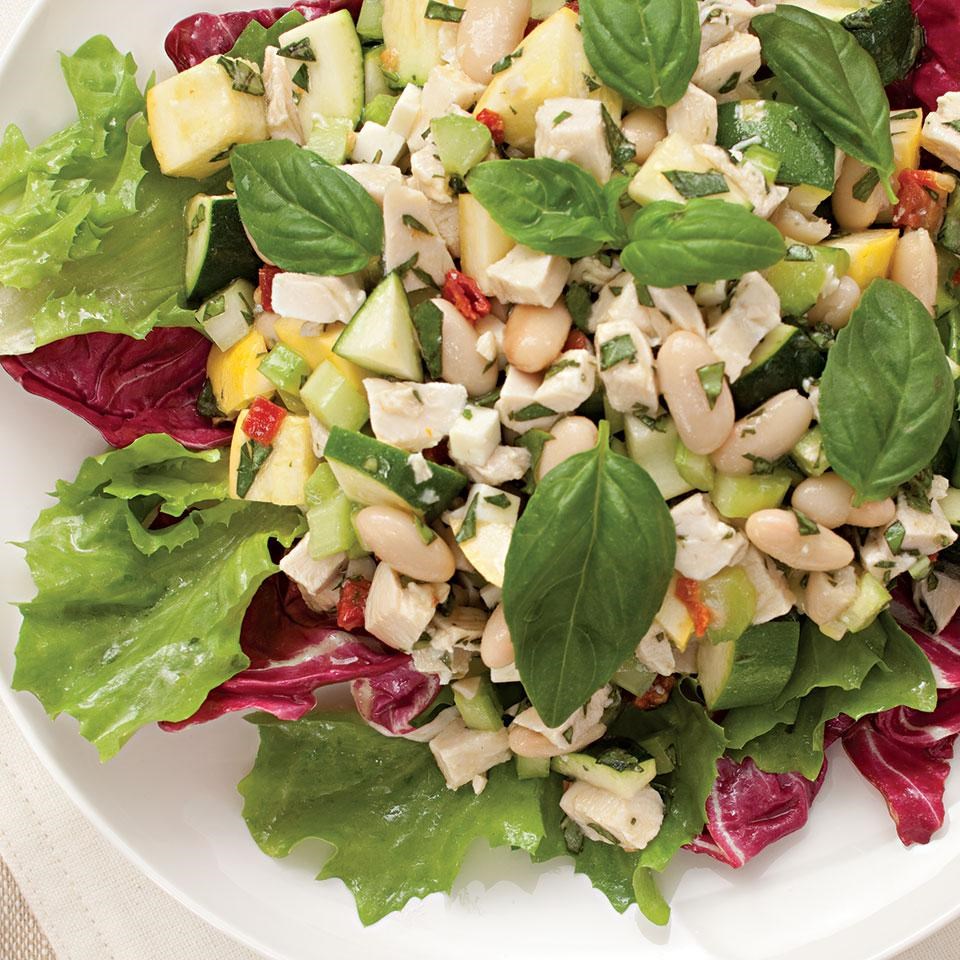 Chicken & White Bean Salad: Zucchini and celery give this chicken-and-bean salad a nice crunch. And while any type of green salad will work, we like to serve it over a bed of slightly bitter escarole and radicchio. Using healthy canned beans and pre-cooked chicken make this dish come together quickly in just 25 minutes. Want to speed things up even more? Look for pre-prepped veggies in the produce section of your grocery store to cut down even more on prep time.
Prep: 15 minutes
Ready in: 25 minutes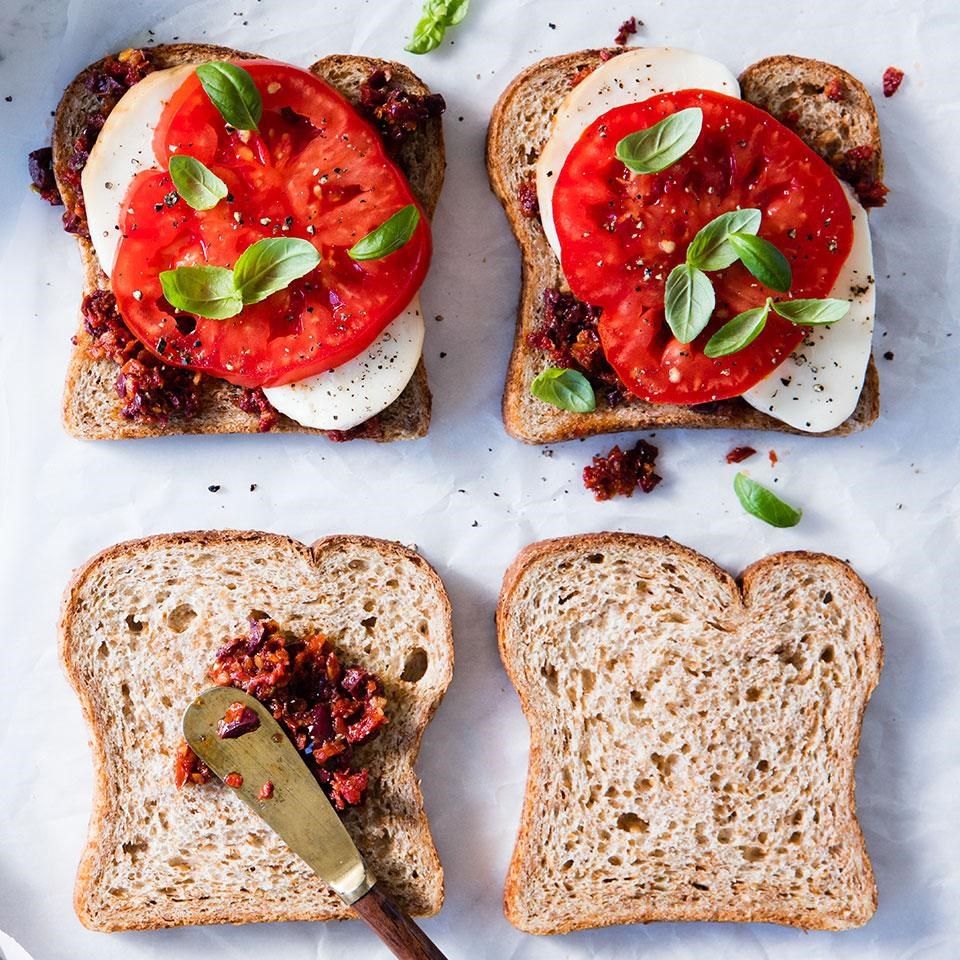 Tomato & Smoked Mozzarella Sandwiches: Take a classic combination like fresh tomatoes and mozzarella, add a couple flavor-packed ingredients like olives and sun-dried tomatoes, put it between two pieces of crusty bread and you'll have an easy and satisfying warm-weather dinner. Serve with the Roasted Corn with Basil-Shallot Vinaigrette to round out the meal. While the tomatoes are soaking for the sandwiches, you can prep the corn dish—a quick 20 minutes of roasting and dinner is served.
Prep: 30 minutes
Ready in: 30 minutes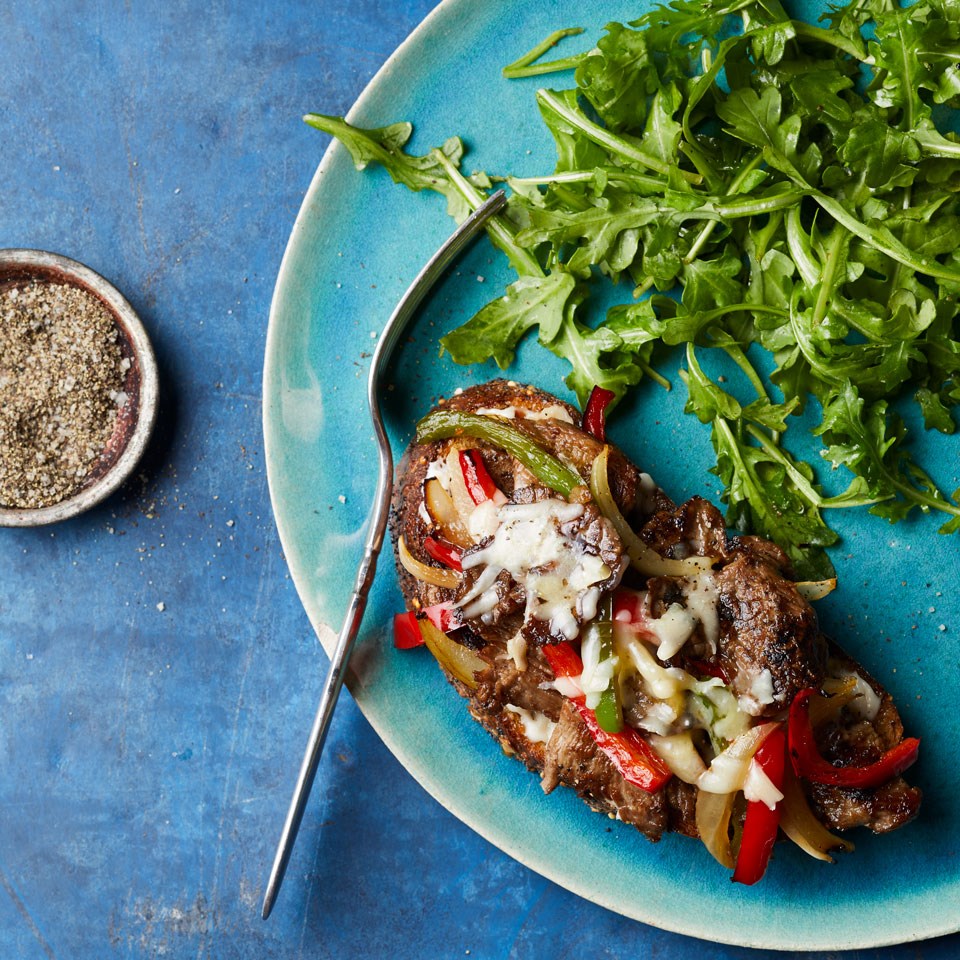 Steak & Pepper Tartines with Arugula Salad: These open-face, knife-and-fork steak sandwiches are topped with Gruyère cheese to make them reminiscent of a Philly cheesesteak. If you can't find shaved sandwich steak in your grocery store, try slicing a flank steak very thin. Served with a quick arugula salad, this 30-minute dinner is an easy favorite you're sure to love.
Prep: 25 minutes
Ready in: 25 minutes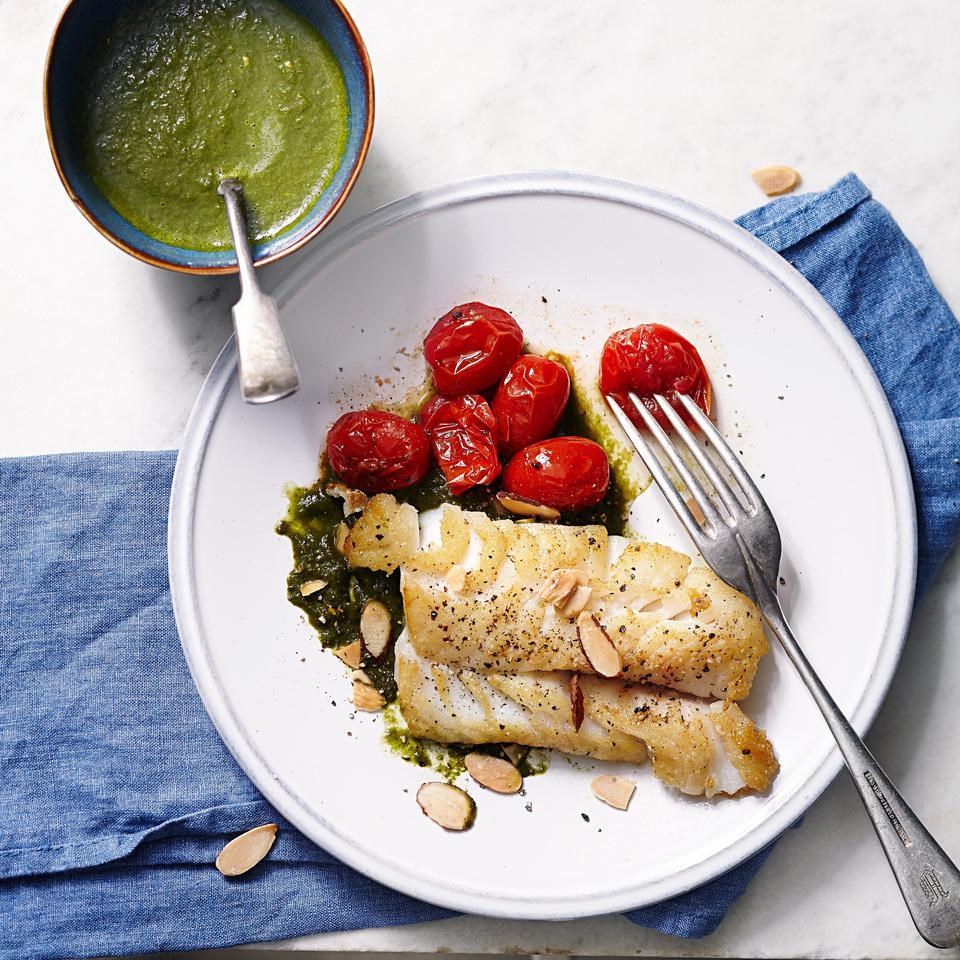 Seared Cod with Spinach-Lemon Sauce: Twenty-five minutes is all it takes to whip up this impressive yet simple fish dinner. A citrus-laced spinach sauce zests up delicate cod in this healthy recipe. If you can find Meyer lemons, use their sweeter juice instead of the regular lemon and orange juices. Serve with roasted cherry tomatoes and zucchini with angel hair pasta.
Prep: 30 minutes
Ready in: 30 minutes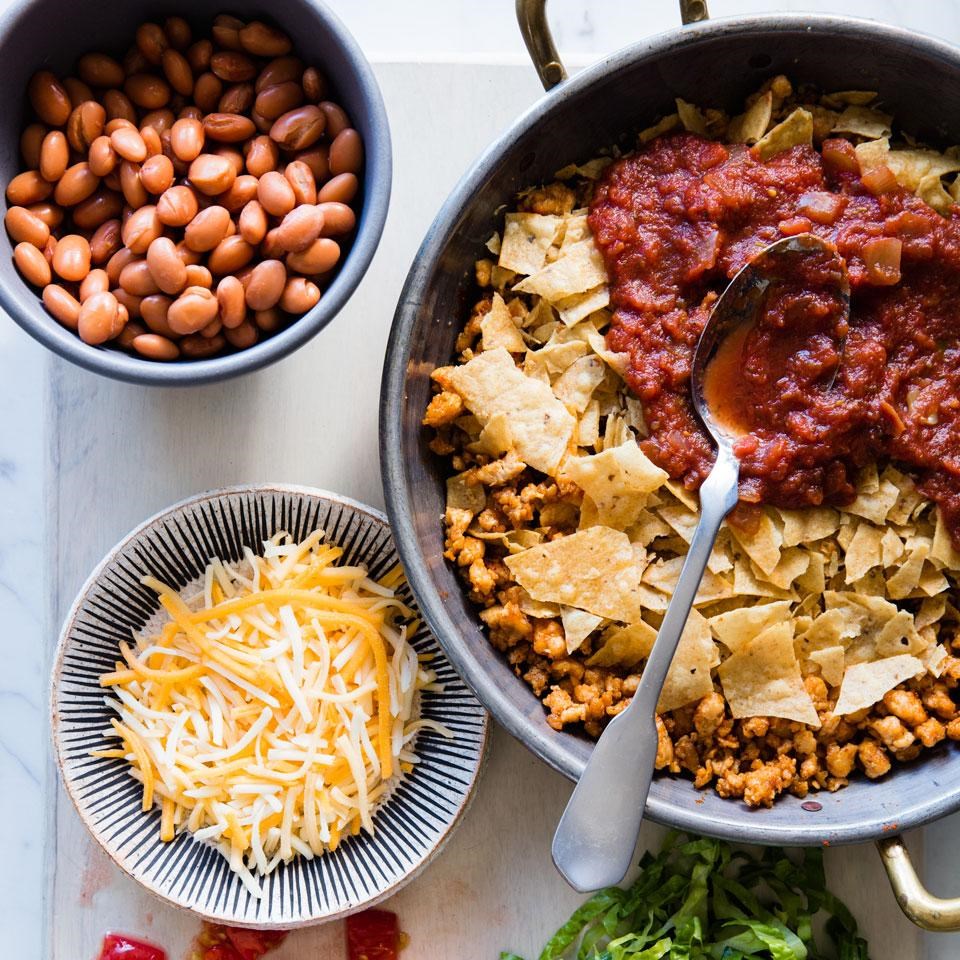 8-Layer Taco Salad: This gorgeous and colorful 8-layer taco salad recipe is made healthier by using ground turkey in place of beef, adding Greek yogurt and bumping up the amount of vegetables. Serve this salad in a clear glass bowl and you'll have an eye-catching party-worthy dinner in just 30 minutes.
Prep: 25 minutes
Ready in: 25 minutes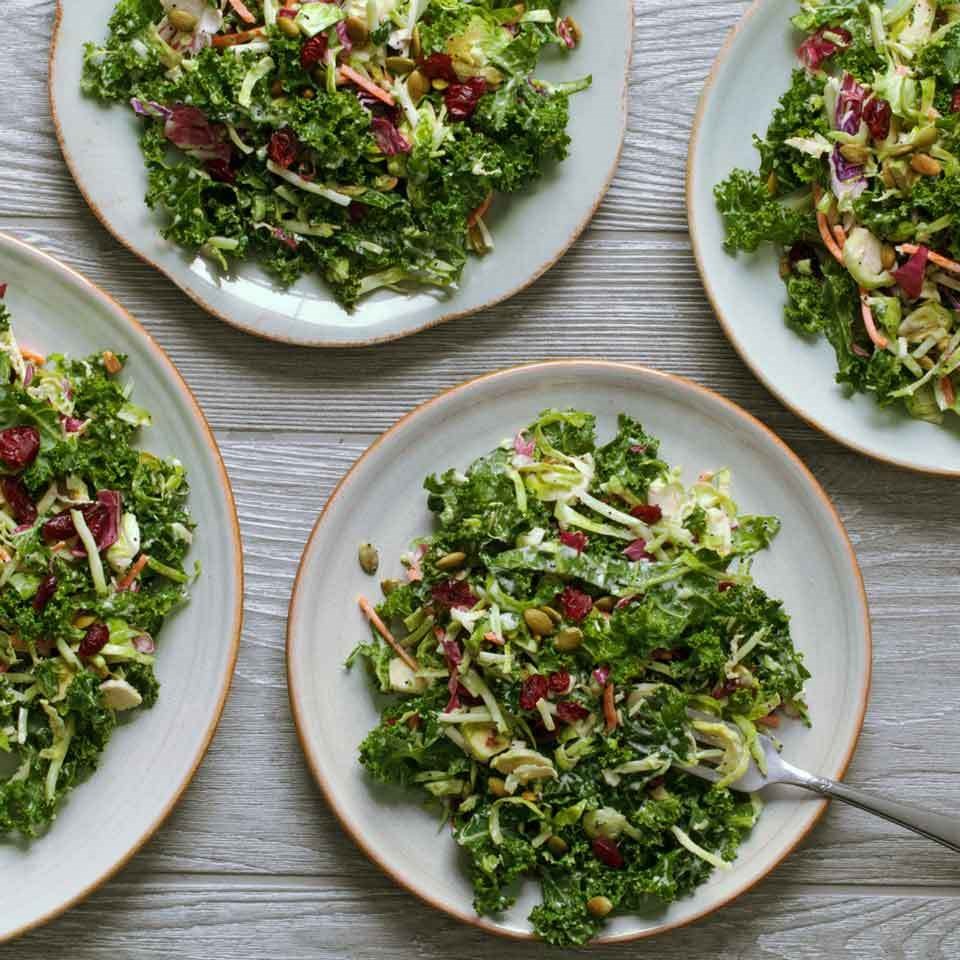 Kale Salad with Creamy Poppy Seed Dressing: The lightly sweet, creamy homemade poppy seed dressing takes this crunchy salad to the next level for a mouthwatering vegetable side dish or light lunch. Top with the 5-ingredient Paprika-Herb Rubbed Chicken for a heartier meal, ready and on the table in under 30 minutes.
Prep: 30 minutes
Ready in: 30 minutes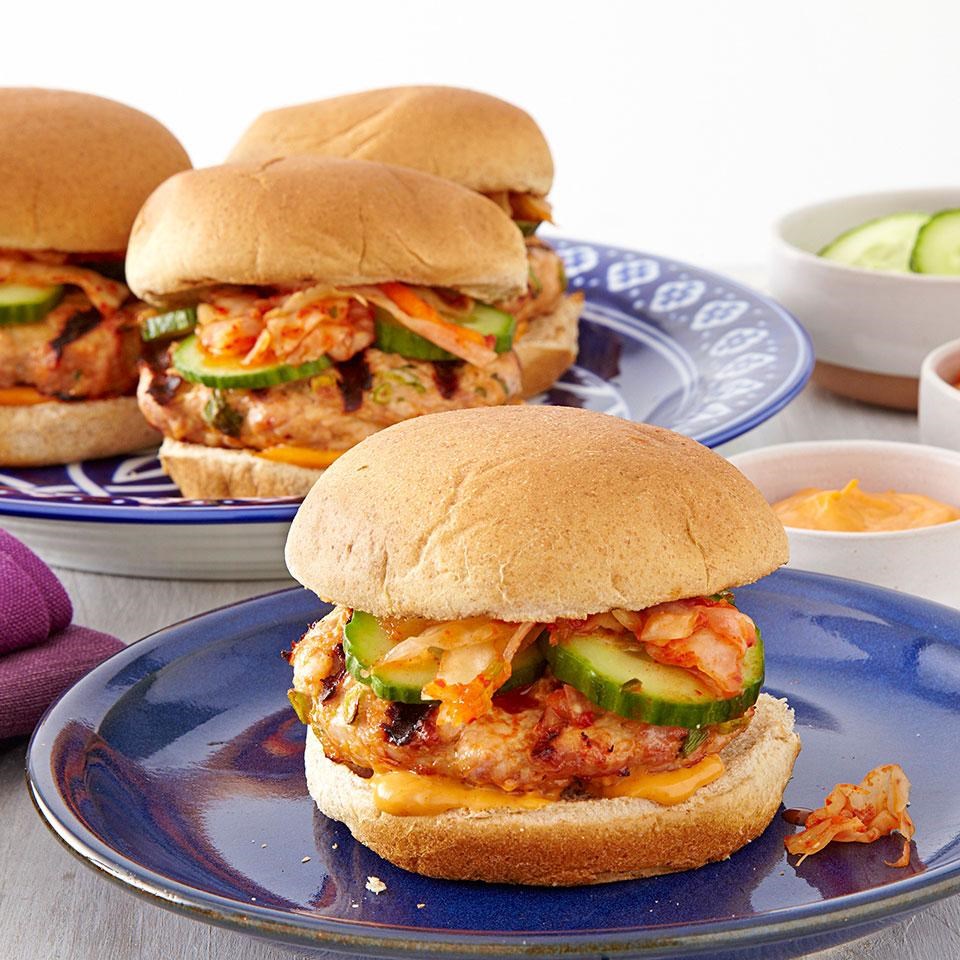 Korean Turkey Burgers with Kimchi: This mouthwatering turkey burger recipe comes together quickly thanks to the help of some pre-prepared ingredients. Korean chile paste (also known as gochujang) blended into the ground turkey makes this turkey burger recipe incredibly moist and flavorful. Top these healthy turkey burgers with kimchi—a fermented mixture of cabbage and other vegetables—which can be found near other refrigerated Asian ingredients or near sauerkraut or pickles in well-stocked supermarkets or natural-foods stores.
Don't Miss!
See All of Our Healthy 7-Day Dinner Plans!
See More Quick & Healthy Dinner Recipes
7-Day Meal Plan: Easy 5-Ingredient Dinners
7-Days of One-Dish Dinner Recipes