You don't need to starve yourself with small portions to eat low calorie. When you fill your plate with the right foods, you'll feel super satisfied while still keeping your calories in check. The delicious low-calorie dinners in this week's meal plan come in around 400 calories and incorporate lean protein like shrimp, chicken and beans, healthy portions of satisfying whole grains, and are overflowing with fiber-rich vegetables. Forget about late night snacking—these filling dinners will keep you satisfied all evening long.
Ham & Chard Stuffed Shells: In this healthy stuffed shells recipe, tons of dark leafy chard replaces some of the cheese. Any hearty green, like kale or collards, will work well in this recipe. Serve with the Loaded Garden Salad for a delicious, filling dinner.
Total: 395 calories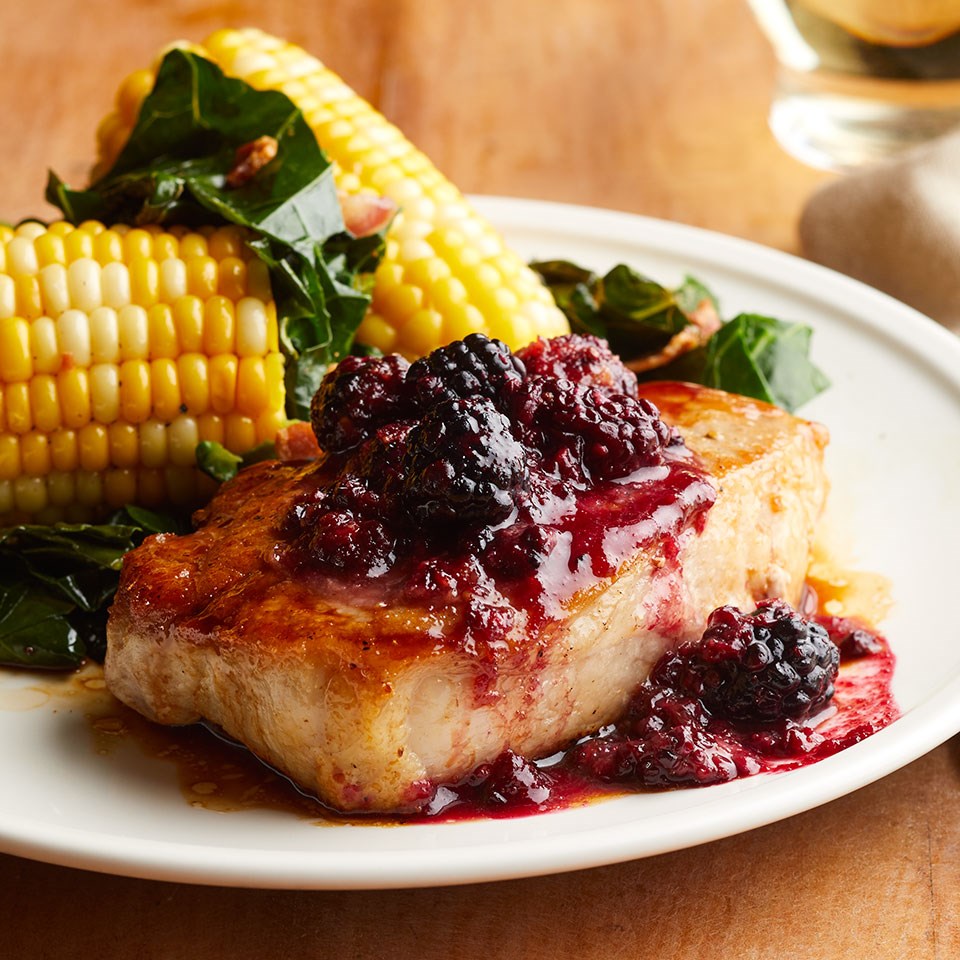 Blackberry BBQ Pork Chops with Collards & Corn: Steaming corn right on top of the collards saves time and dirties fewer pots in this easy dinner recipe. Skip bottled BBQ sauce and mash blackberries with some pantry staples to yield a finger-licking-good barbecue sauce for the juicy pork chops. To make it even faster, grab a bag of prechopped collards from the produce section.
Total: 408 calories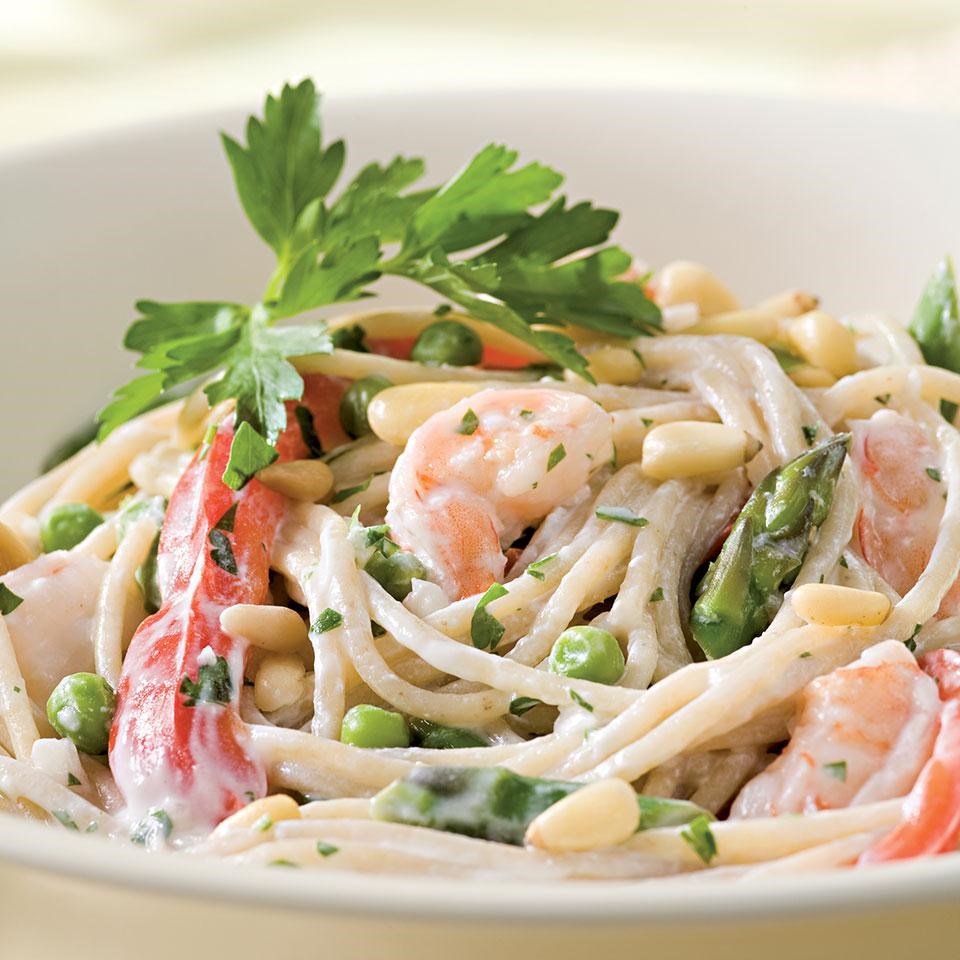 Creamy Garlic Pasta with Shrimp & Vegetables: Toss a garlicky, Middle Eastern-inspired yogurt sauce with pasta, shrimp, asparagus, peas and red bell pepper for a fresh, satisfying summer meal. Using yogurt instead of cream keeps this dish low calorie. Serve with Summer Tomato, Onion & Cu​cumber Salad,
Total: 427 calories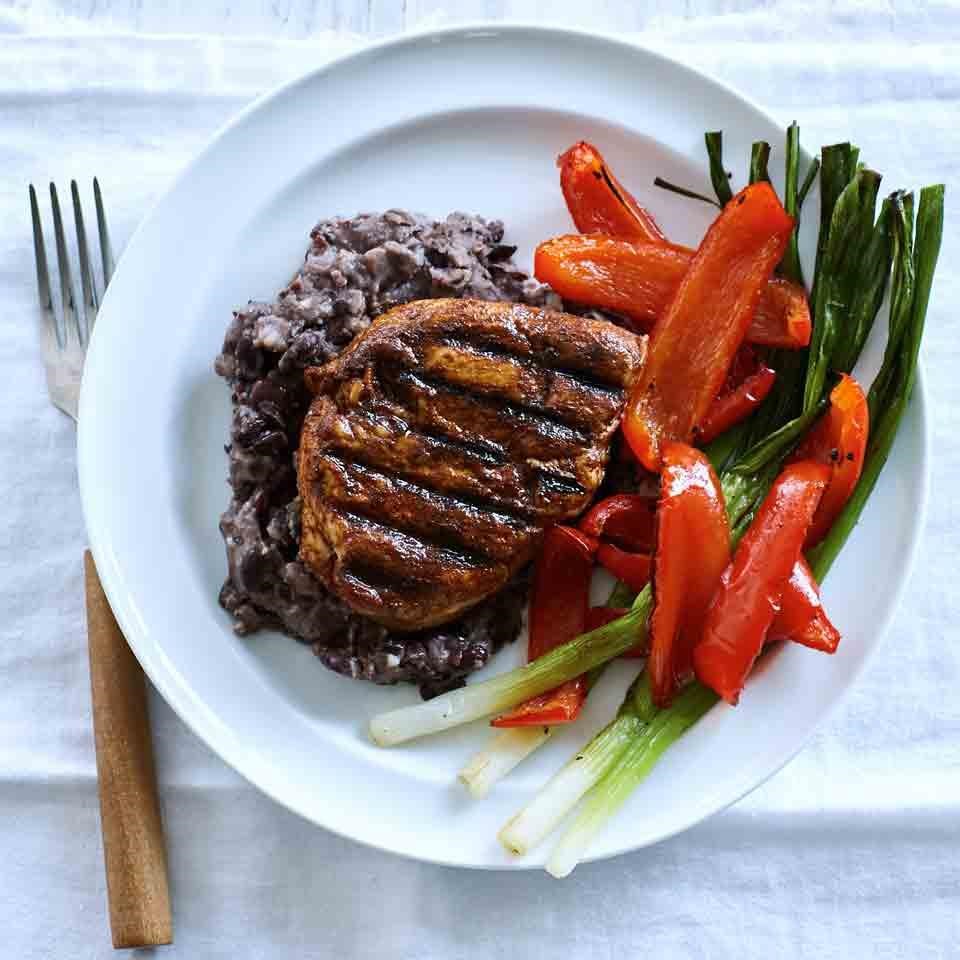 Ancho Chicken Breasts with Black Beans, Bell Peppers & Scallion​s: In this healthy chicken recipe, the meat is rubbed with ancho chile powder, a spice made from dried poblano peppers. It adds mild heat and subtle smokiness to the rub on the chicken, but you can use regular chili powder here instead. This recipe makes an extra ½ cup of the black bean mash—try it wrapped into a burrito for lunch or as a taco filling.
Total: 396 calories
Southwestern Salmon Cobb Salad: Here's a healthy twist on a classic Cobb salad recipe: we skip the bacon, getting smoky flavor from chipotle peppers instead, add salmon for a power-protein kick, and load on the veggies. This healthy salad is as satisfying as it is delicious.
Total: 385 calories
BBQ Pulled Chicken Sandwich with Coleslaw: This eastern North Carolina-style chicken barbecue recipe is vinegar-based, a far cry from the sweet tomato-heavy sauces from the western part of the state. Crunchy coleslaw is the perfect accompaniment to round out the dish. For dessert, enjoy the fresh taste of the Strawberry Fruit Salad.
Total: 397 calories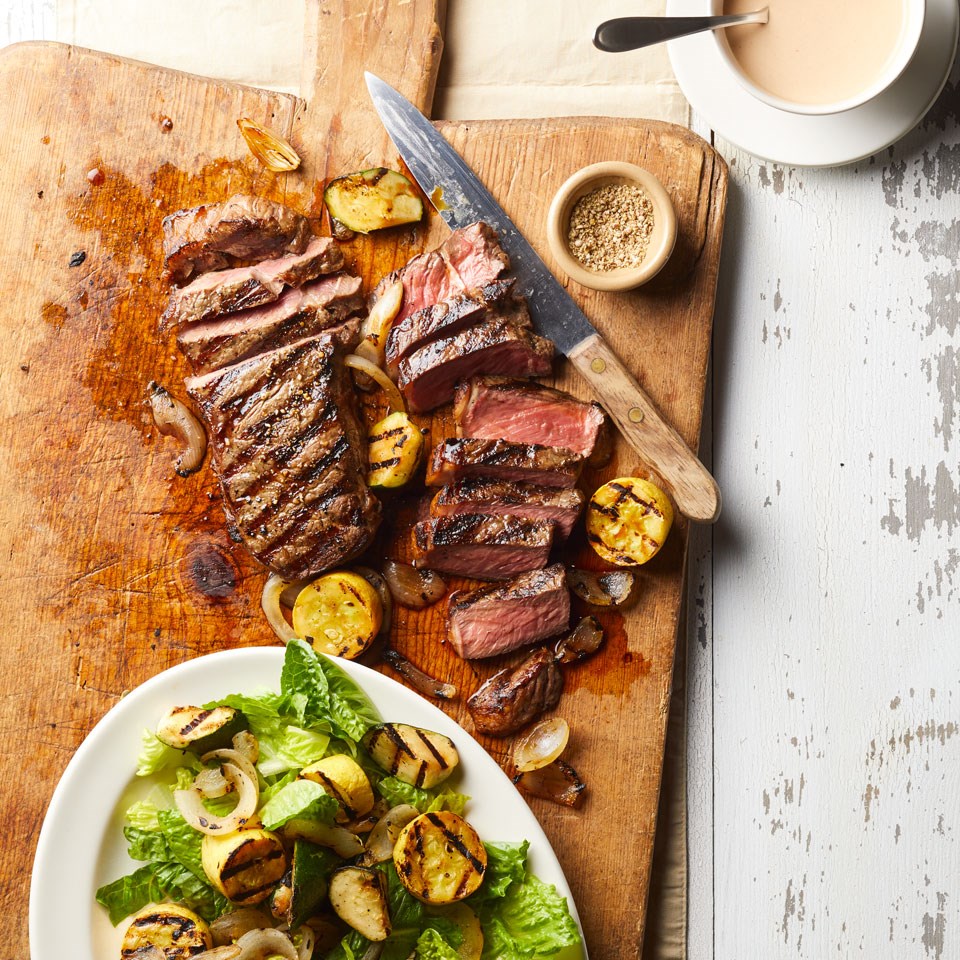 Hibachi Steak Sal​ad: Think of this healthy restaurant makeover as the Japanese steakhouse experience in salad form: we turned the creamy dipping sauce for the steak into a salad dressing and added plenty of vegetables.
Total: 376 calories
Don't Miss!
Healthy High-Fiber Meal Plan
Fast Dinners for 400 Calories or Less
7-Day Diet Meal Plan to Lose Weight: 1,200 Calories
7-Day Diet Meal Plan to Lose Weight: 1,500 Calories
Healthy Low-Calorie Recipes