Keeping up with healthy eating habits is easy with this week of delicious 500-calories dinners. If you're trying to lose weight, or just simply want to eat healthy, these dinners can help you do just that. Each meal comes in right around 500 calories and has at least 20 grams of protein per serving to help you feel full and satisfied throughout the evening. Plus, the meals are balanced to include a healthy protein source, plenty of veggies and complex carbohydrates (like quinoa and chickpeas), so you get the good-for-your nutrients your body needs. Once you get through this week of healthy eating, try this 30-Day 500-Calorie Dinner Challenge.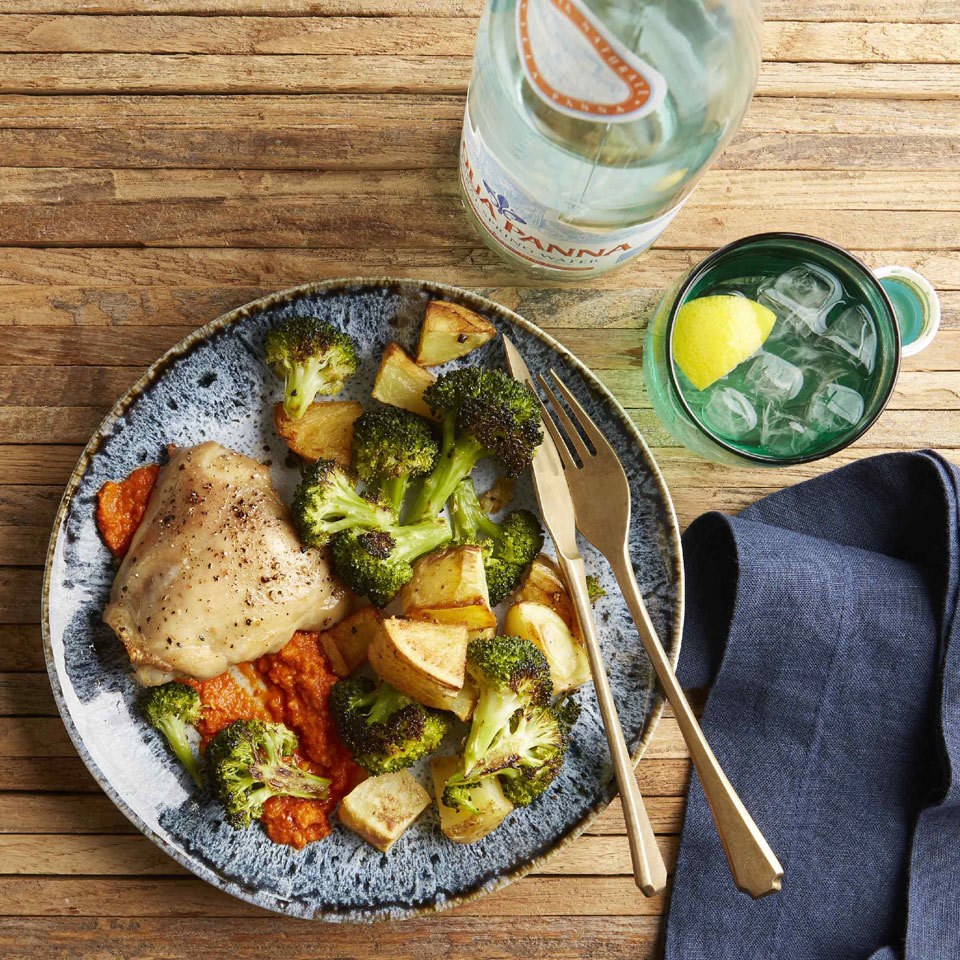 Sheet-Pan Chicken Thighs with Romesco Sauce: Made with roasted peppers, nuts, garlic and olive oil, the Mediterranean romesco sauce in this recipe is a delicious accompaniment to just about everything. Here we use the creamy sauce to add flavor to easy sheet-pan roasted chicken and vegetables. The potatoes, broccoli and chicken thighs all roast together while you make the quick romesco sauce in this fast one-dish 500-calorie meal.
Per serving: 499 calories, 33 grams protein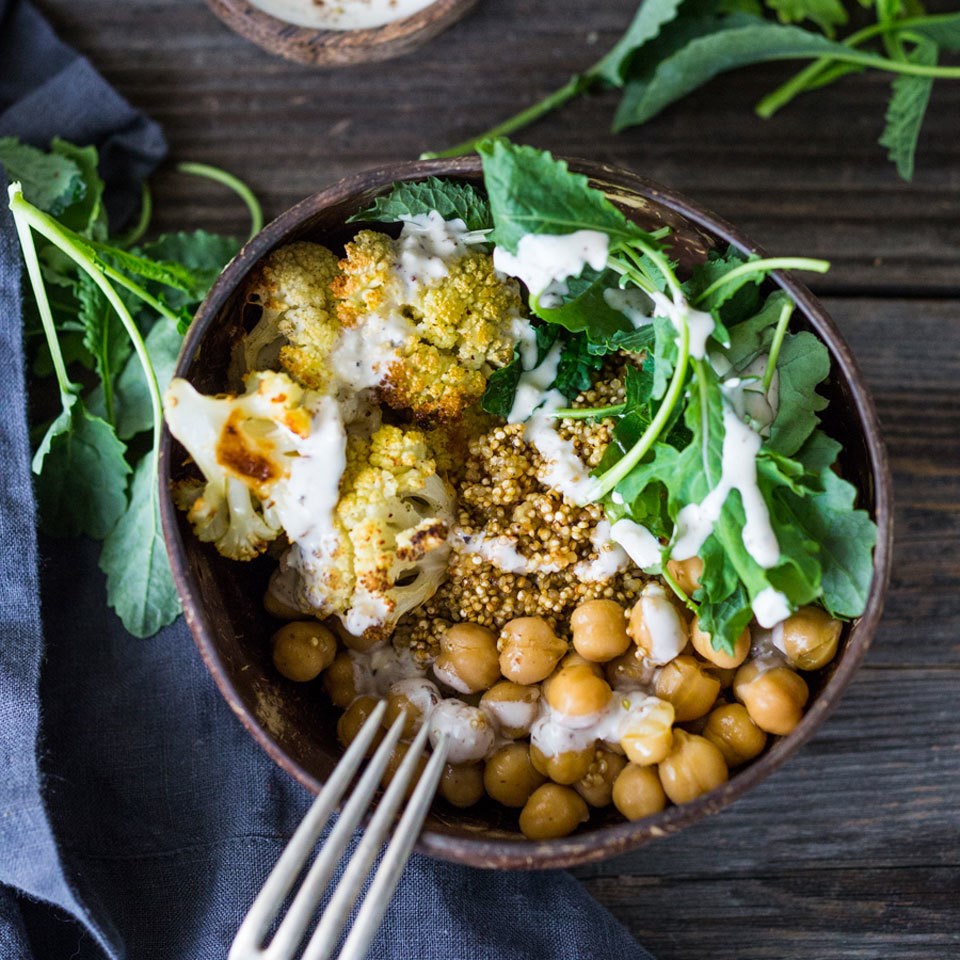 Om Buddha Bowl: This beautiful vegan grain bowl is packed with healthy ingredients like quinoa, chickpeas, kale and cauliflower—all drizzled with a lemony tahini sauce. Chickpeas and quinoa do double time and stand in as both a healthy source of protein and complex carbohydrates to create a satisfying plant-based dinner you'll want to make again and again.
Per serving: 500 calories, 20 grams protein

Slow-Cooker Balsamic Short Ribs: This healthy beef short ribs slow-cooker recipe is an easy alternative to traditional oven-cooked recipe—do the prep work the night before, turn the slow cooker on in the morning and by dinnertime, it's done. The beef provides 20 grams of filling protein per serving and to round out the meal, serve with Cauliflower Rice and Glazed Mini Carrots.
Per serving: 519 calories, 24 grams protein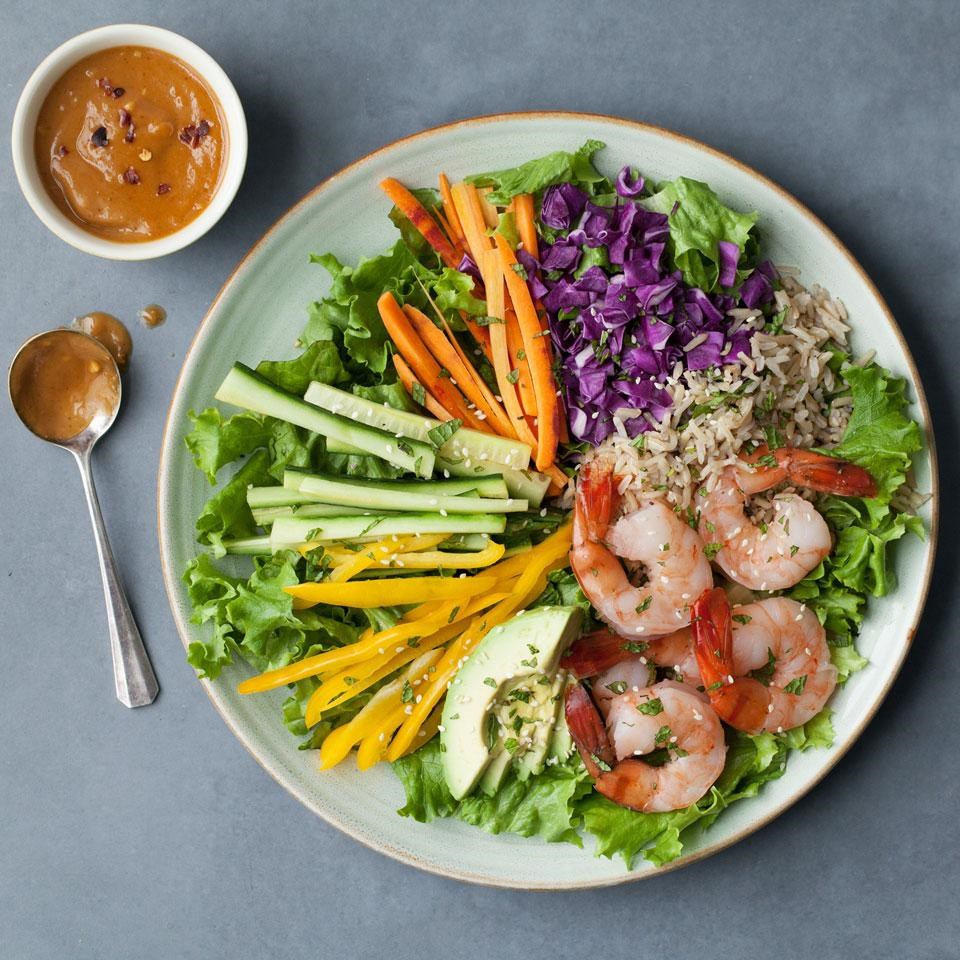 Spring Roll Salad: All the tastes, color and fun of a spring roll without all the work of wrapping it up! This healthy salad recipe is bursting with the colors of rainbow from generous amounts of fresh vegetables, shrimp and whole grains all topped with a peanut dressing for the ultimate satisfying salad.
Per serving: 523 calories, 31 grams protein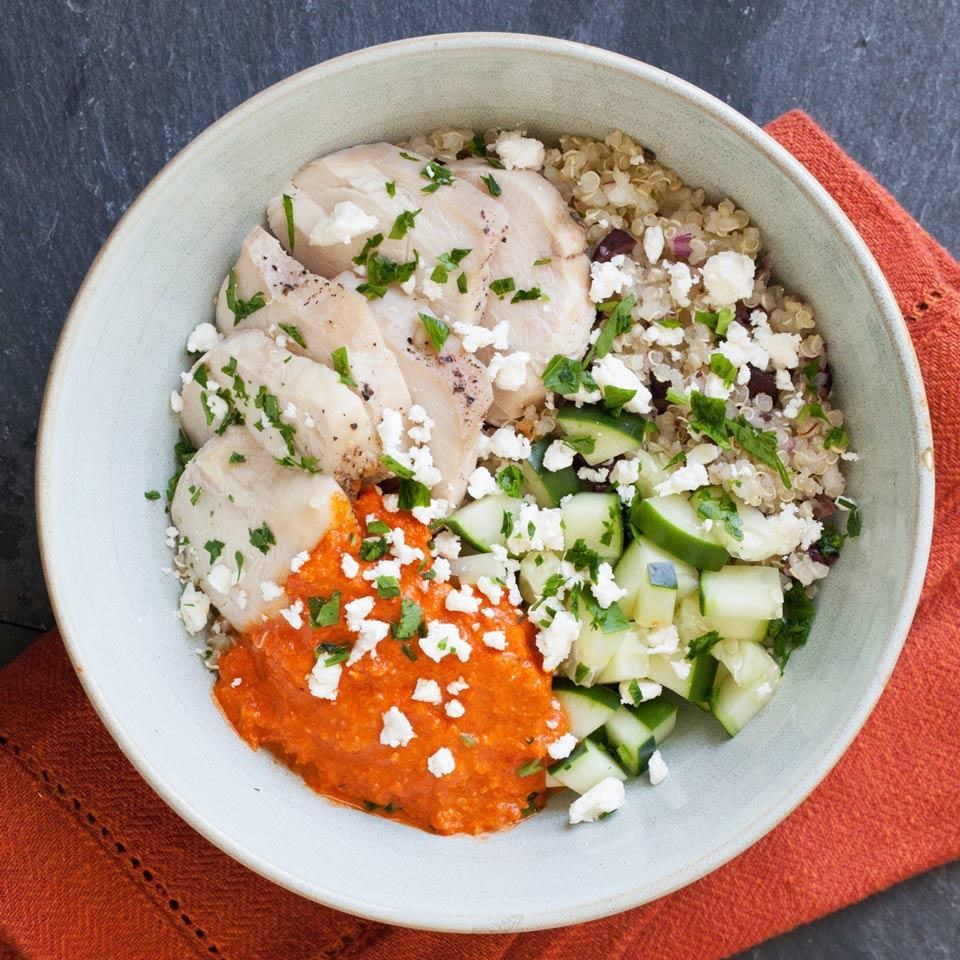 Mediterranean Chicken Quinoa Bowl: Olives, cucumber, roasted red peppers and spices come together magically in this healthy chicken quinoa bowl recipe. The chicken and quinoa together combine to provide 34 grams of filling protein per serving. Serve with a squeeze of lemon to finish off the dish.
Per serving: 520 calories, 34 grams protein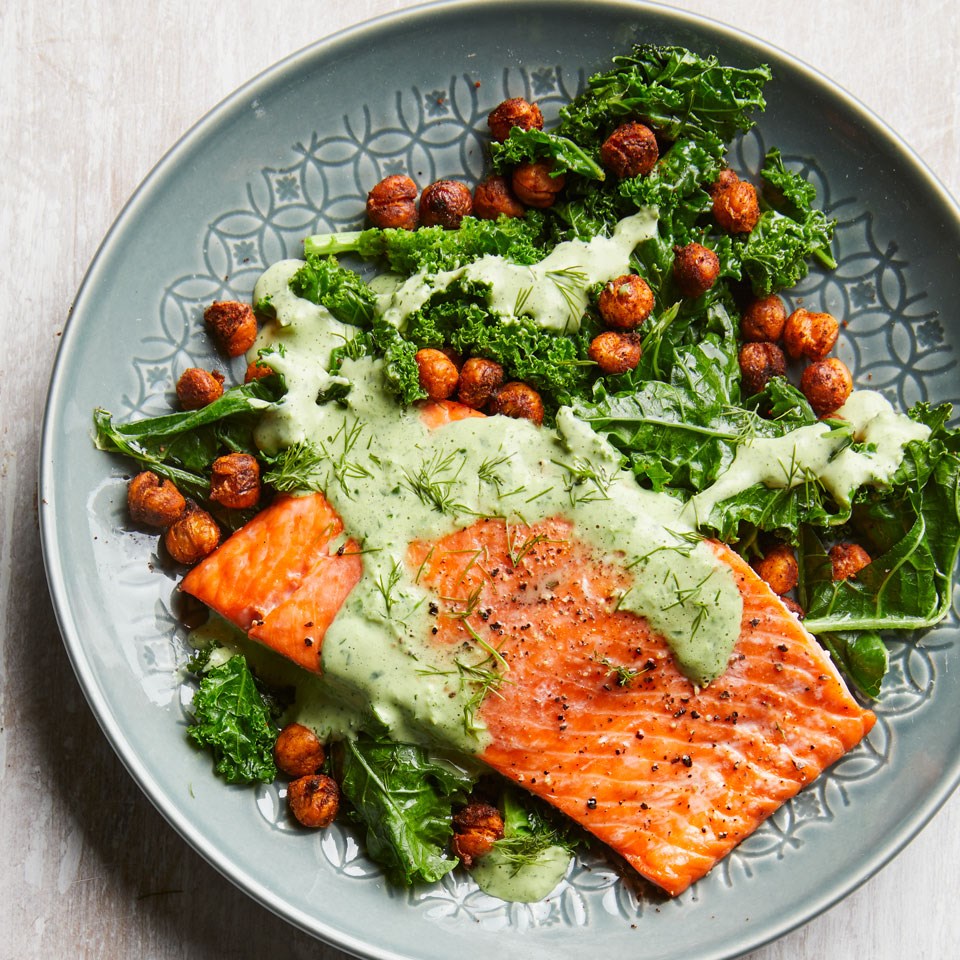 Roasted Salmon with Smoky Chickpeas & Greens: In this delicious salmon dinner recipe, you'll get a healthy dose of protein from both the salmon and chickpeas. Served over sautéed greens and with a creamy green goddess dressing, this simple dinner packs in a ton of flavor and nutrition for less than 500 calories.
Per serving: 449 calories, 32 grams protein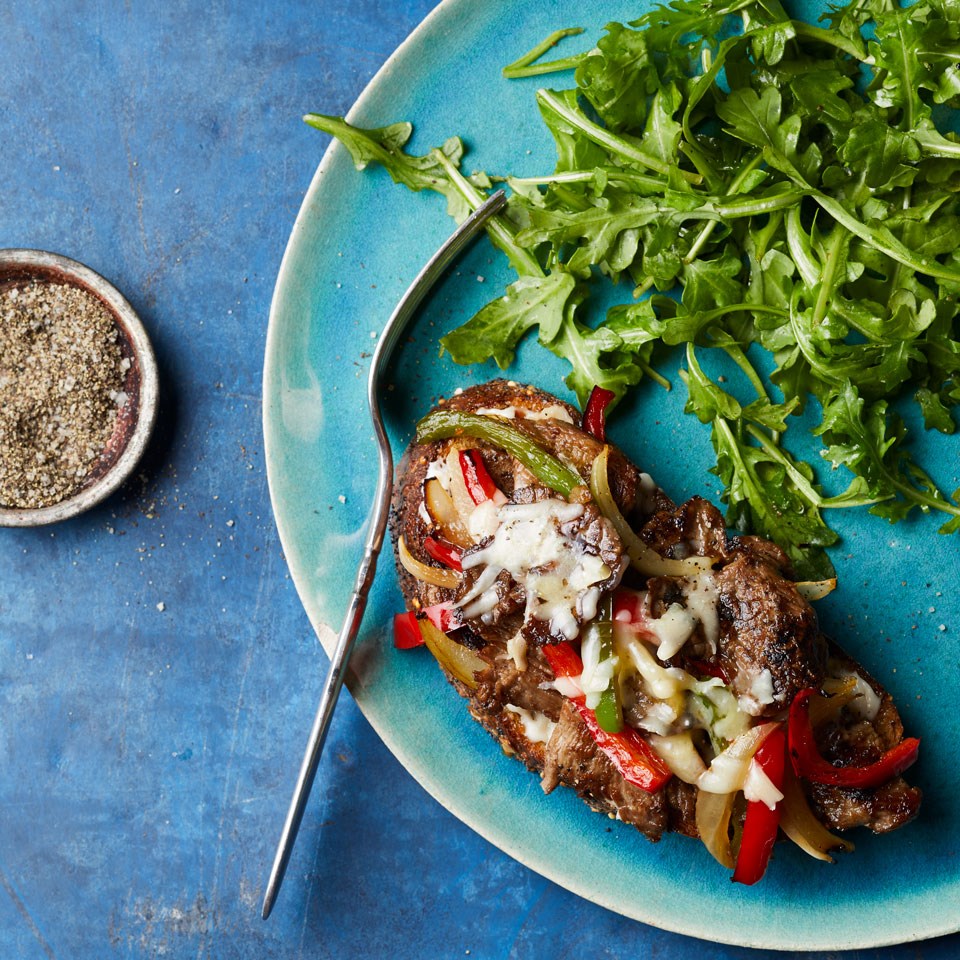 Steak & Pepper Tartines with Arugula Salad: These open-face, knife-and-fork steak sandwiches are topped with Gruyère cheese to make them reminiscent of a Philly cheesesteak, but without all the extra bread to cut down on calories. Paired with a peppery arugula salad, this healthy dinner is sure to hit the spot.
Per serving: 501 calories, 34 grams protein
Watch: How to Make a High-Protein Dinner Salad
Don't Miss!
Healthy High Protein Dinner Recipes
High-Protein Weight-Loss Meal Plan to Help You Feel Full
7-Day Weight Loss Meal Plan for Winter: 1,200 Calories
See All of Our Healthy Weight-Loss Meal Plans