Counting calories might be an effective strategy for watching your weight, but it can also feel like a drag. In this healthy 7-day dinner plan, we already did that hard work for you. Each of the recipes come in right around 500 calories, and are high in protein, with at least 15 grams per serving, to help you feel full and satisfied. Even if you aren't trying to lose weight, these healthy recipes are a delicious choice for dinner.
Watch: How to Make a High-Protein Dinner Salad
Day 1:
Korean BBQ Short Ribs
Per serving: 514 calories, 32 grams protein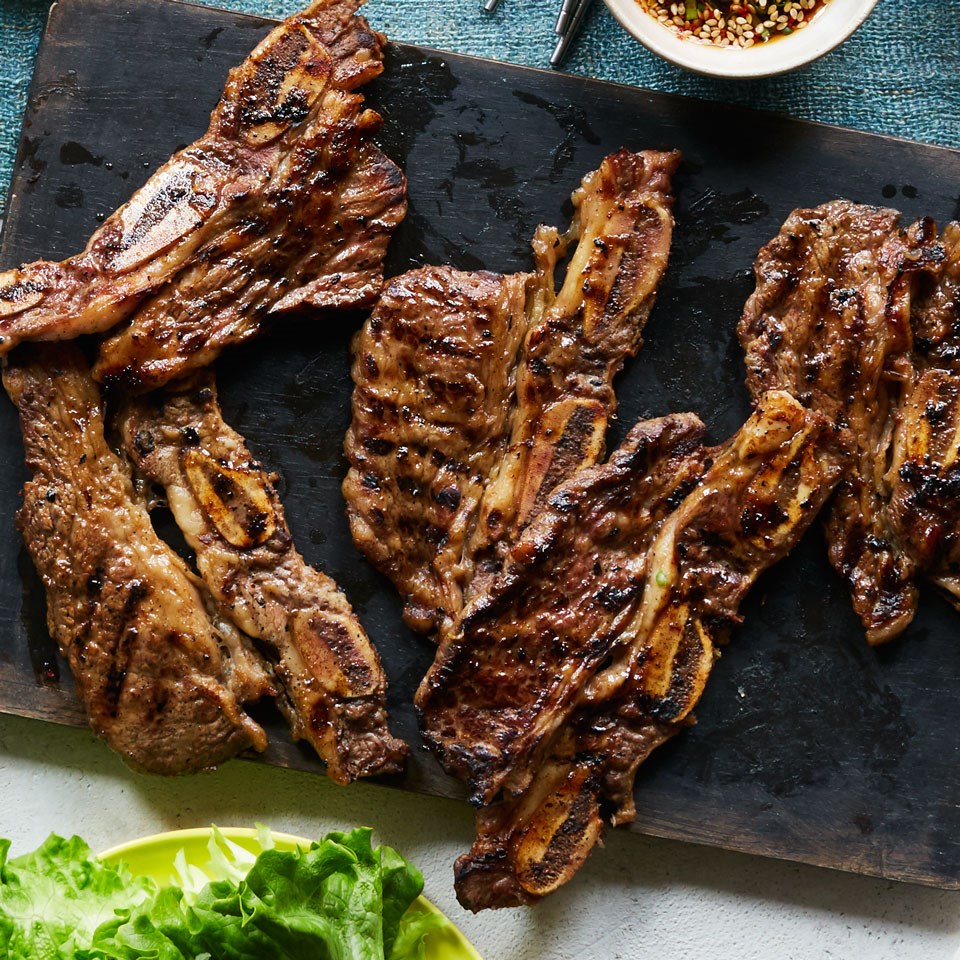 Korean BBQ Short Ribs: The longer you marinate these Korean sweet-and-savory ribs, the better—the intensely flavorful marinade tenderizes the meat and makes for a seriously delicious dish. Tucked into a lettuce wrap with brown rice and savory Ssamjang sauce, this dinner is healthy and satisfying.
Day 2:
Gruyère, Asparagus & Pea Baked Pasta
Per serving: 489 calories, 23 grams protein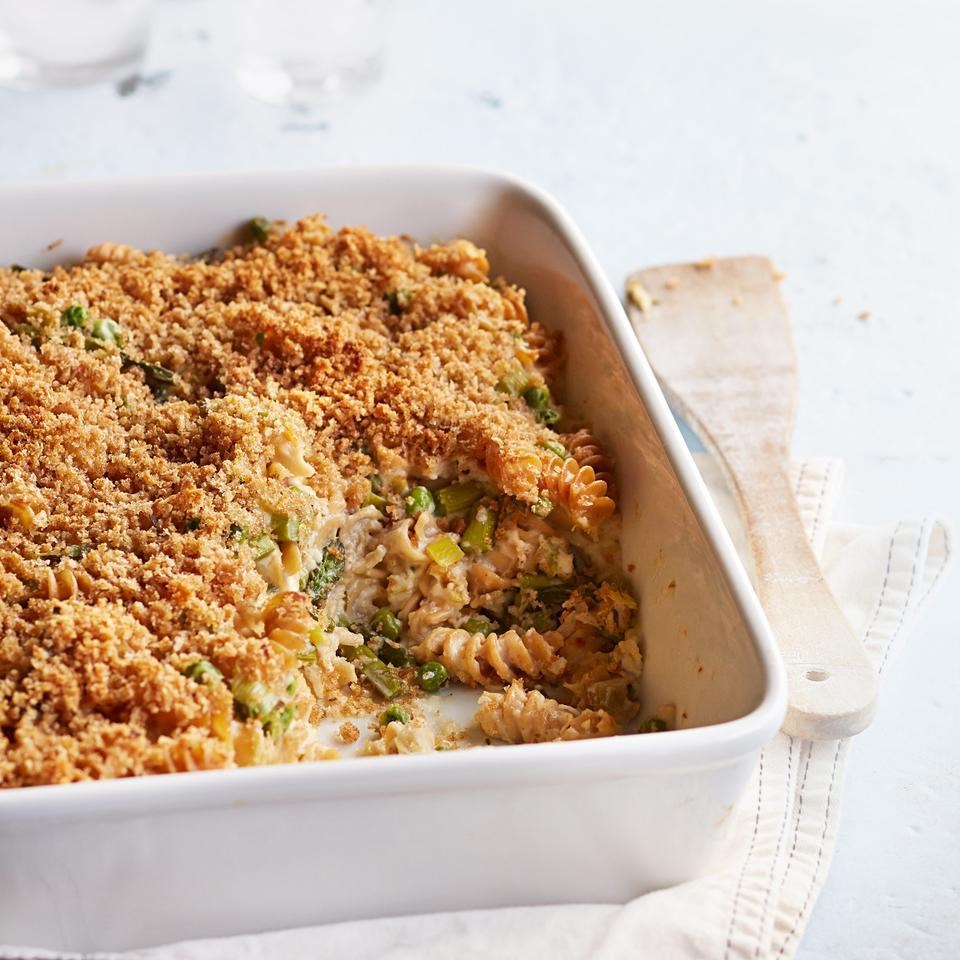 Gruyère, Asparagus & Pea Baked Pasta: This healthy casserole recipe contains tons of veggies and whole-wheat pasta for a satisfying vegetarian dinner the whole family will enjoy.
Day 3:
Spring Roll Salad
Per serving: 523 calories, 31 grams protein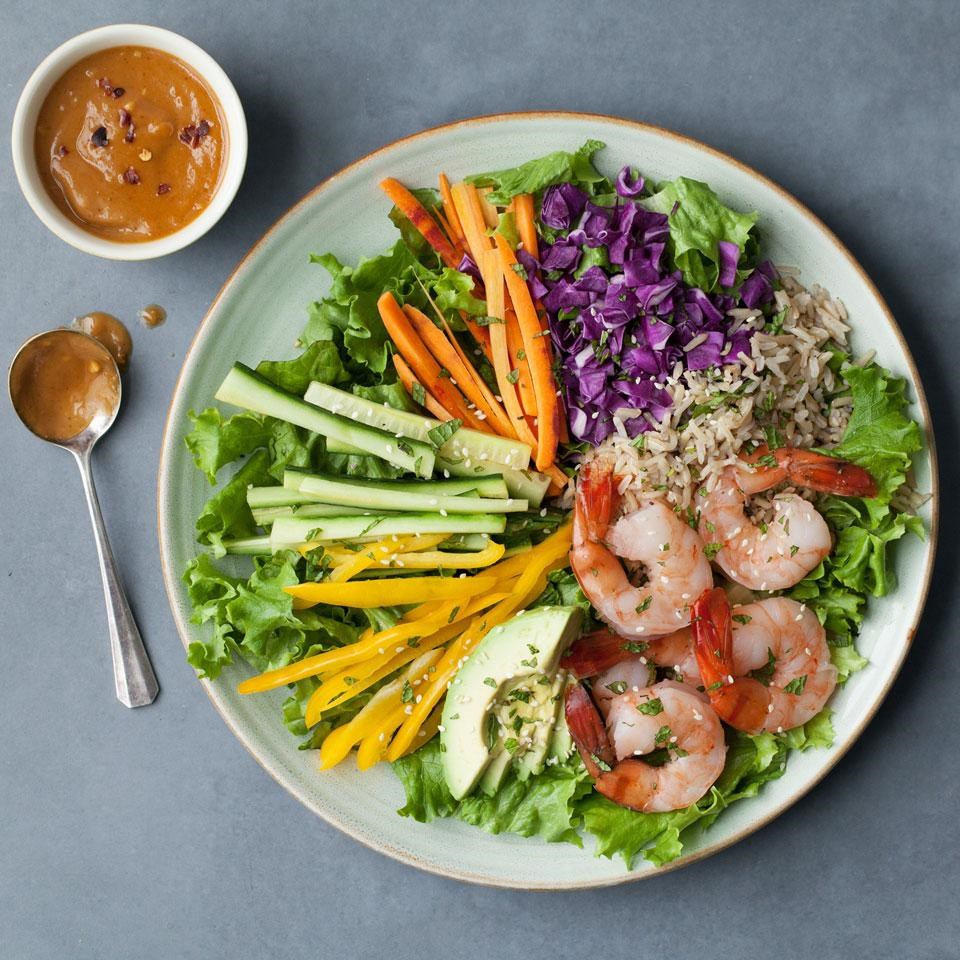 Spring Roll Salad: All the tastes, color and fun of a spring roll without all the work! This healthy salad recipe is bursting with the colors of rainbow from generous amounts of fresh vegetables, shrimp and whole grains all topped with a peanut dressing for the ultimate satisfying salad.
Day 4:
Mediterranean Chicken Quinoa Bowl
Per serving: 520 calories, 34 grams protein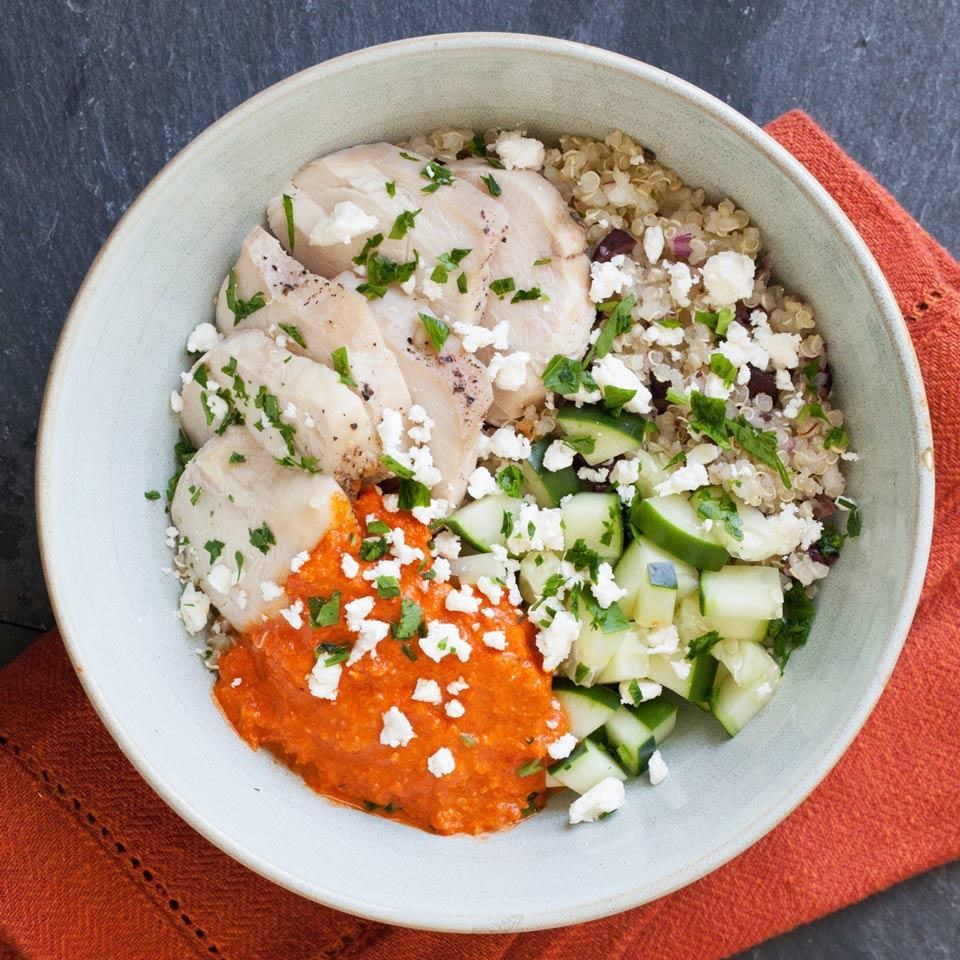 Mediterranean Chicken Quinoa Bowl: Olives, cucumber, roasted red peppers and spices come together magically in this healthy chicken quinoa bowl recipe. The chicken and quinoa together combine to provide 34 grams of filling protein per serving. Serve with a squeeze of lemon to finish off the dish.
Day 5:
Summer Corn & Scallop Pasta
Per serving: 473 calories, 28 grams protein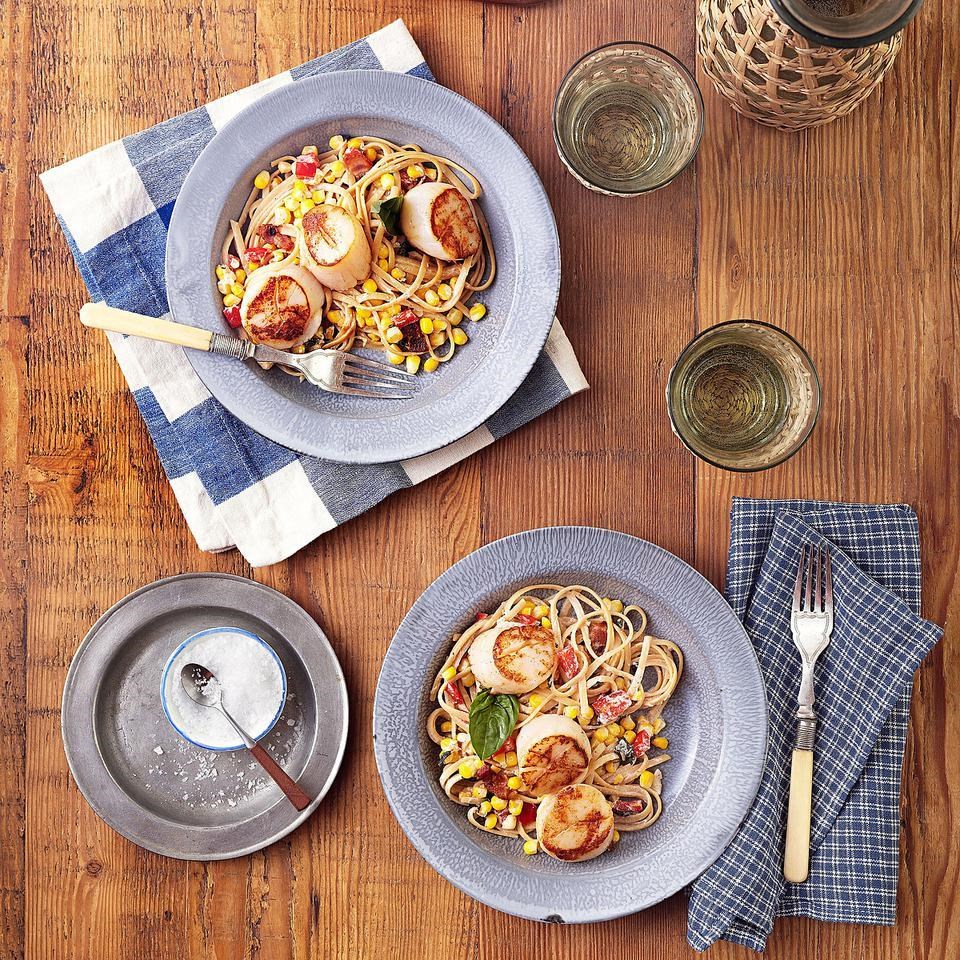 Summer Corn & Scallop Pasta: The naturally sweet taste of scallops partners beautifully with summer corn in this healthy high-protein pasta recipe. To get the most corn flavor into the creamy pasta sauce for this recipe, we use the dull side of a knife to remove the extra bit of the corn kernels and the sweet corn "milk" from the ear after cutting off the fresh kernels.
Day 6:
Barbecue Chicken & Chard Quesadillas
Per serving: 506 calories, 36 grams protein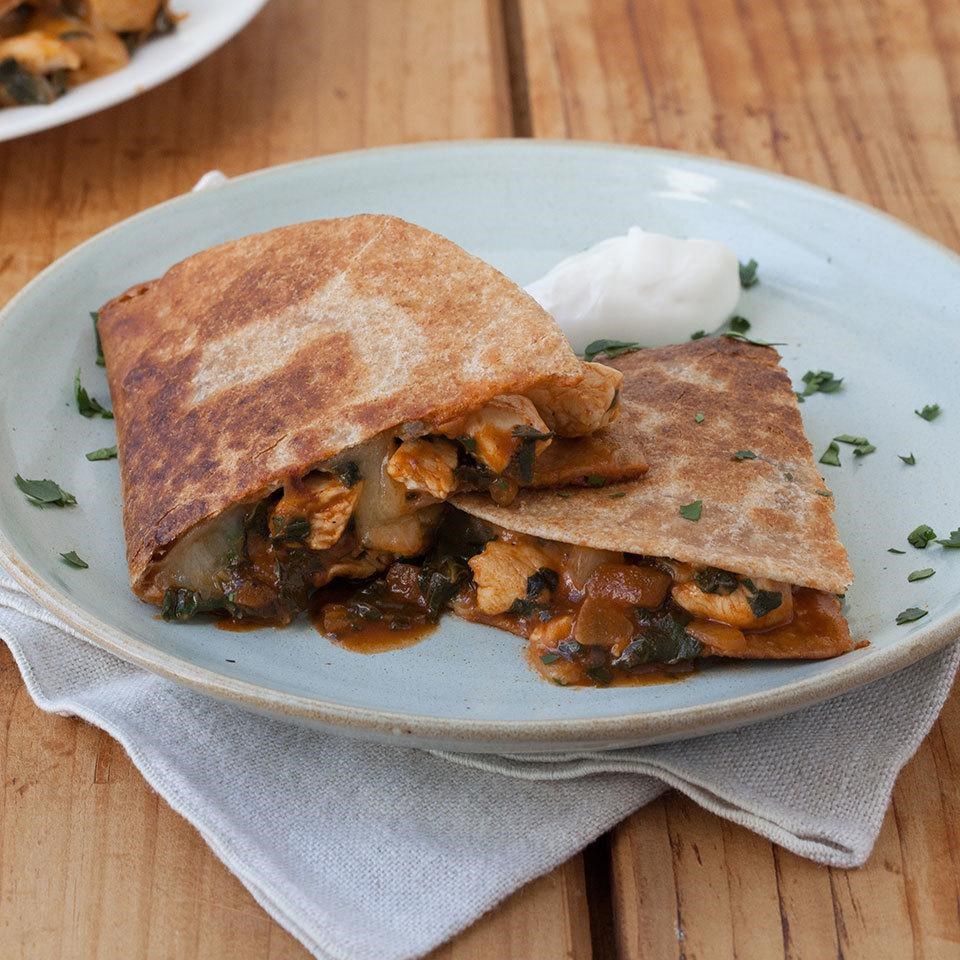 Barbecue Chicken & Chard Quesadillas: In this high-protein quesadilla recipe, lean chicken, cheese, dark leafy greens and tangy barbecue sauce make for a healthy and delicious dinner. Serve the quesadillas with guacamole, sour cream, shredded lettuce and/or salsa.
Day 7:
Mixed Grill with Balsamic-Mustard Vegetables
Per serving: 488 calories, 22 grams protein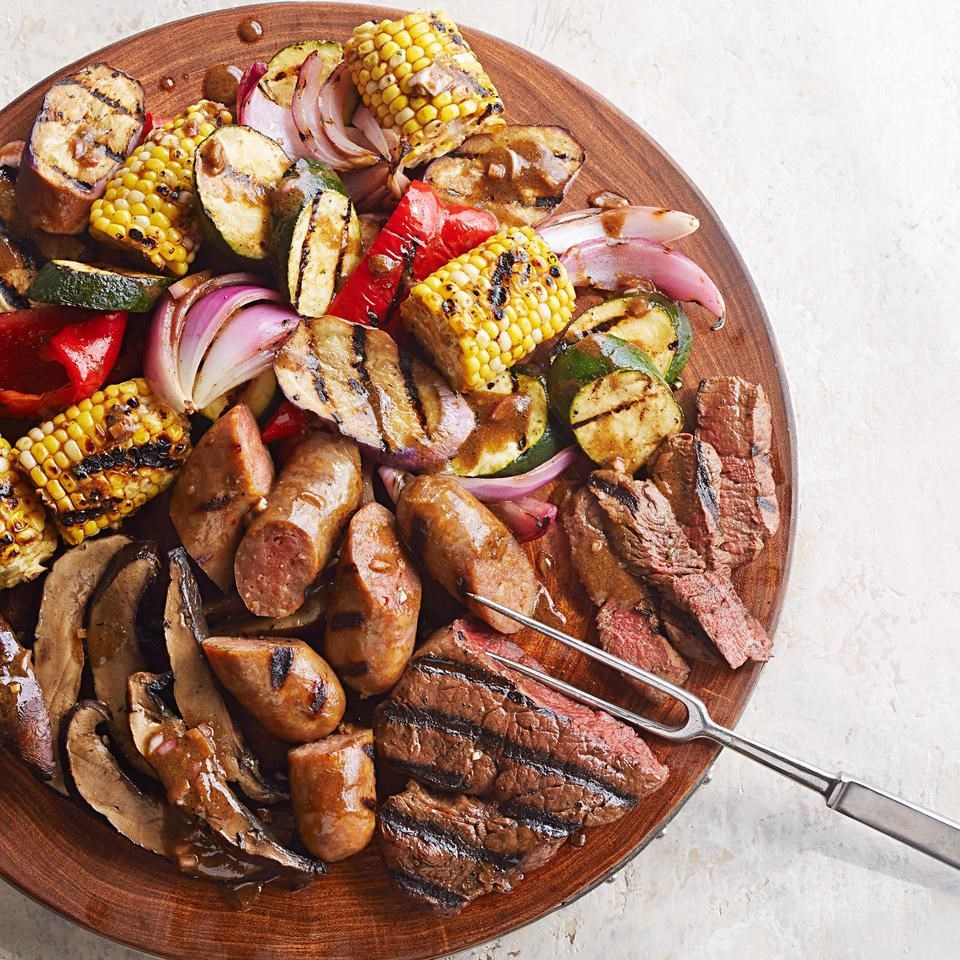 Mixed Grill with Balsamic-Mustard Vegetables: This healthy dinner recipe features protein-rich beef tenderloin and savory sausage plenty of delicious veggies. It's the perfect recipe for using up whatever fresh vegetables you have on hand. Just pay attention to cook time: denser vegetables, such as peppers and onions, take a bit longer than softer ones like zucchini and squash. Smaller ones, like cherry tomatoes, may need to be cooked in a grill basket.
Don't Miss!
More High-Protein Recipes
7-Day Meal Plan: High-Protein Spring Dinners
Diet Meal Plan to Lose Weight: 1,200 Calories
Diet Meal Plan to Lose Weight: 1,500 Calories
Diet Meal Plan to Lose Weight: 1,800 Calories