(Photo: Starbucks)
The internet is buzzing, and Starbucks is behind it. The coffee chain has jumped on the unicorn trend and introduced a magical, flavor-changing, color-changing drink: the Unicorn Frappuccino.
It's hard to describe what exactly this coffee-free beverage is. The official description is even more intriguing: "flavors start off sweet and fruity transforming to pleasantly sour." So is it a smoothie? A milkshake?
This Starbucks drink is only available for a limited time, so I understand the urge to try the trend. But don't let magical "fairy powders," natural food colors and Instagram photo ops cloud your good judgment. This so-called beverage is really just a glorified dessert—a really sweet dessert. The Unicorn Frappuccino is loaded with sugar (maybe the mythical unicorn has a sweet tooth?). A 16-ounce grande portion has 59 grams of sugar, most of which is added sugar. That's more than double the daily recommended added sugar limit for women, which is 25 grams (for men, it's 36 grams daily). By comparison, a 16-ounce Coke has 52 grams of sugar, or about 2 teaspoons less.
Why not make your own magic by whipping up a Unicorn drink of your own at home. This
Unicorn Smoothie
may not be topped with fairy powder, but it's pretty and it gets most of its sweetness naturally (from berries and mango). Your Instagram tribe will love it!
Here's a nutrition break-down for both beverages: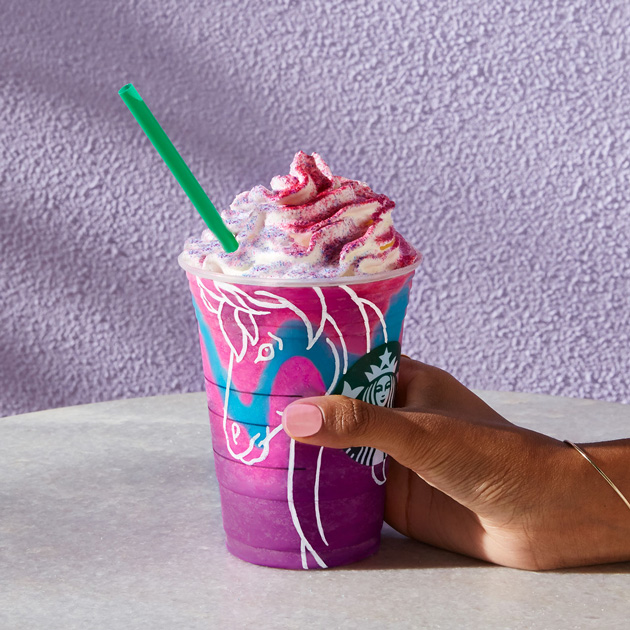 (Photo: Starbucks)
Starbucks Unicorn Frappuccino
(1 grande (16 ounces), made with whole milk)
410 calories; 16 g fat (10 g sat, 0 g trans); 0 g fiber; 62 g carbohydrates; 5 g protein; 45 mg cholesterol; 59 g sugar; 230 mg sodium.
Crème Frappuccino Syrup:
Water, Sugar, Salt, Natural and Artificial Flavor, Xanthan Gum, Potassium Sorbate, Citric Acid.
Whipped Cream:
Cream (Cream, Mono and Diglycerides, Carageenan), Vanilla Syrup (Sugar, Water, Natural Flavors, Potassium Sorbate, Citric Acid).
Mango Syrup:
Sugar, Water, Mango Juice Concentrate, Natural Flavor, Passion Fruit Juice Concentrate, Citric Acid, Potassium Sorbate, Turmeric, Gum Arabic.
Blue Drizzle:
White Chocolate Mocha Sauce (Sugar, Condensed Skim Milk, Coconut Oil, Cocoa Butter, Natural Flavor, Salt, Potassium Sorbate, Monoglycerides), Classic Syrup (Sugar, Water, Natural Flavors, Potassium Sorbate, Citric Acid), Sour Blue Powder (Citric Acid, Color [Spirulina, Water, Sugar, Maltodextrin, Citric Acid]).
Pink Powder:
Dextrose, Fruit and Vegetable Color (Apple, Cherry, Radish, Sweet Potato).
Sour Blue Powder:
Citric Acid, Color (Spirulina, Water, Sugar, Maltodextrin, Citric Acid).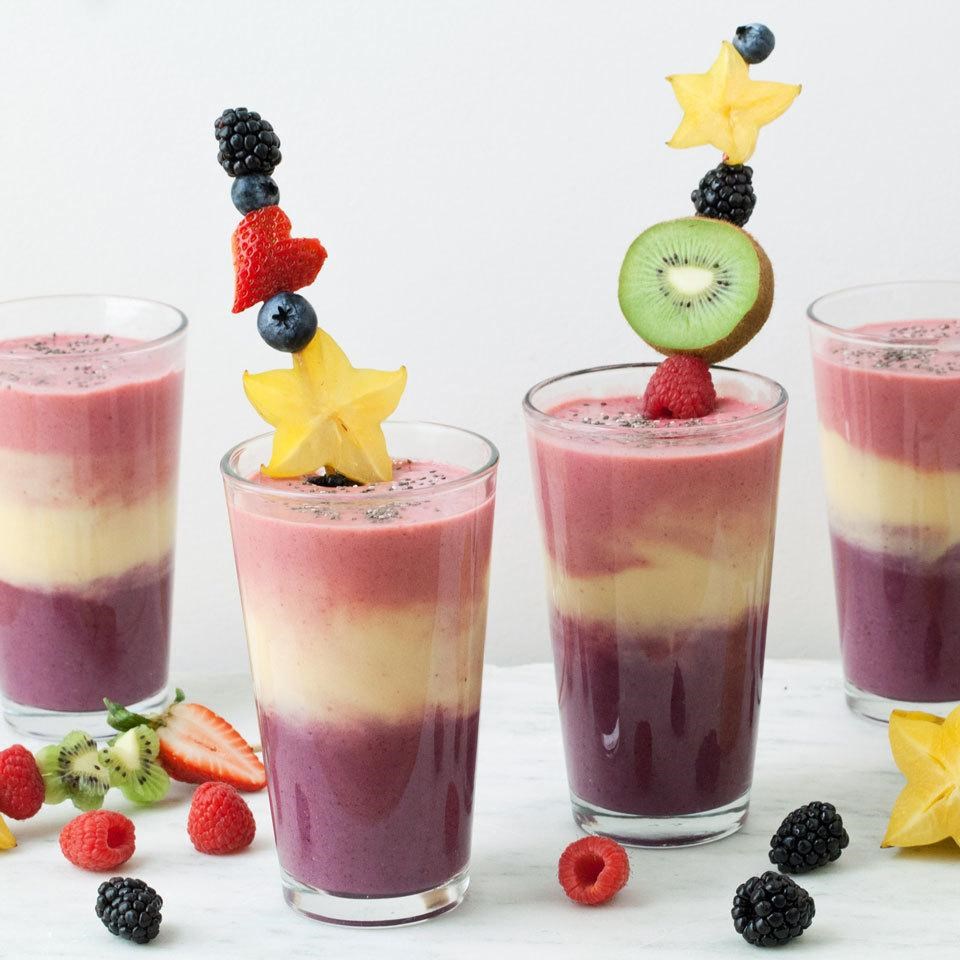 EatingWell Unicorn Smoothie
(14 ounces)
257 calories; 3 g fat(1 g sat, 0 g trans); 7 g fiber; 53 g carbohydrates; 10 g protein; 48 mcg folate; 9 mg cholesterol; 38 g sugars; 6 g added sugars; 696 IU vitamin A; 36 mg vitamin C; 294 mg calcium; 1 mg iron; 102 mg sodium; 760 mg potassium
Ingredients
: Low-fat milk, low-fat vanilla yogurt, banana, blueberries or blackberries, mango, raspberries or strawberries.
You'll save
: 153 calories, 9 grams of carbohydrate and 21 grams of sugar.
How to Make a Healthy Unicorn Smoothie