Getting a healthy, veggie-packed dinner on the table every night can be tough, but here's a genius solution: roast a big batch of root vegetables ahead of time and use them to make quick and easy meals all week. Simple and affordable vegetables, such as carrots, parsnips, sweet potatoes, onions and beets, can be prepped ahead on Sunday, stored in your refrigerator and turned into a feast with a few simple additions.
Related: How to Roast Vegetables With This Easy Technique
Roasting root vegetables in the oven elevates their inherent sweetness. Simply peel, cut and place on a parchment-lined sheet pan in a single layer. Drizzle with olive oil, vinegar, salt, pepper and fresh herbs, such as thyme or rosemary. The vinegar will help preserve the roasted veggies for the week. If your root vegetables come with fresh tops, such as beet greens, save them to incorporate into soups, stews, sautés and pesto. Having them chopped and ready to use will make it easy to incorporate them during the week, so prep ahead and store in the fridge.
Try these: Roasted Vegetable Recipes that Make You Crave Your Veggies
After 30 to 40 minutes of roasting at high heat (425°F), or until just fork-tender, pull the vegetables from the oven, let cool, then store in the fridge. Get the full recipe for Sheet-Pan Roasted Root Vegetables.
Here are five different ways to serve up the root veggies in the coming week, repurposing them in a unique way each day.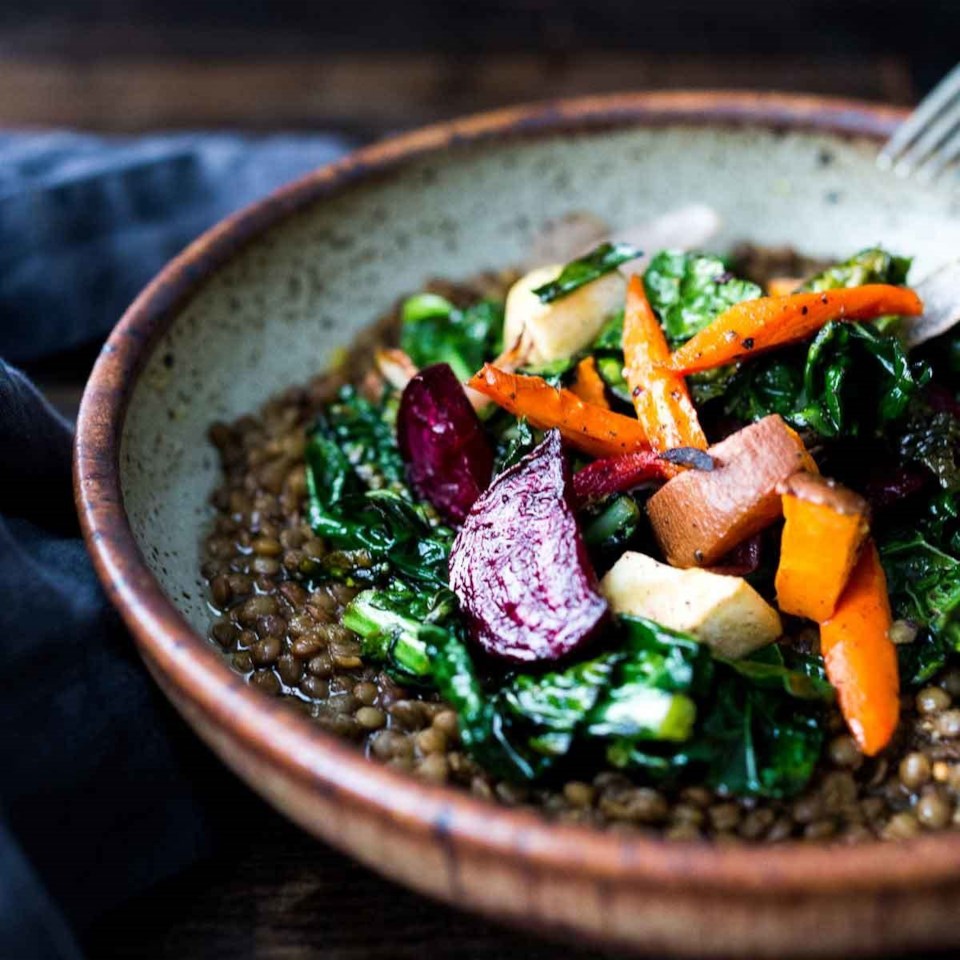 In this vegan, gluten-free bowl, Middle Eastern spiced lentils become a flavorful base for the roasted veggies. Heat or cook lentils and season with onion, garlic, cumin, olive oil and lemon juice. Sauté the roasted root veggies with either kale or beet greens in a little olive oil and season with ground coriander. Serve the veggies over the warm bed of lentils. Drizzle with a little tahini or plain yogurt for extra richness if you like. Get the recipe for Roasted Root Veggies & Greens over Spiced Lentils.
Related: How to Cook with Lentils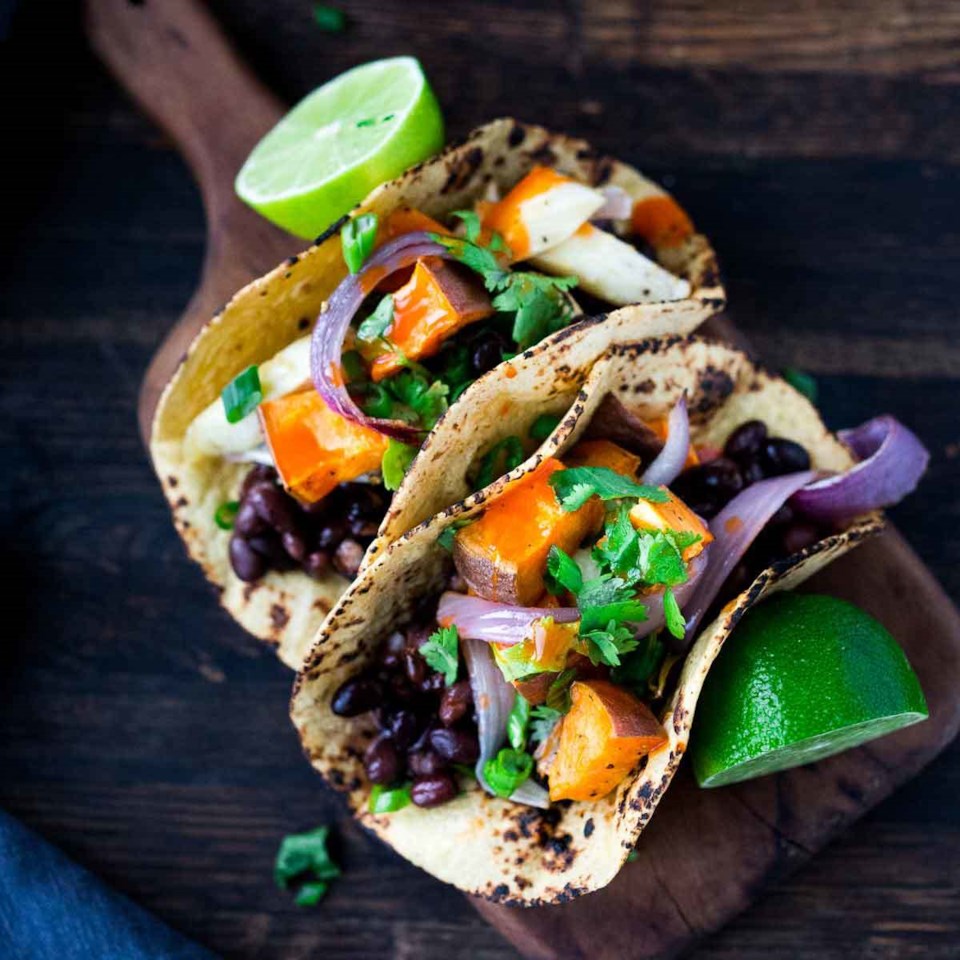 Warm the root vegetables and season with chili powder, coriander and cumin, then fold into toasted tortillas along with seasoned black beans. Add a squeeze of lime, drizzle with your favorite hot sauce and sprinkle with cilantro for healthy vegan tacos with earthy, grounding flavors! Get the recipe for Roasted Vegetables & Black Bean Tacos.
Related: Essential Ingredients You Should Always Have in Your Kitchen for Taco Night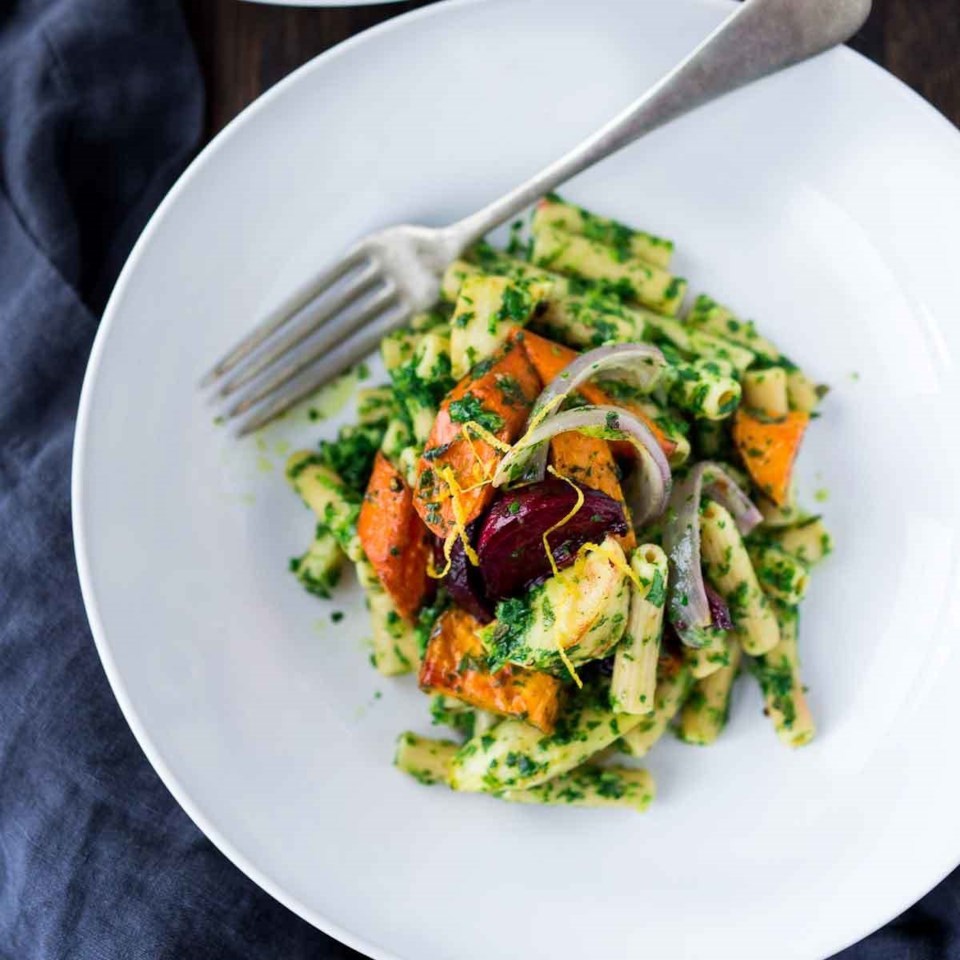 Toss gluten-free chickpea pasta with a lemony parsley & carrot top pesto and the roasted root veggies. This can be served warm or chilled as a salad. Finish it off with a little mood-lifting lemon zest. Meyer lemons work particularly well in this dish, especially during the cold months. Keep this vegan or add grated Parmesan. Get the recipe for Chickpea Pasta with Lemony-Parsley Pesto.
Related: The Best Gluten-Free Pasta to Buy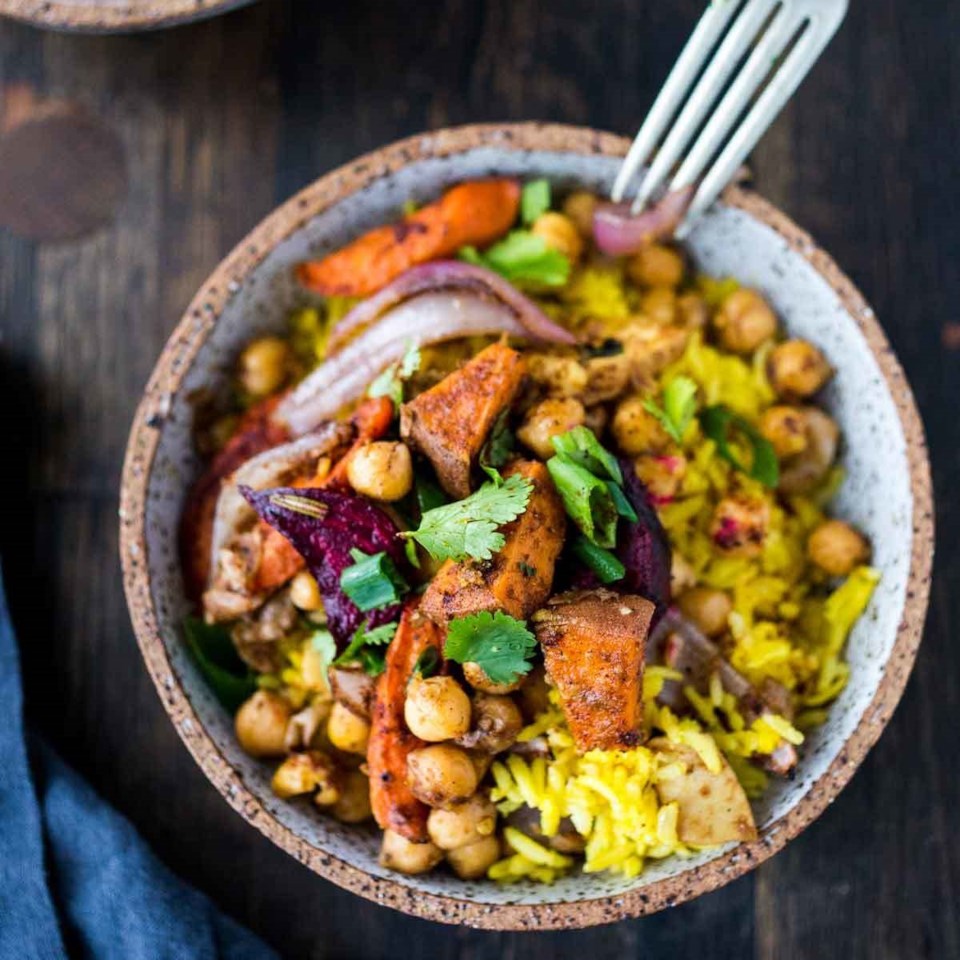 To make this Indian-inspired grain bowl, use turmeric-infused rice for a flavorful base. Then sauté the root veggies with chickpeas and a generous, five-finger pinch of garam masala (or Indian curry powder). Spoon the warm mixture over fragrant basmati rice. Sprinkle with cilantro, scallions or mint, and if you like, add a little plain yogurt or tahini. Get the recipe for Turmeric Rice Bowl with Garam Masala Root Vegetables & Chickpeas.
Related: How to Cook Brown Rice Perfectly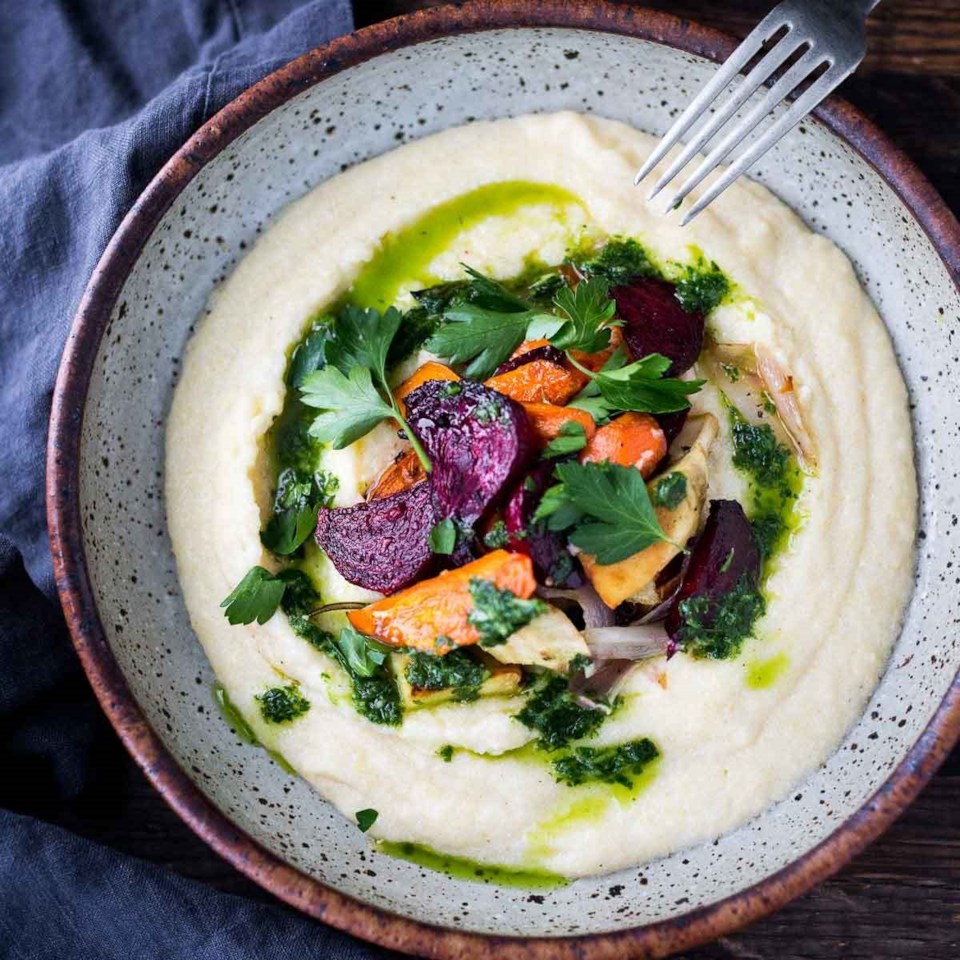 Heat the roasted veggies and serve over a warm bowl of creamy goat cheese polenta with a little drizzle of herb oil (or pesto) for a boost of flavor—a comforting and delicious meal. Get the recipe for Roasted Root Vegetables with Goat Cheese Polenta.
Use these ideas as a jumping-off point for your own delicious creations. Preparing healthy seasonal meals doesn't need to be overly complicated, time-consuming or expensive. With a little Sunday prep work, you can help the busy workweek become a little less stressful.
Related: All the Healthy Meal-Prep Recipes You Need
Don't Miss: