The Paleo Diet suggests the solution to modern-day health issues, such as obesity and other chronic diseases, is to revert back to the eating habits of our ancestors (during the Paleolithic time period), when neither processed food, nor chronic disease existed. The Paleo Diet encourages lots of fruits and veggies, wild-caught seafood and grass-fed meats, keeping added sugar and salt to a minimum, and cutting out processed foods. These are all great ways to maintain a healthy diet, but where the Paleo Diet falls flat is eliminating beans and lentils, dairy, and whole grains—foods that deliver valuable nutrients like fiber, calcium and magnesium. Unless you have an allergy or intolerance, removing them from your diet can cause more harm than good.
While we don't agree with all aspects of the Paleo Diet, we can get behind some of its healthy principles. In this meal plan, we chose 7 days of dinners that meet the Paleo Diet guidelines, and are also flavorful and healthy options even if you're not eating Paleo. We also included healthy, non-Paleo recipe ideas for breakfast and lunch to help balance out your day.
Related: 5 Tricks to Steal From the Paleo Diet
Watch How to Make Roasted Chicken & Sweet Potatoes on One Pan
Day 1:
Salmon & Escarole Packets with Lemon-Tarragon Butter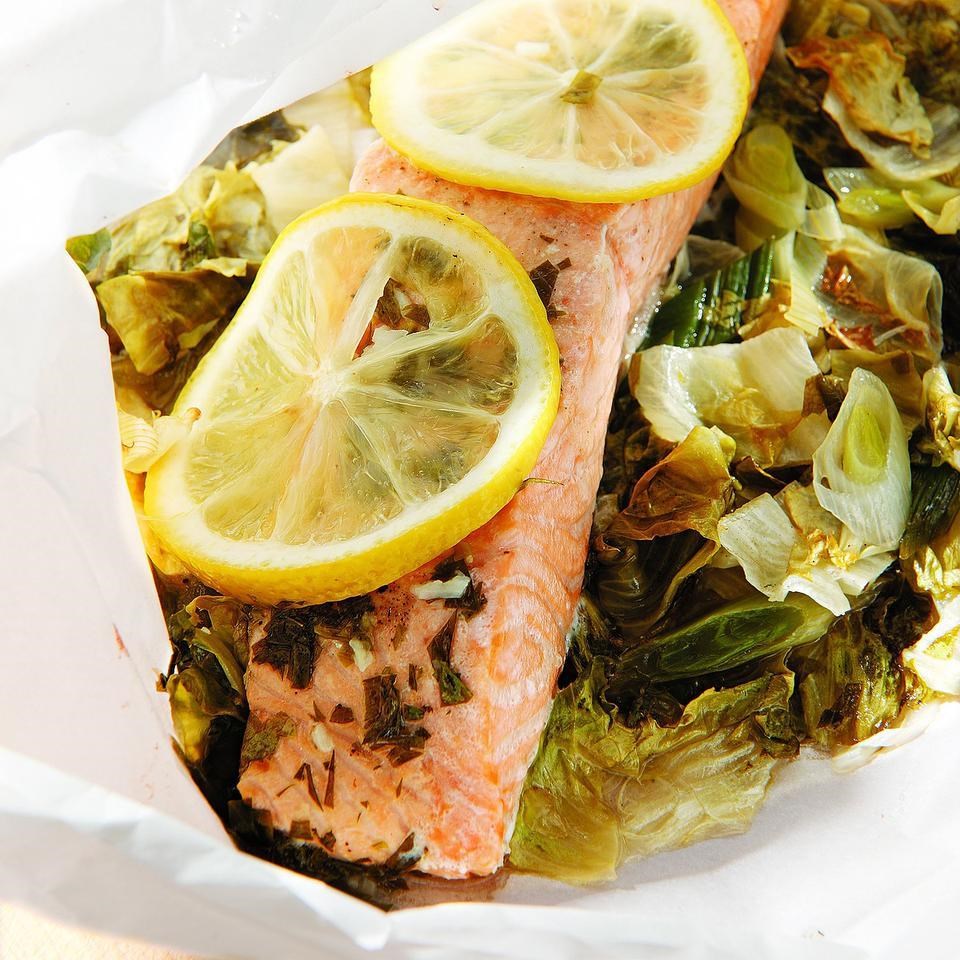 Breakfast: Bean & Bacon Breakfast Taco
Lunch: Chicken & White Bean Salad
Day 2:
Green Curry Soup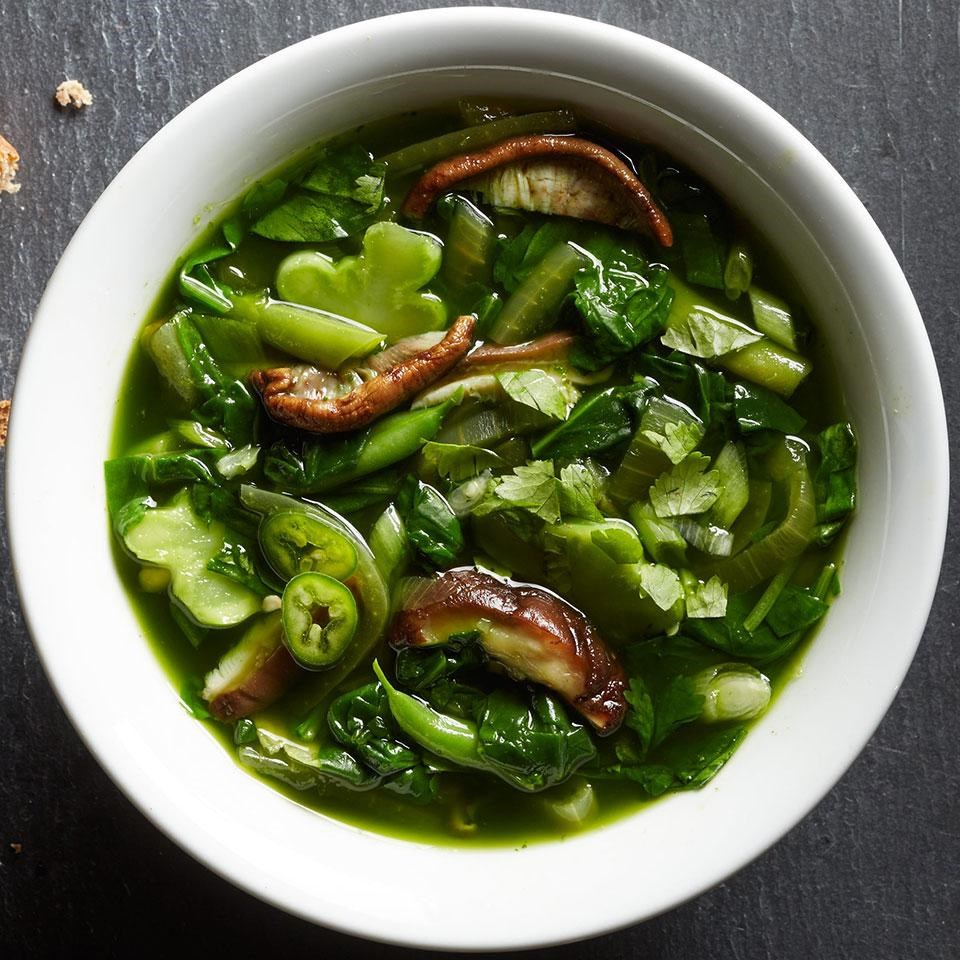 Green Curry Soup:
This aromatic green curry soup is packed with spinach, mushrooms, green beans and broccoli stems (save the florets for dinner on day 4). Green curry paste gives this soup a delicately spicy broth. The vegetables are cooked just enough to be tender, but retain their freshness and distinct textures. To complete the meal, serve with a baked sweet potato topped with butter or olive oil, and a pinch each of salt and pepper.
Breakfast: Raspberry-Yogurt Cereal Bowl
Lunch: West-Coast Toast
Day 3:
Chicken, Arugula & Butternut Squash Salad with Brussels Sprouts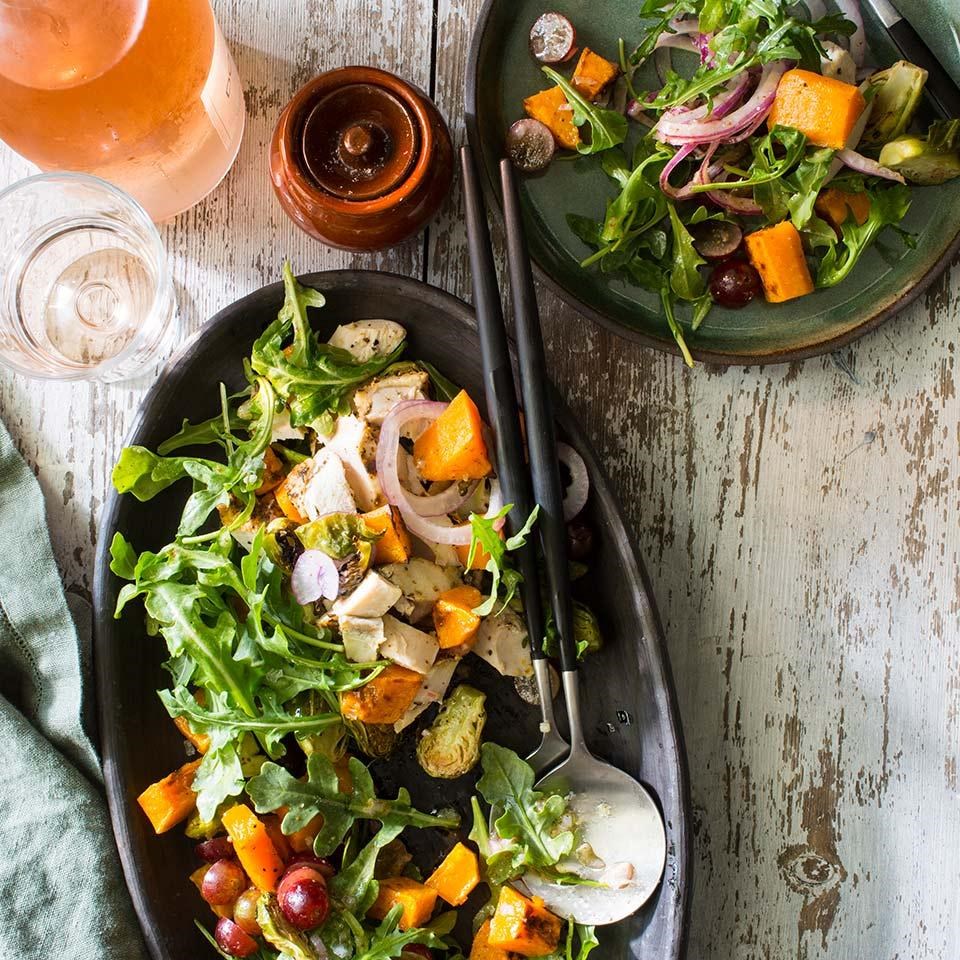 Breakfast: Apple Peanut-Butter Smoothie
Lunch: Creamy Avocado & White Bean Wrap
Day 4:
Garlic Shrimp with Cilantro Spaghetti Squash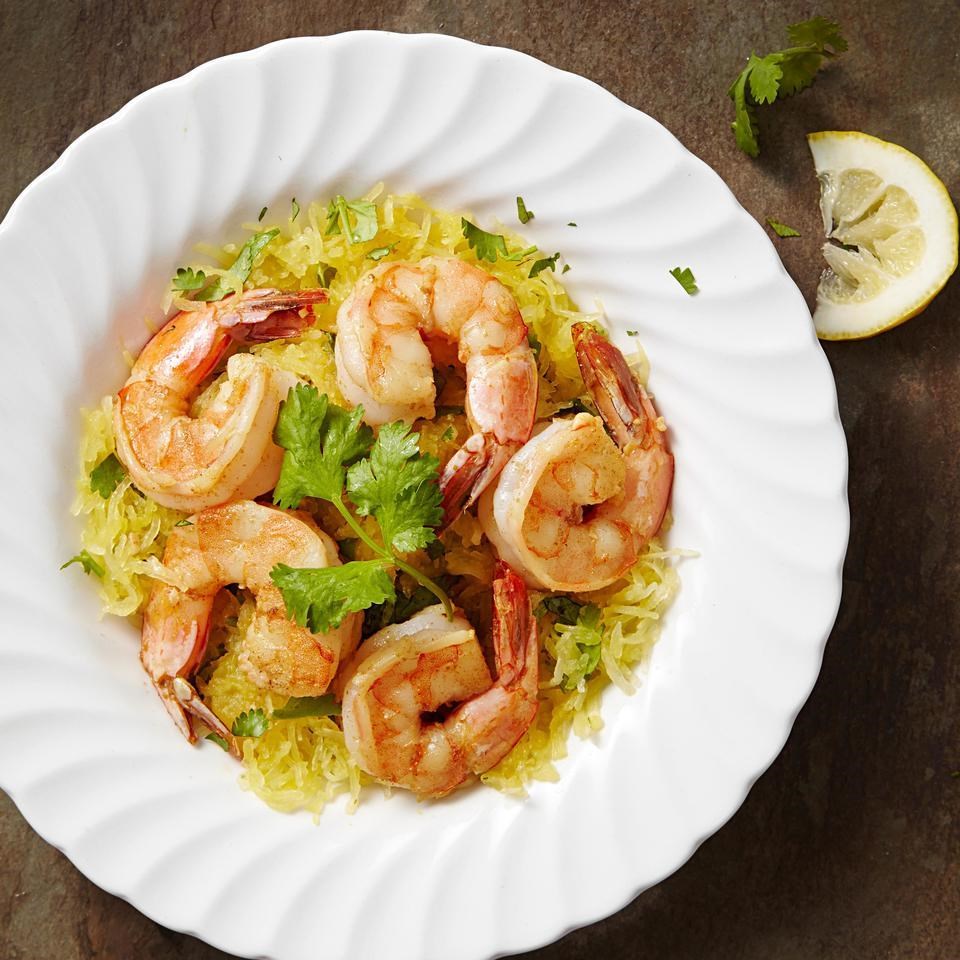 Garlic Shrimp with Cilantro Spaghetti Squash:
Garlicky shrimp are served on top of buttery, cilantro-flecked spaghetti squash in this quick, healthy dinner recipe inspired by shrimp scampi. Pair with a side of sautéed greens, such as kale, collards or spinach.
Breakfast: Fig & Ricotta Oatmeal
Lunch: Collards & Portobello Grilled Cheese
Day 5:
Roast Chicken & Sweet Potatoes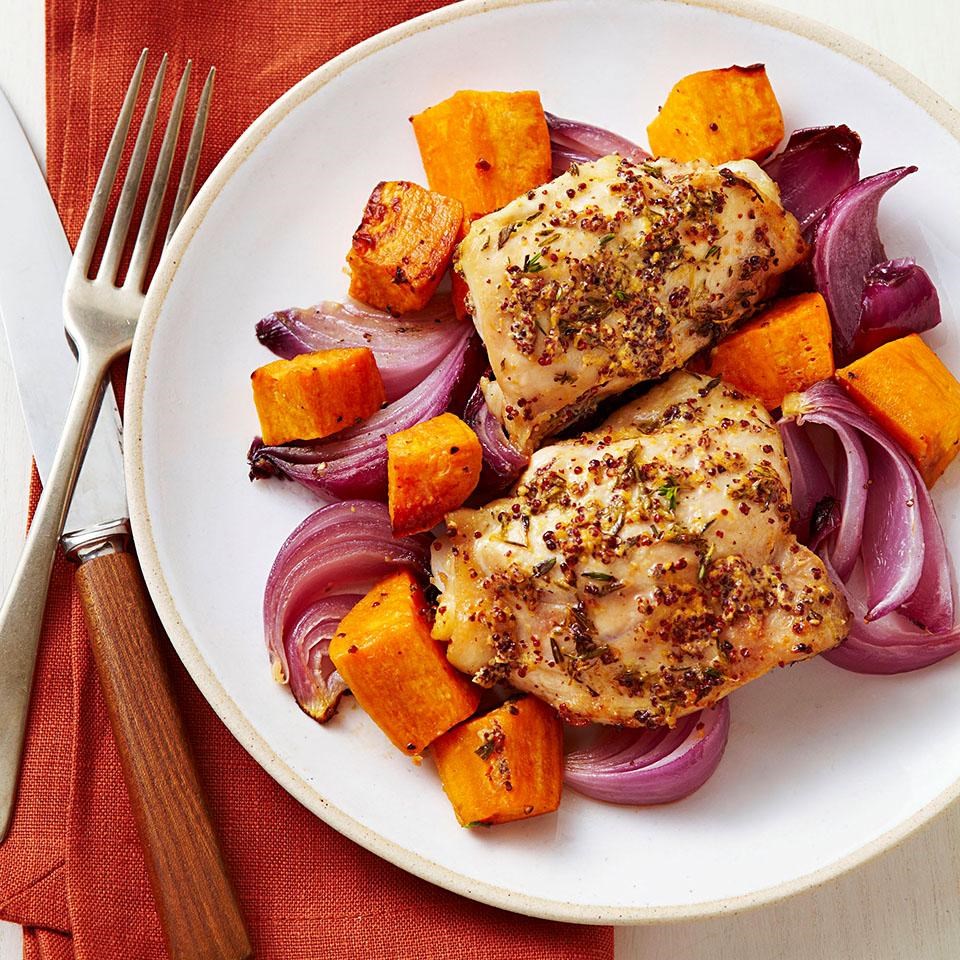 Roast Chicken & Sweet Potatoes:
Caramelized sweet potatoes and red onion are the bed for chicken thighs that cook up fast in a very hot oven—perfect for a quick healthy chicken dinner. Serve with a mixed green salad drizzled with olive oil and vinegar.
Breakfast: Peanut Butter & Chia Berry Jam English Muffin
Lunch: Edamame-Hummus Wrap
Day 6:
Roasted Swordfish & Broccoli Rabe with Piccata Butter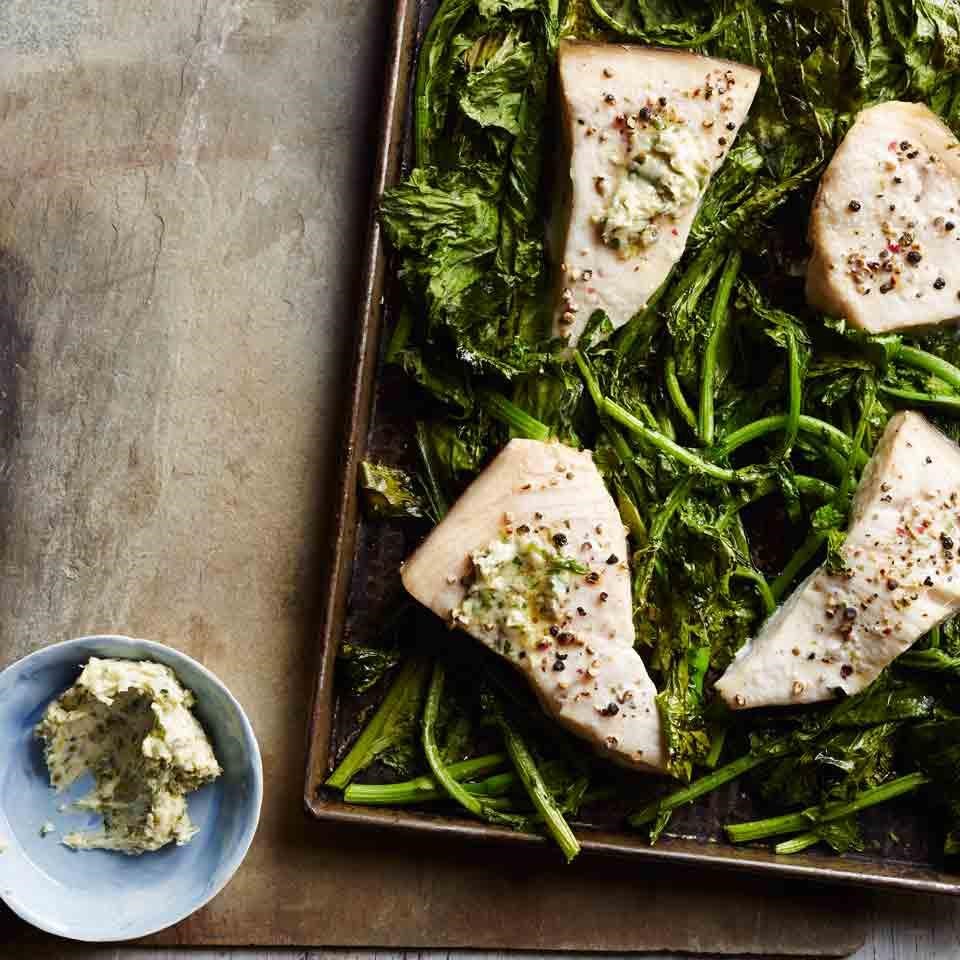 Roasted Swordfish & Broccoli Rabe with Piccata Butter: A compound butter made with capers, lemon, garlic and parsley punches up this quick and healthy fish dinner recipe.
Breakfast: Muffin-Tin Quiches with Smoked Cheddar & Potato
Lunch: Southwestern Salad with Black Beans
Day 7:
Sausage-Stuffed Apples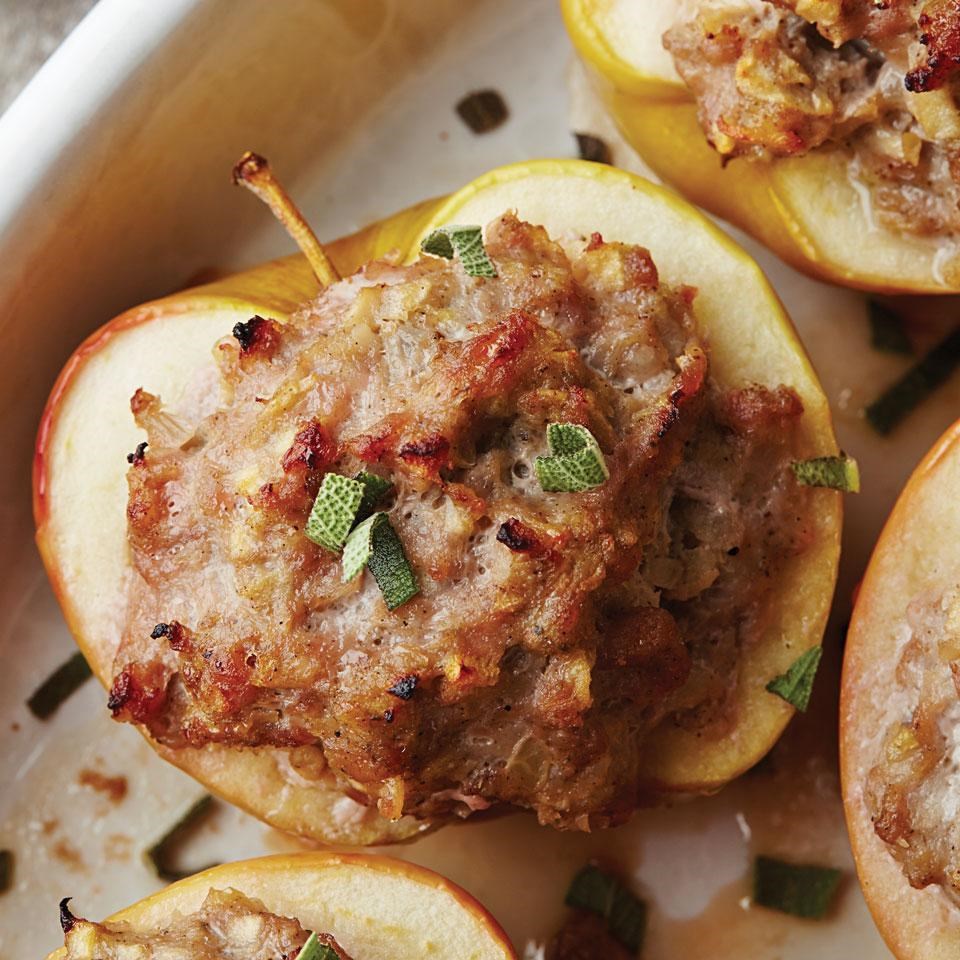 Sausage-Stuffed Apples:
In this healthy stuffed apple recipe, sage and poultry seasoning flavor the homemade turkey-and-pork sausage. Serve the stuffed apples for dinner with a big leafy green salad.
Breakfast: Smoked Trout & Spinach Scrambled Eggs
Lunch: Spicy Ramen Cup of Noodles
Don't Miss!
7-Day Whole30 Diet Meal Plan
Low-Carb Vegetarian Meal Plan: 1,500 Calories
Healthy Whole30 Recipes
14-Day Clean-Eating Meal Plan: 1,500 Calories