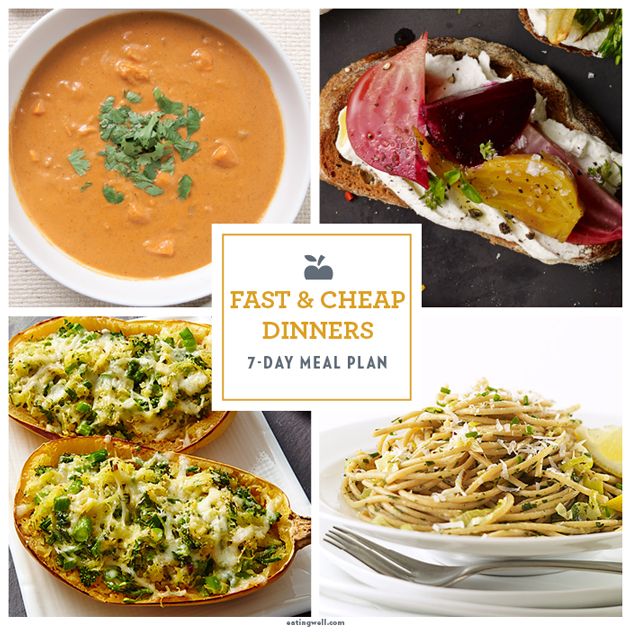 During the busy and expensive holiday season, fast and cheap meals—that are also healthy—are just what you need. Ready in about 35 minutes and ringing in at $3 or less per serving, the recipes in this week's meal plan make dinnertime easier and stress-free.
Ready in: 30 minutes
$1.79 per serving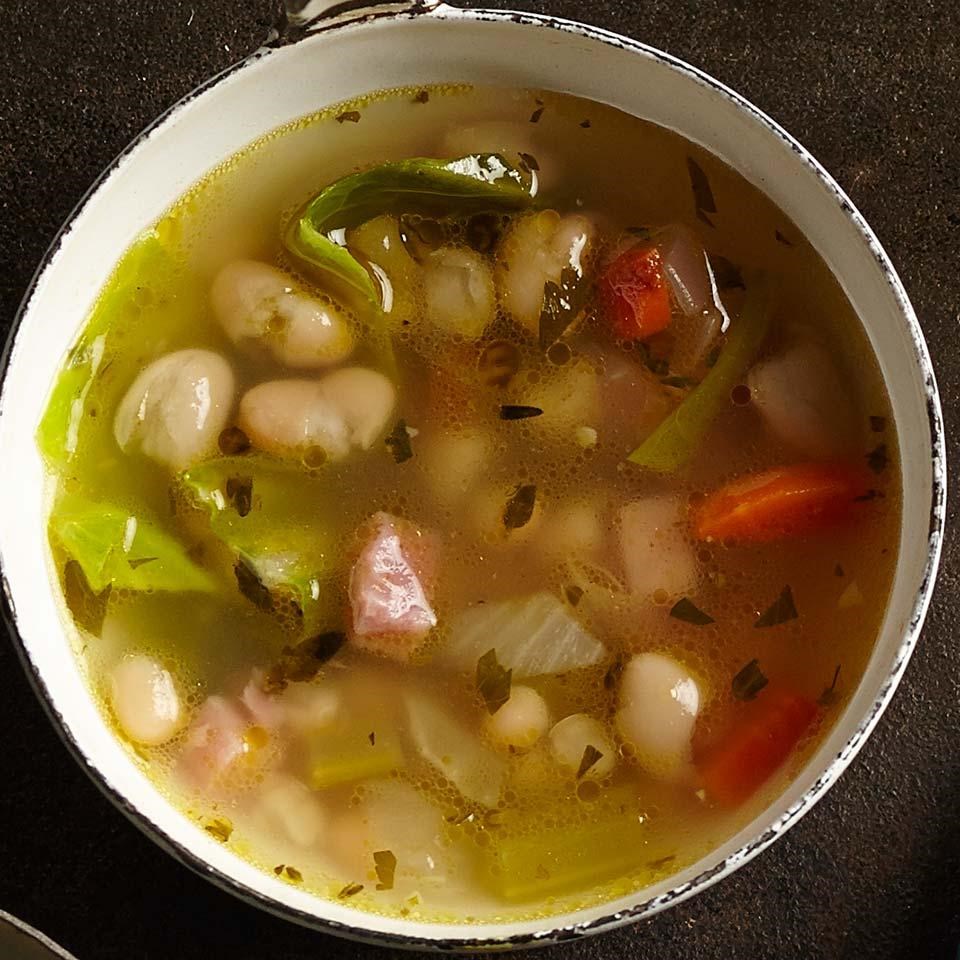 Classic White Bean & Ham Soup: This healthy ham and white bean soup recipe is ready in 30 minutes and makes enough for dinner tonight and lunch tomorrow. Just a little bit of ham adds savory flavor and protein without adding too much sodium.
Ready in: 20 minutes
$2.07 per serving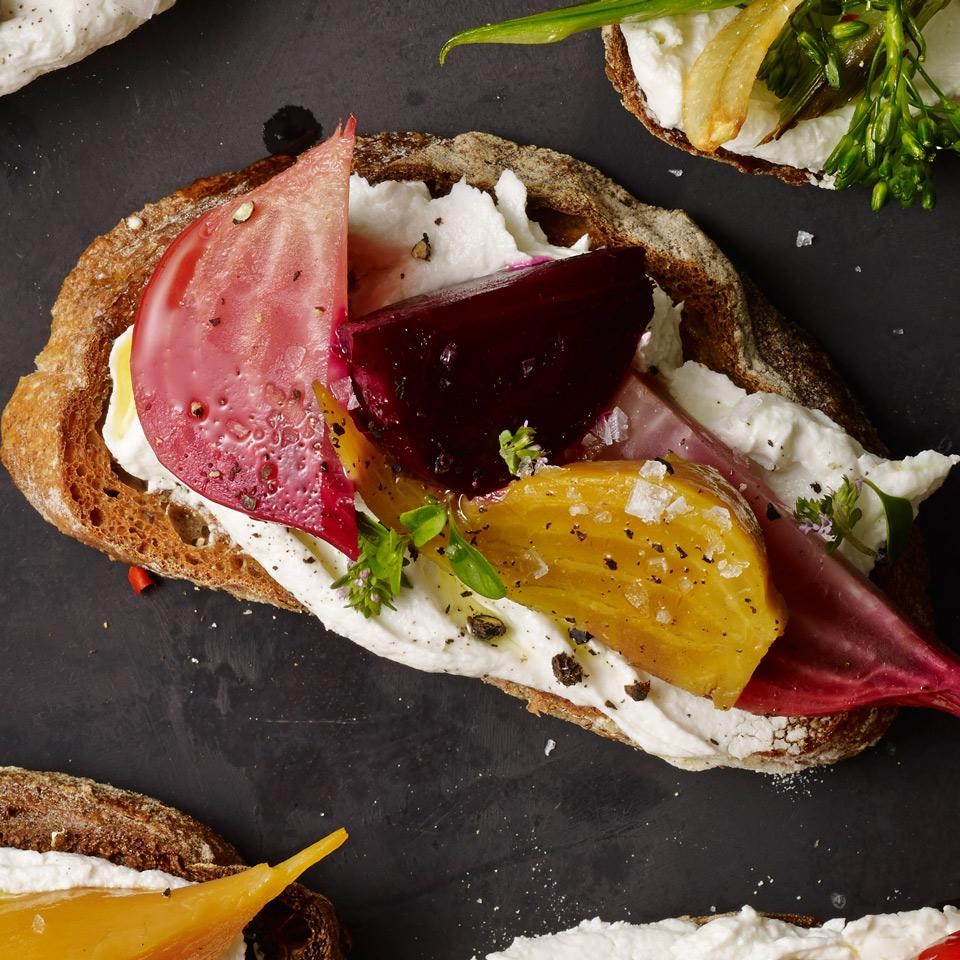 Beet & Goat Cheese Tartines: Roasting small multicolored beets makes a gorgeous topping for this healthy open-face sandwich recipe. For a flavor boost, try stirring fresh or dried herbs, such as thyme or rosemary, into the goat cheese spread. To make it a meal, serve the tartines with a leafy green salad topped with chicken breast.
Ready in: 30 minutes
$1.53 per serving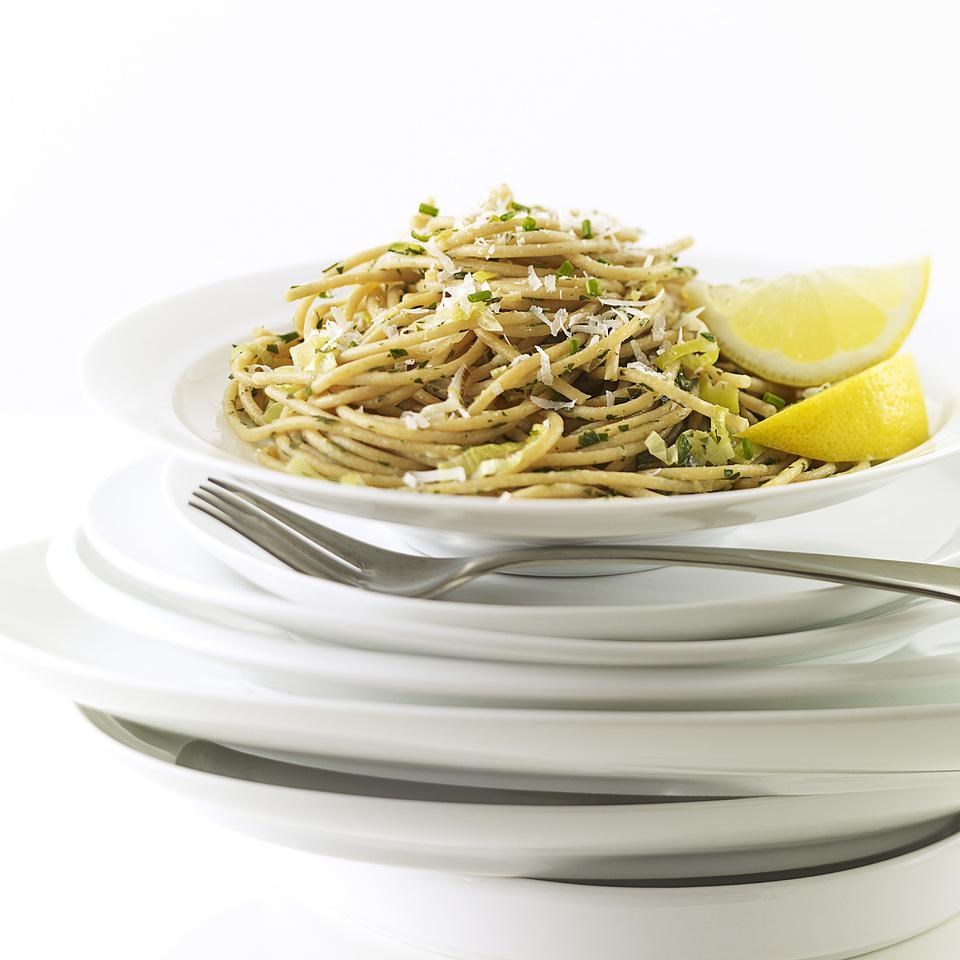 Leek & Lemon Linguine: This simple pasta recipe has bold lemony flavor. It's nice with a salad for a light supper or serve the pasta topped with seared fish, shrimp or chicken. You can vary this as you please—add a bit of crumbled goat cheese, chopped rinsed capers, shelled edamame or thin strips of yellow bell pepper.
Ready in: 30 minutes
$2.50 per serving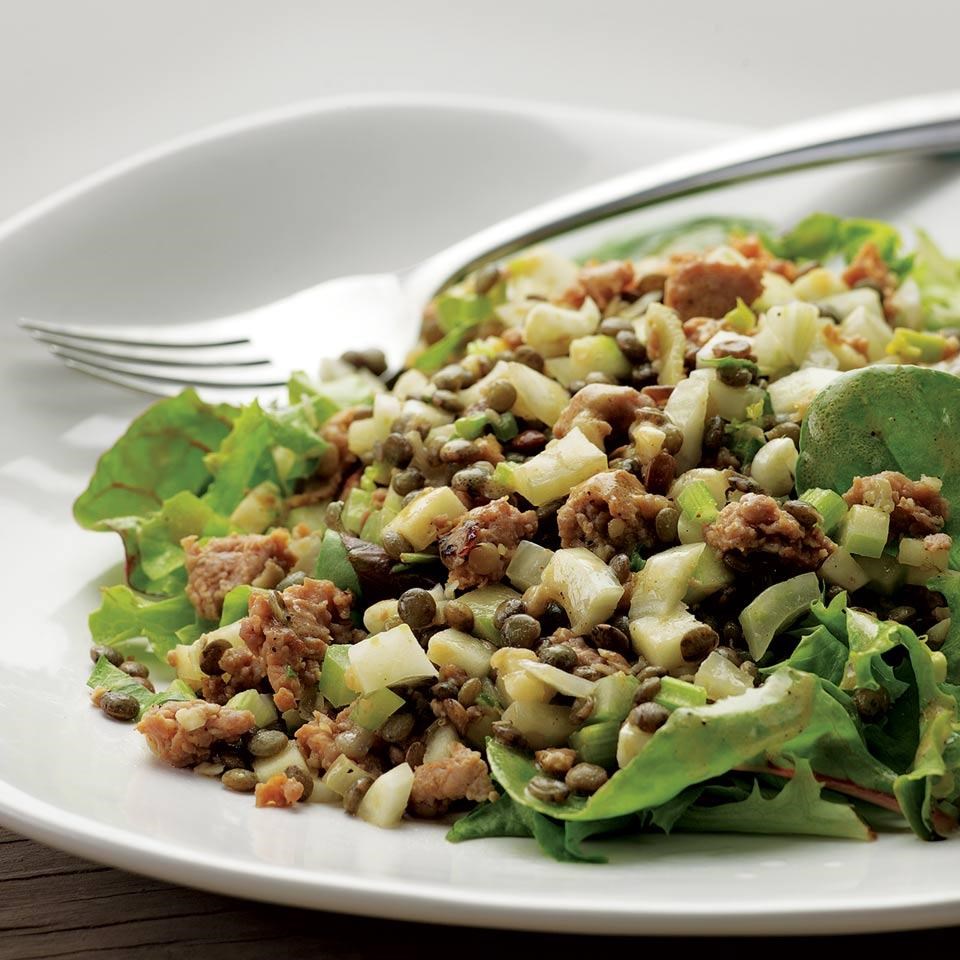 Warm Lentil Salad with Sausage & Apple: The firmer texture of French green lentils holds up nicely in this hearty dinner salad featuring savory sausage and tart apples. Plus, French lentils cook quickly, in about 15-30 minutes, for a fast, delicious, and satisfying dinner.
Ready in: 30 minutes
$1.80 per serving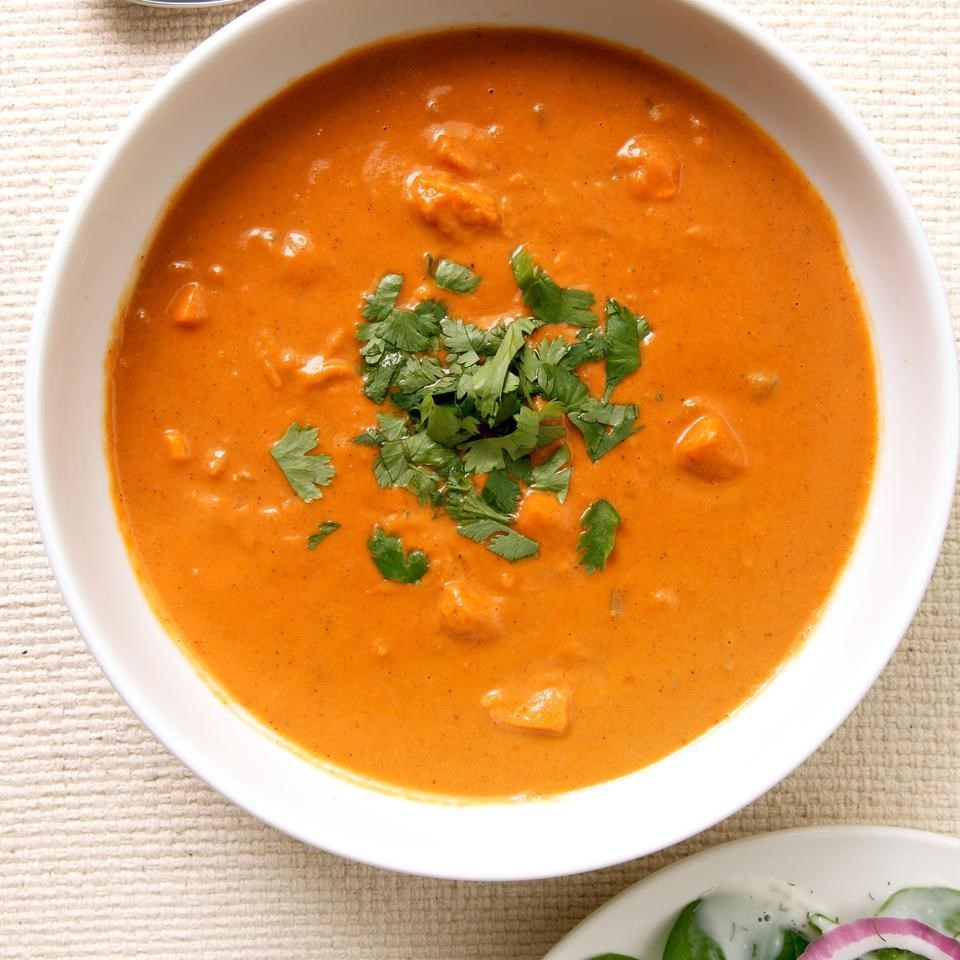 Sweet Potato-Peanut Bisque: This satisfying vegetarian, sweet potato soup is inspired by the flavors of West African peanut soup. We like the added zip of hot green chiles, but they can sometimes be very spicy. It's best to take a small bite first and add them to taste. Try chopped peanuts and scallions for a different garnish and serve with a mixed green salad with vinaigrette.
Ready in: 35 minutes
$2.25 per serving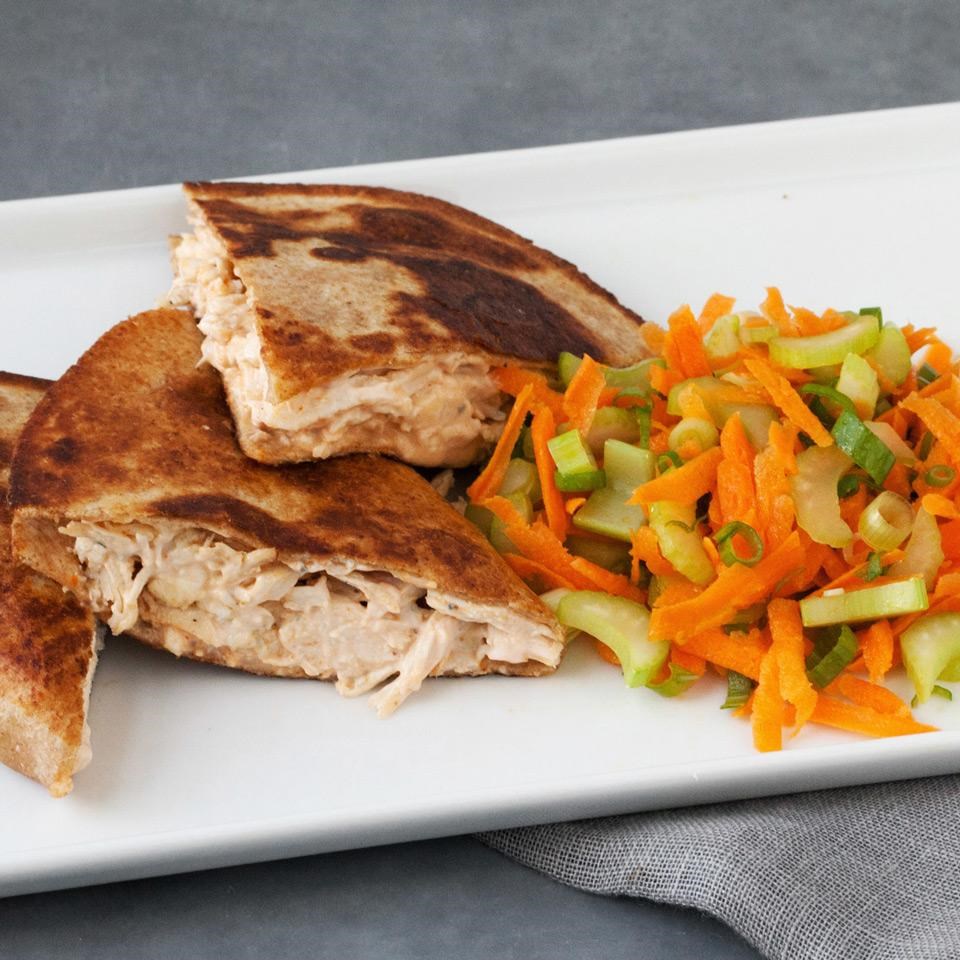 Buffalo Chicken Quesadillas: Shredded chicken is tossed with a creamy blue cheese-hot sauce dressing before being tucked into a whole-wheat tortilla in this healthy quesadilla recipe. Served with a quick carrot-and-celery slaw, this easy recipe is great for lunch or dinner and can also be cut into smaller wedges and served as an appetizer.
Ready in: 40 minutes
$2.80 per serving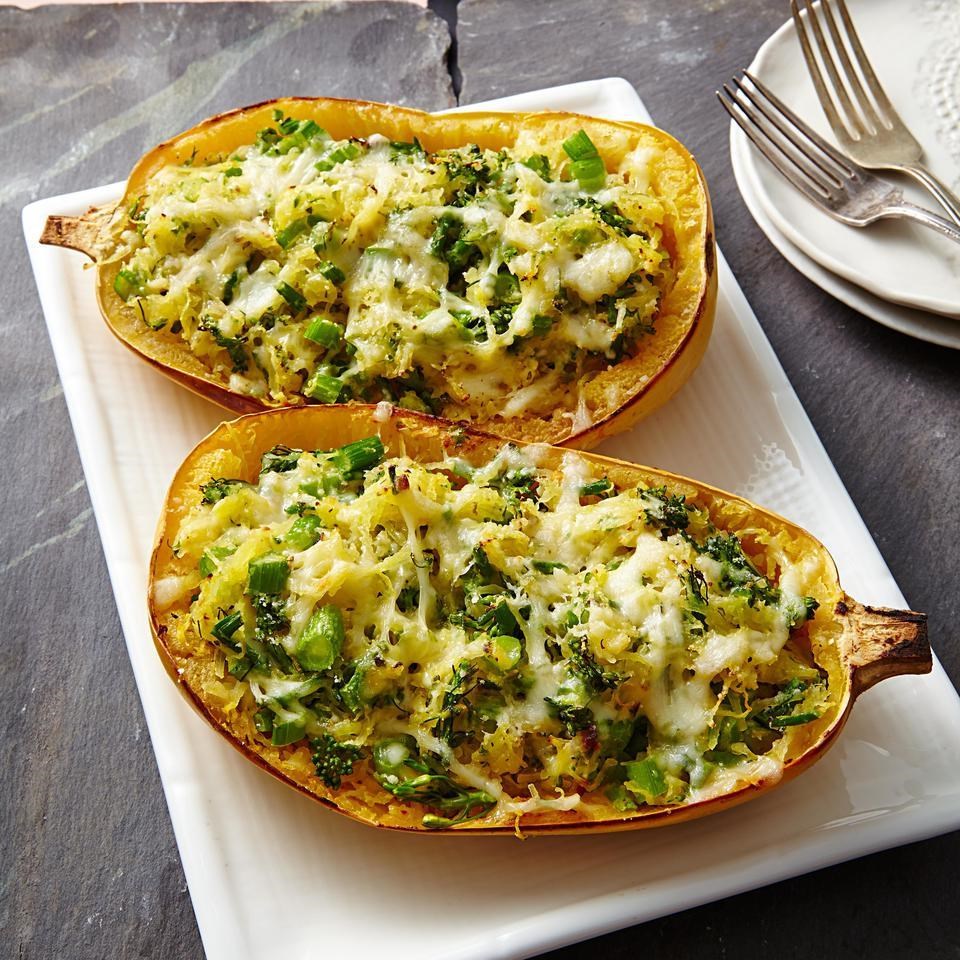 Spaghetti Squash Lasagna with Broccolini: In this low-carb spaghetti squash lasagna recipe, garlicky broccolini, spaghetti squash and cheese are combined for a healthy take on a favorite casserole. This bakes right in the squash shells for a fun presentation. Serve the squash with a big Caesar salad and some warm and crusty whole-grain bread.
How to Make Spaghetti Squash Lasagna with Broccolini
Pantry Staples 7-Day Meal Plan
7-Day Meal Plan: Dinners for $2 or Less
Make-Ahead Breakfasts to Grab & Go
Download a FREE Make-Ahead Dinner Recipe Cookbook!