For those weeks when you need to hit the restart button, this 7-day meal plan will help you to get back on track with your healthy habits. The recipes in this week's plan feature tons of fresh veggies, hearty whole-grains, lean protein and come in right around 500 calories. These whole-foods-packed dinners will leave you feeling refreshed, renergized and back to your normal, healthy self.
How to Make Paprika Chicken with Brussels Sprouts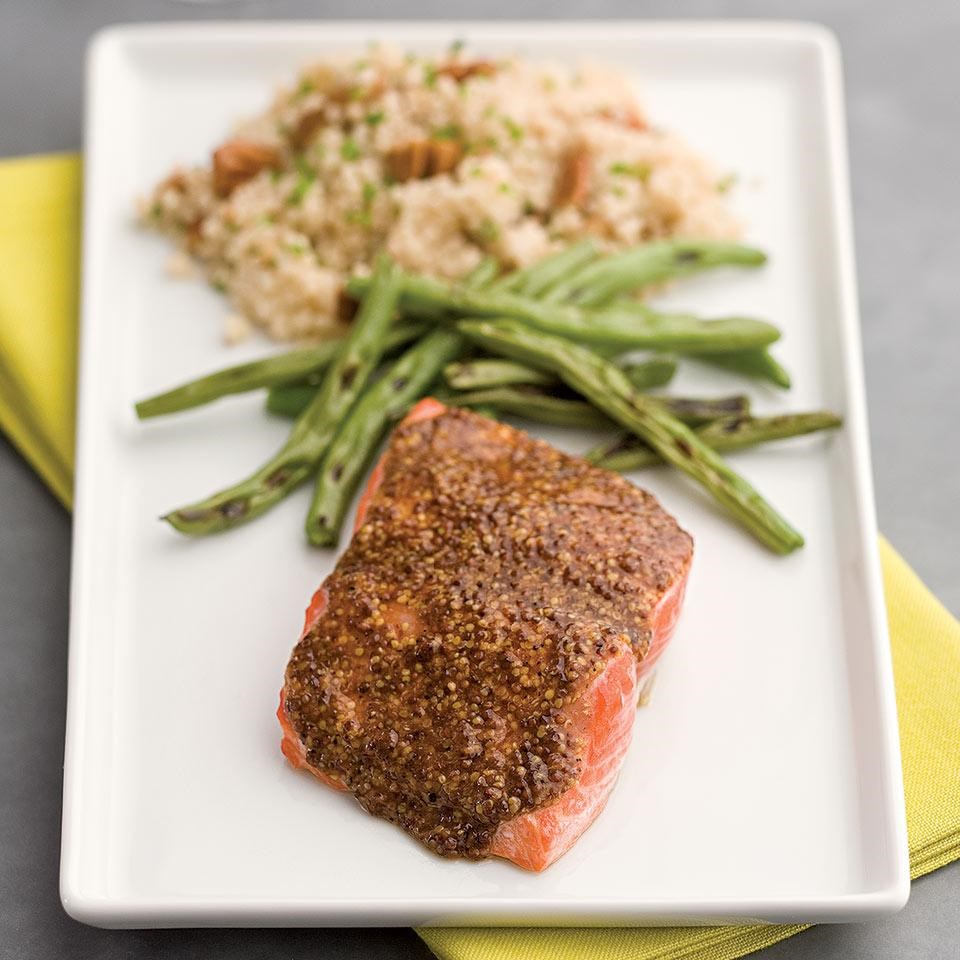 Smoky Maple-Mustard Salmon:
It doesn't get much easier—or more delicious—than this speedy recipe for roast salmon topped with a smoky maple-mustard sauce. The sweetness of the maple balances the tangy mustard; smoked paprika or ground chipotle adds another layer of flavor. Serve the salmon with roasted green beans and whole-wheat couscous tossed with pecans and chives.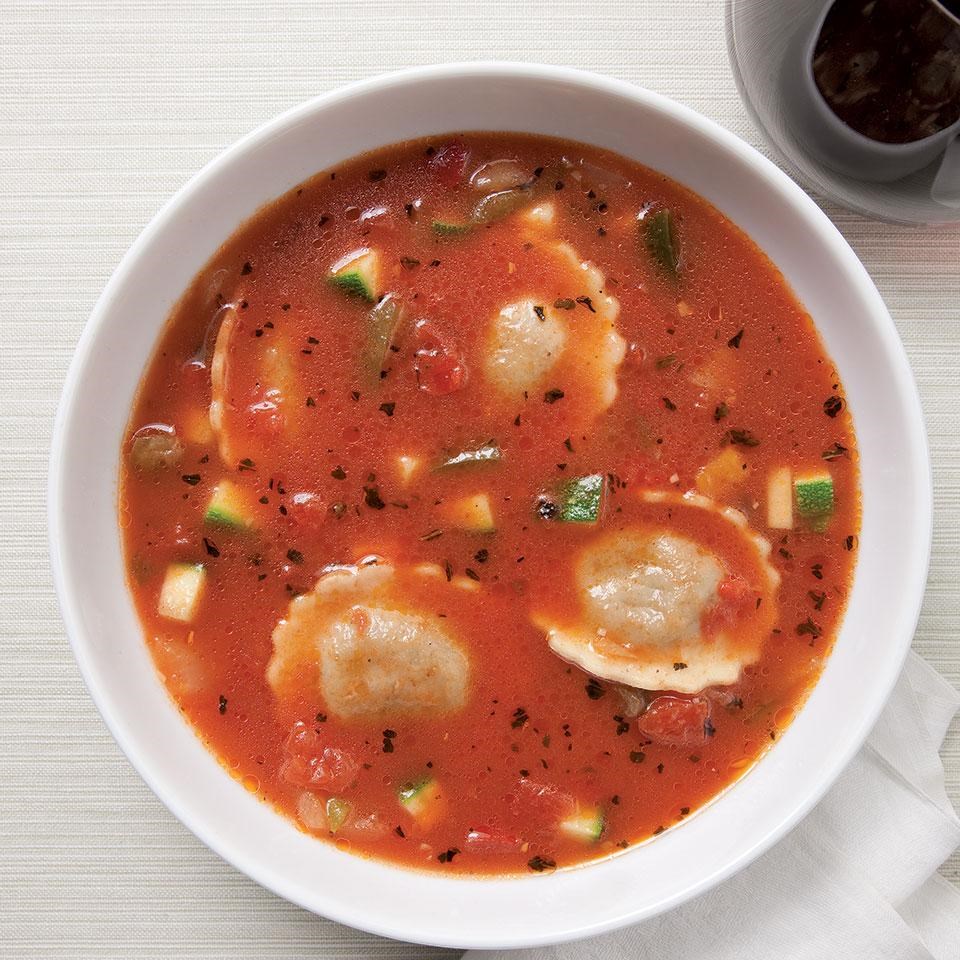 Ravioli & Vegetable Soup:
Fresh or frozen ravioli cook in minutes and turn this light vegetable soup into a main course. Look for whole-wheat or whole-grain ravioli in the refrigerated or frozen section of the supermarket. Tortellini can be used instead of ravioli as well. Serve the soup with a side salad with vinaigrette.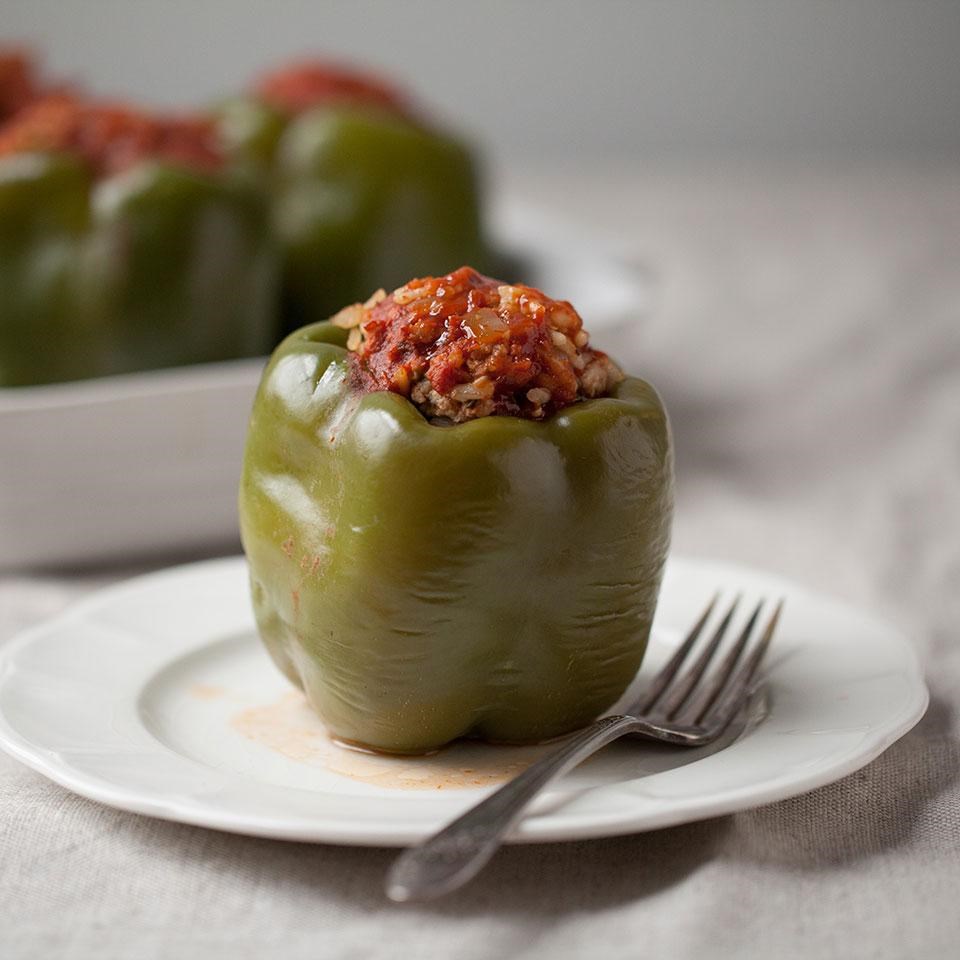 Stuffed Peppers:
Lean ground turkey makes a healthy substitute for ground beef that's usually found in stuffed pepper filling. To add a nutty flavor and boost the nutrition even further, we call for cooked brown rice, but this recipe will also work with white rice.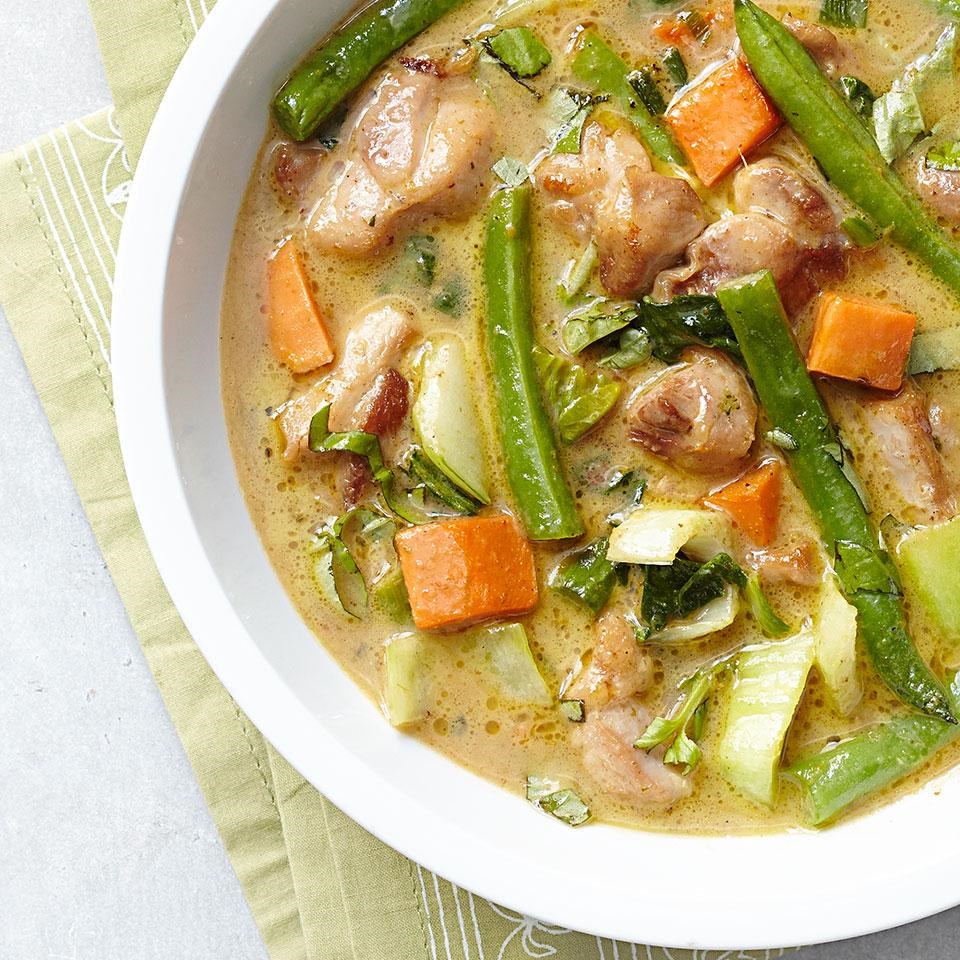 Green Chicken Curry:
If you're looking for a basic green Thai chicken curry recipe, start here. Green is the hottest type of curry paste; to take this chicken recipe down a notch, try red Thai curry paste (considered "medium" heat) or mild yellow curry paste. This veggie-packed curry is a delicious and satisfying dinner you'll want to make again, and again. Serve the curry with brown rice, if desired. Cook extra rice tonight to use in the
Rice, Cheddar & Spinach Pie
recipe tomorrow.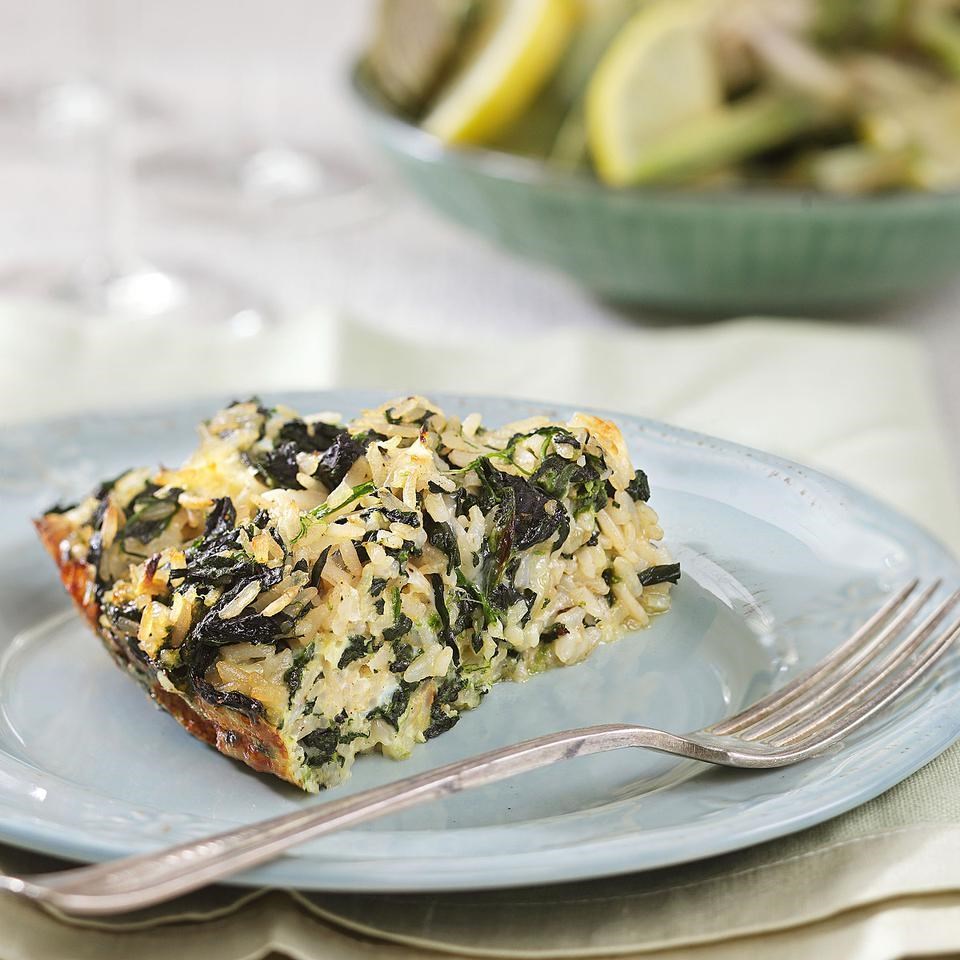 Rice, Cheddar & Spinach Pie:
This rice, spinach and Cheddar pie is a cinch to prepare—especially if you have leftover cooked rice. If you don't, follow package directions for 4 servings to get about 3 cups cooked rice. Serve with a leafy-green salad with vinaigrette.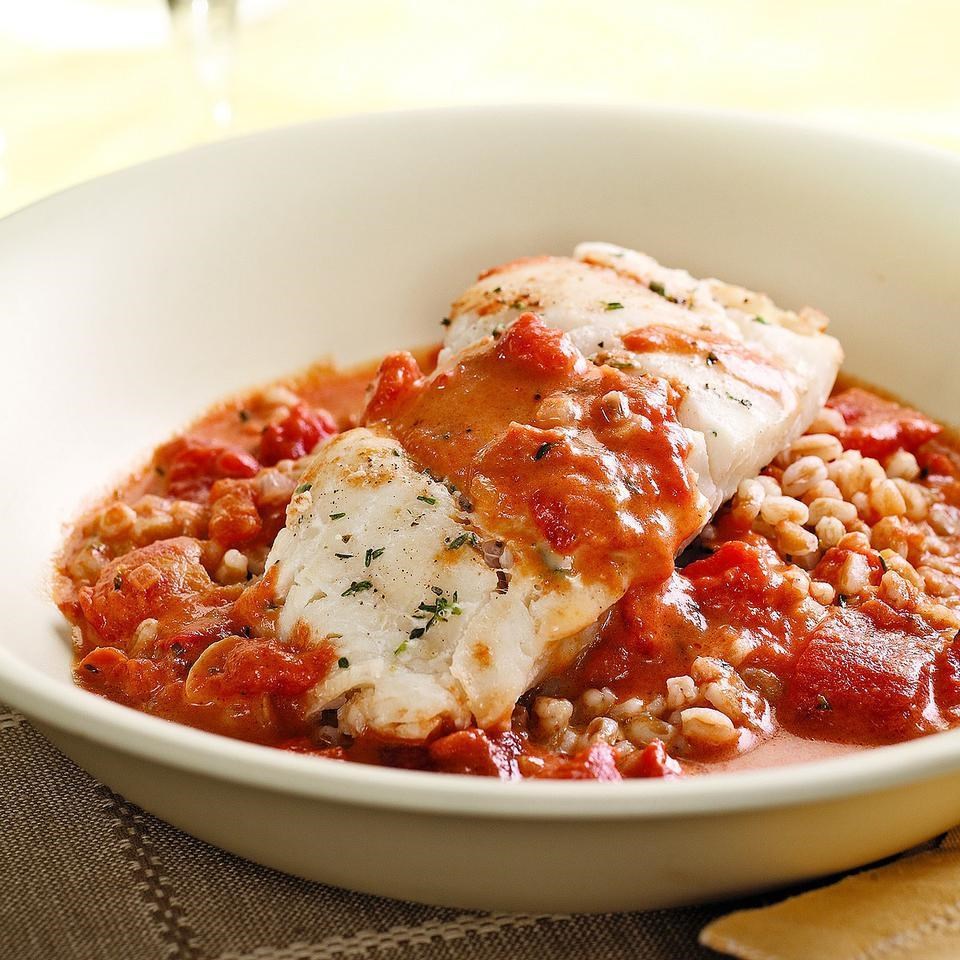 Cod with Tomato Cream Sauce:
This silky tomato sauce with a touch of cream makes mild-flavored cod sing. Serve with this dish with farro or rice and a salad of mixed greens.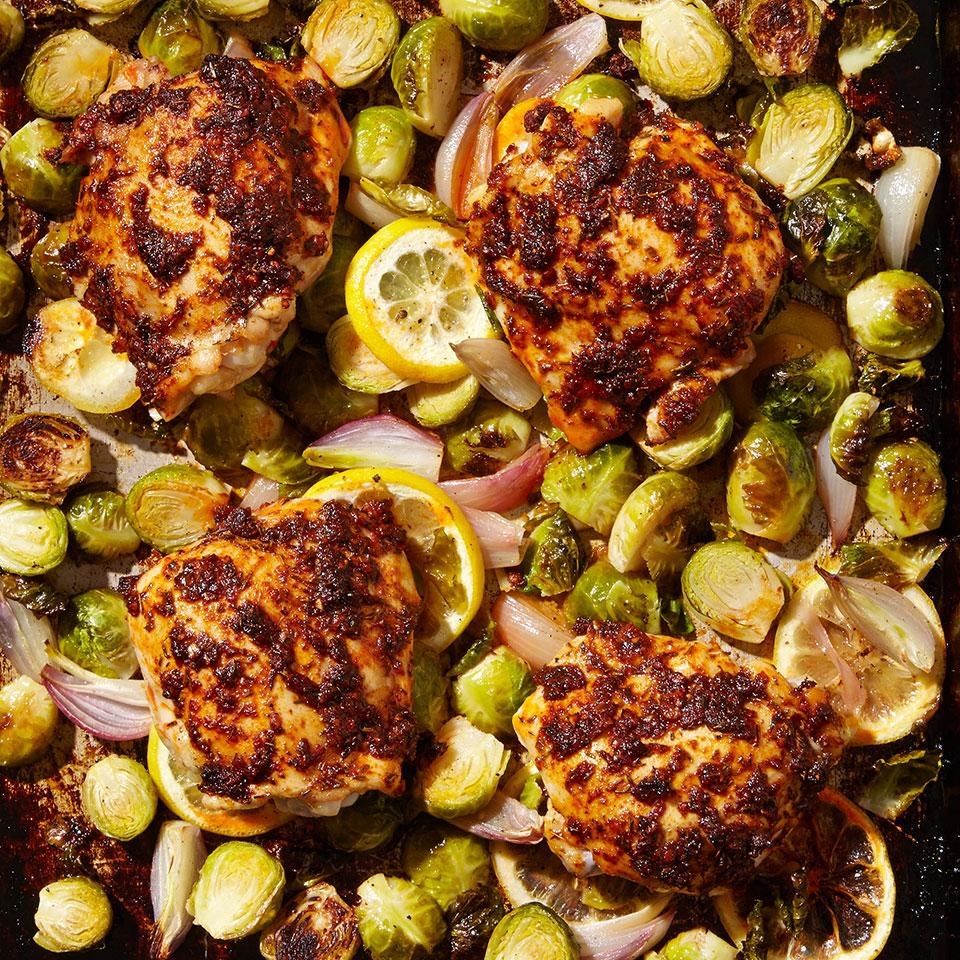 Paprika Chicken Thighs with Brussels Sprouts:
In this healthy chicken recipe, paprika-rubbed chicken thighs are nestled into Brussels sprouts and shallots and roasted on a sheet pan in the oven for an easy, healthy dinner. As the chicken thighs roast, the garlicky drippings flavor the Brussels sprouts and shallots. Smoked paprika adds a touch of smoky flavor. Regular paprika can be used in its place, but doesn't add the hint of smoke.
Don't Miss!
7-Day Meal Plan: Fast Dinners for 400 Calories or Less
7 Days of Easy 30-Minute Meals
14-Day Clean Eating Meal Plan: 1,200 Calories
14-Day Clean Eating Meal Plan: 1,500 Calories
14-Day Clean Eating Meal Plan: 2,000 Calories