Juicy pork chops, fresh fish, and hearty quinoa are just some of the delicious, protein-packed foods in this week's meal plan. Protein does a lot of good in the body—it builds healthy cells and repairs ones that are damaged, keeps your immune system in tip-top shape, and helps you to feel full and satisfied after a meal. The Institute of Medicine (IOM) recommends women get 46 grams of protein daily (that's equal to about 6 ounces of chicken), while men need 56 grams. The recipes in this plan provide at least 15 grams per serving. We paired the protein in each recipe with whole grains and plenty of vegetables for a week of healthy, balanced, satisfying meals.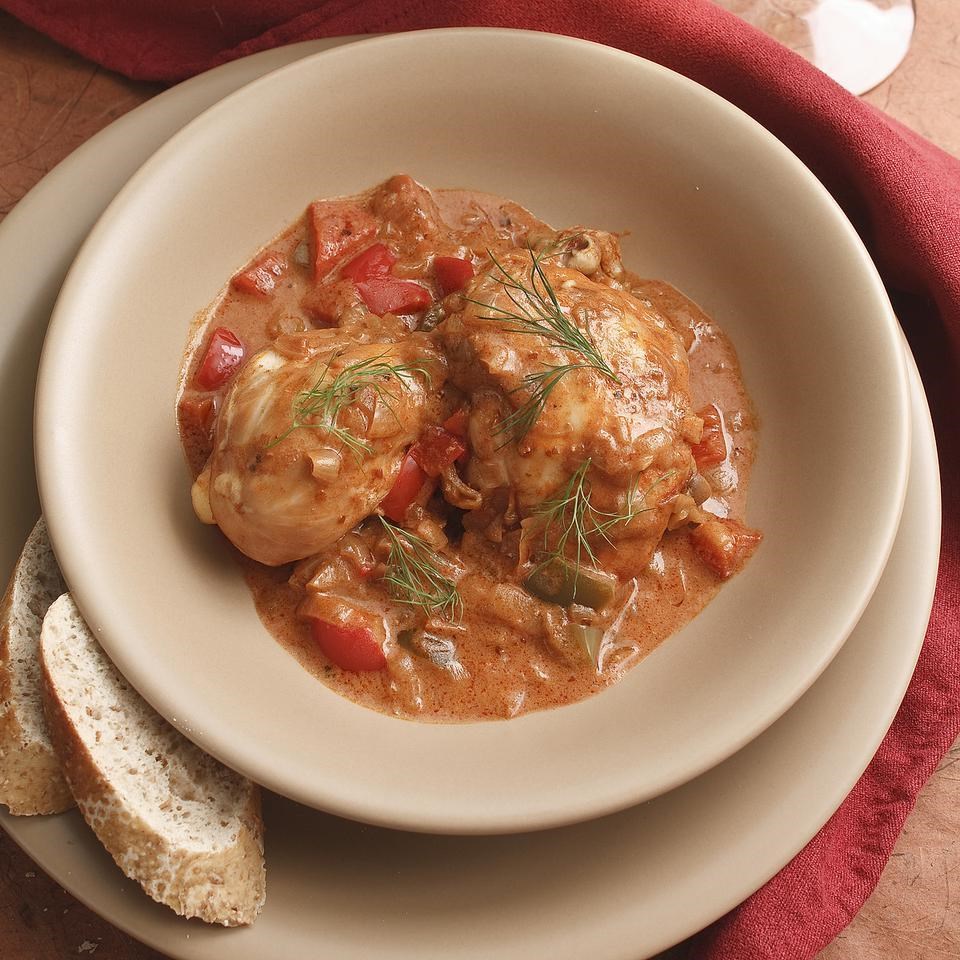 Braised Paprika Chicken:
Sweet Hungarian paprika gives this creamy braised chicken the best flavor. This is a good "pantry dish" since you should have the basics on hand and only need to purchase the chicken. The dish rings in a 36 grams of protein per serving. You may vary the recipe, without missing out on the protein, by using cubed veal shoulder instead of chicken and mushrooms instead of peppers. Serve the chicken with whole-wheat orzo flavored with minced parsley or dill.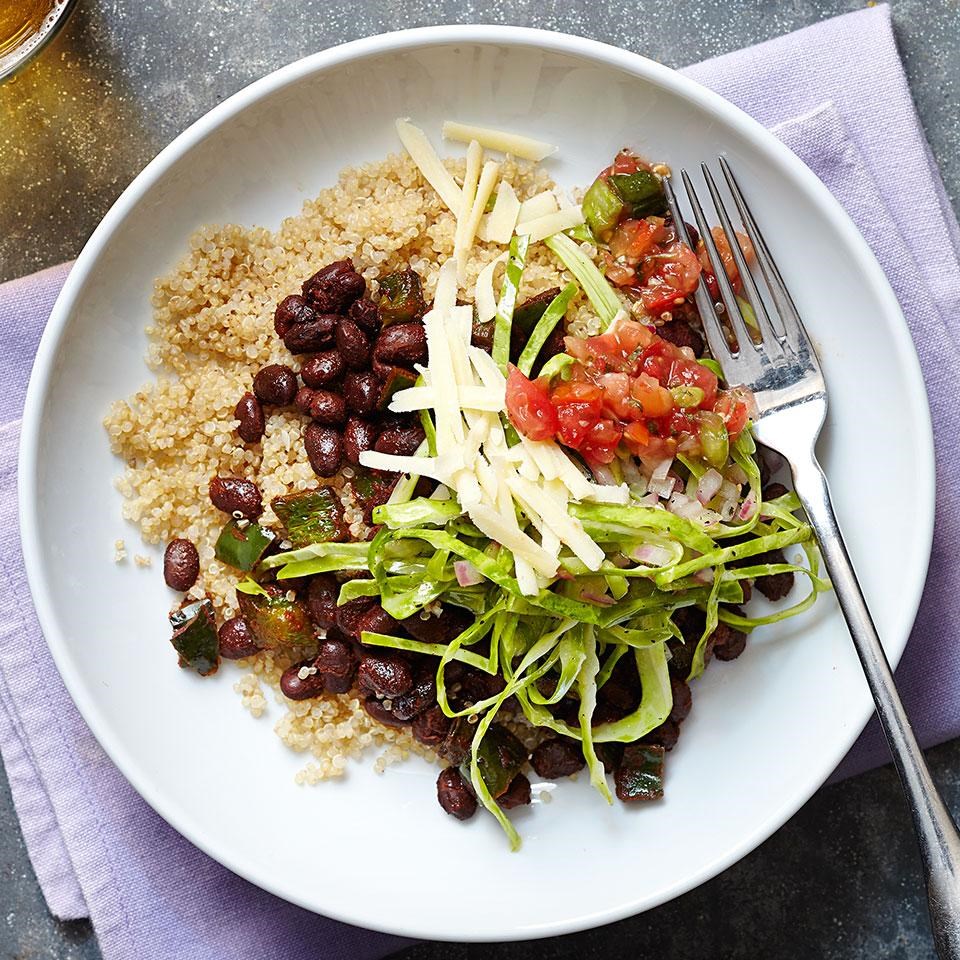 Tex-Mex Black Bean & Quinoa Bowl:
Skip the tortillas and layer your taco fillings onto protein-rich quinoa in this healthy vegetarian bowl dinner recipe with 20 grams of protein per serving. Top with a dollop of yogurt or sour cream and a splash of your favorite hot sauce. Make extra quinoa tonight to use in the
Quinoa-Crusted Chicken Parmesan
recipe later in the week.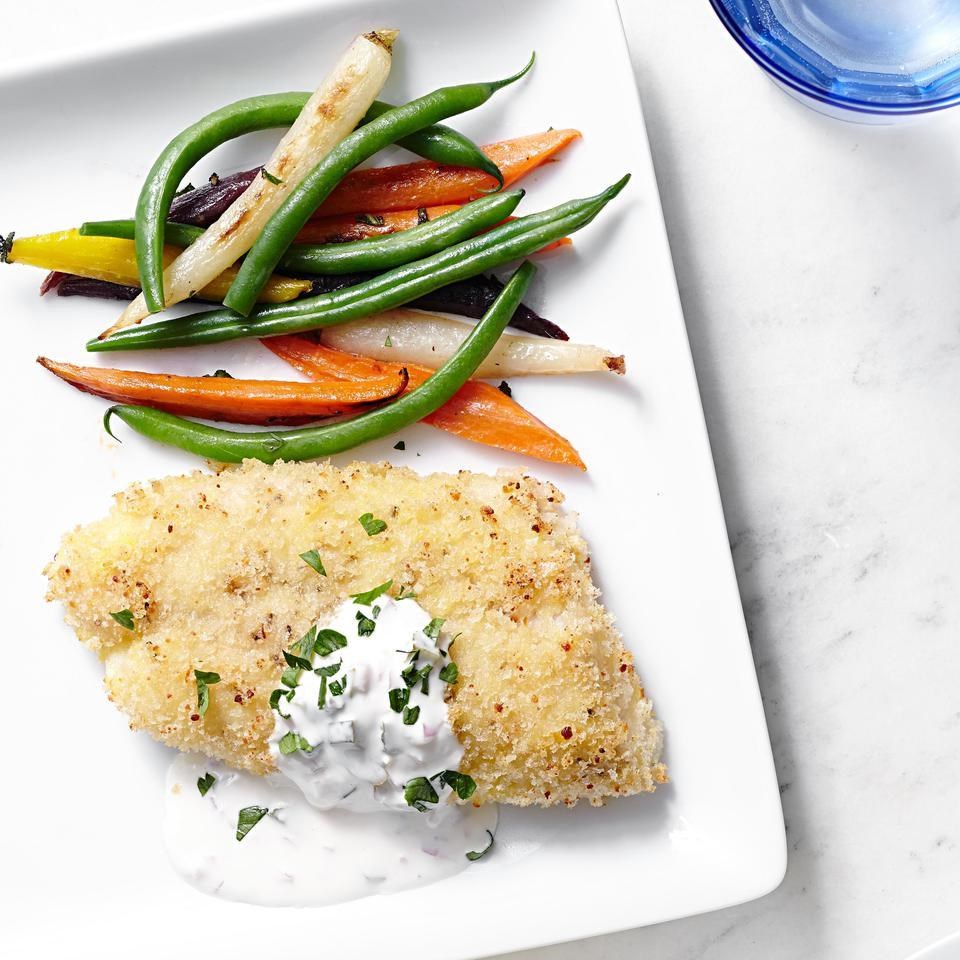 Parmesan-Crusted Cod with Tartar Sauce:
Panko breadcrumbs and Parmesan cheese give this healthy baked fish recipe delectable crunch for a healthy homemade alternative to fish sticks or fried fish. The lean cod used in this recipe bumps up the protein to 25 grams per serving. For the best taste, be sure to use olive oil or avocado oil cooking spray to coat the fish. Serve with roasted carrots and steamed green beans.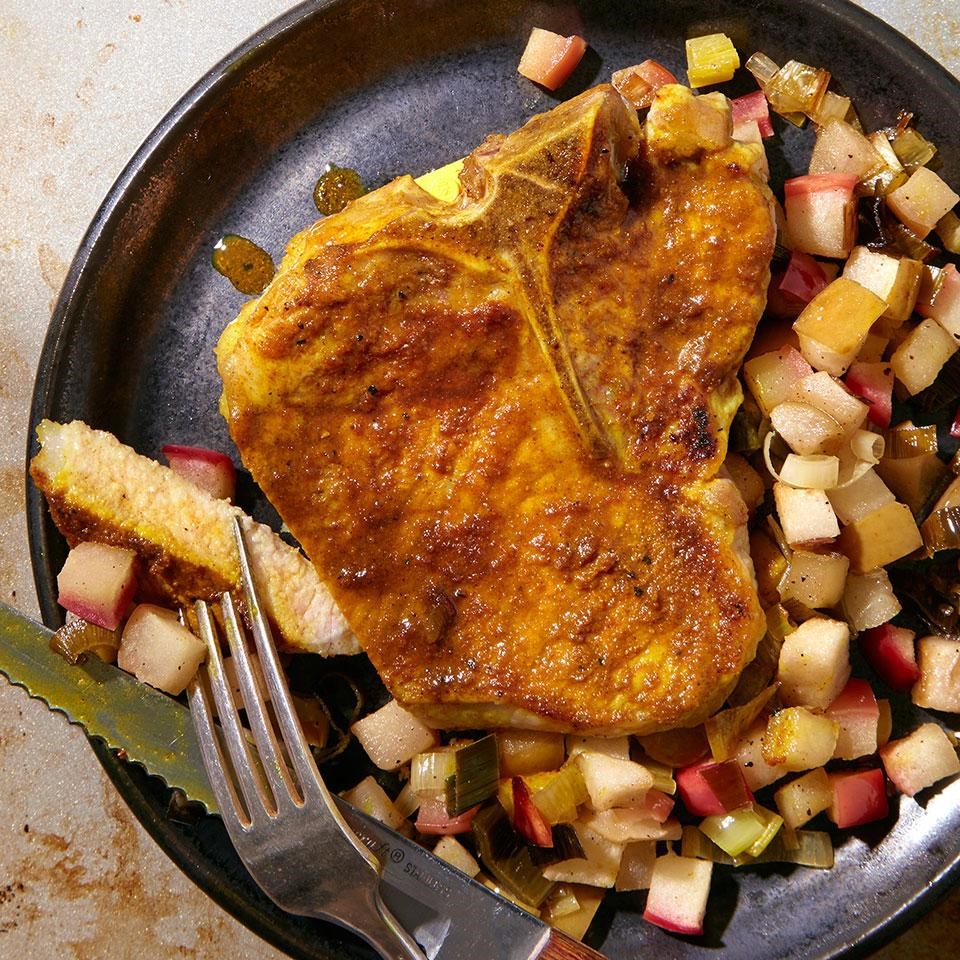 Curried Pork Chops with Roasted Apples & Leeks:
In this healthy oven-baked pork chop recipe, roasted apples and leeks lend a sweet-and-tart note. If you always chop the dark green tops off your leeks, don't discard them this time—they have a delicious flavor and become meltingly tender when roasted. This dish adds up to be 33 grams of protein per serving.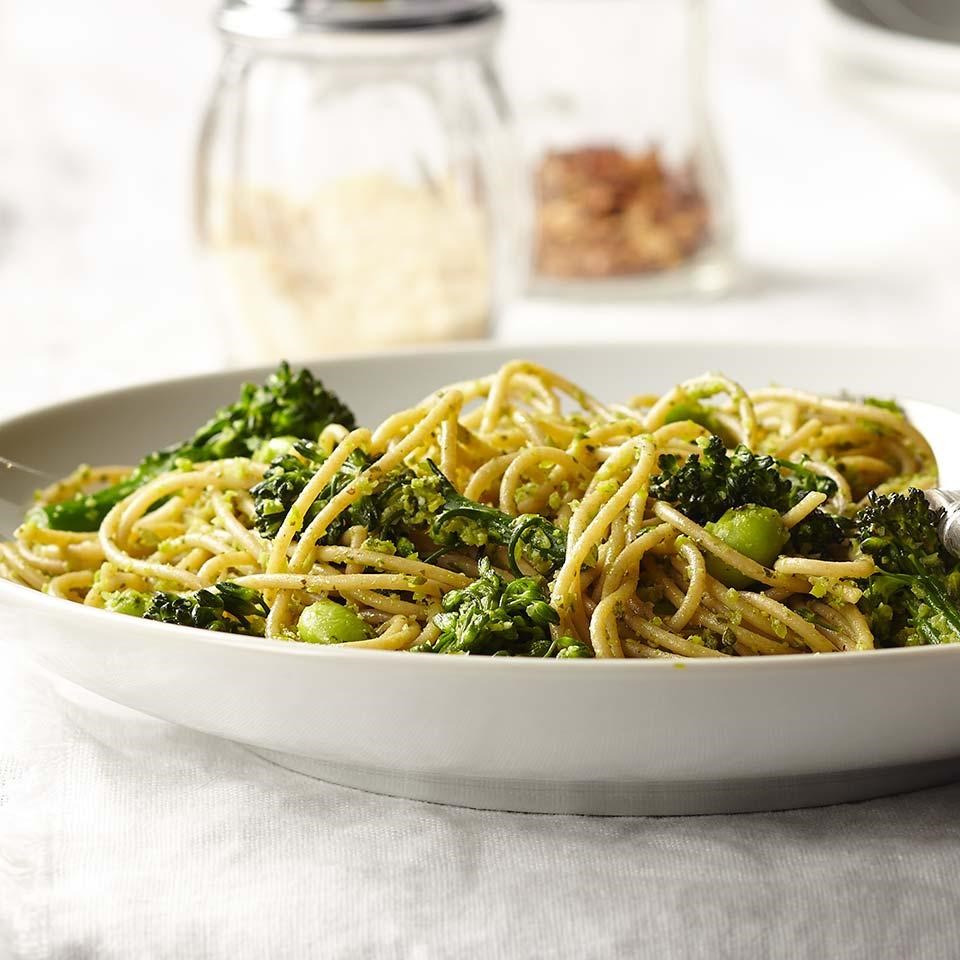 Spaghetti with Broccolini Pesto:
Broccolini stems are quickly softened in the pasta-boiling water before being whirled with basil and Parmigiano-Reggiano into a flavorful pesto sauce in this healthy vegetarian pasta recipe. It's worth seeking out Parmigiano-Reggiano to make the pesto-its superior flavor elevates the final dish. Edamame bumps up the protein in this dish to 19 grams to keep you feeling full and satisfied.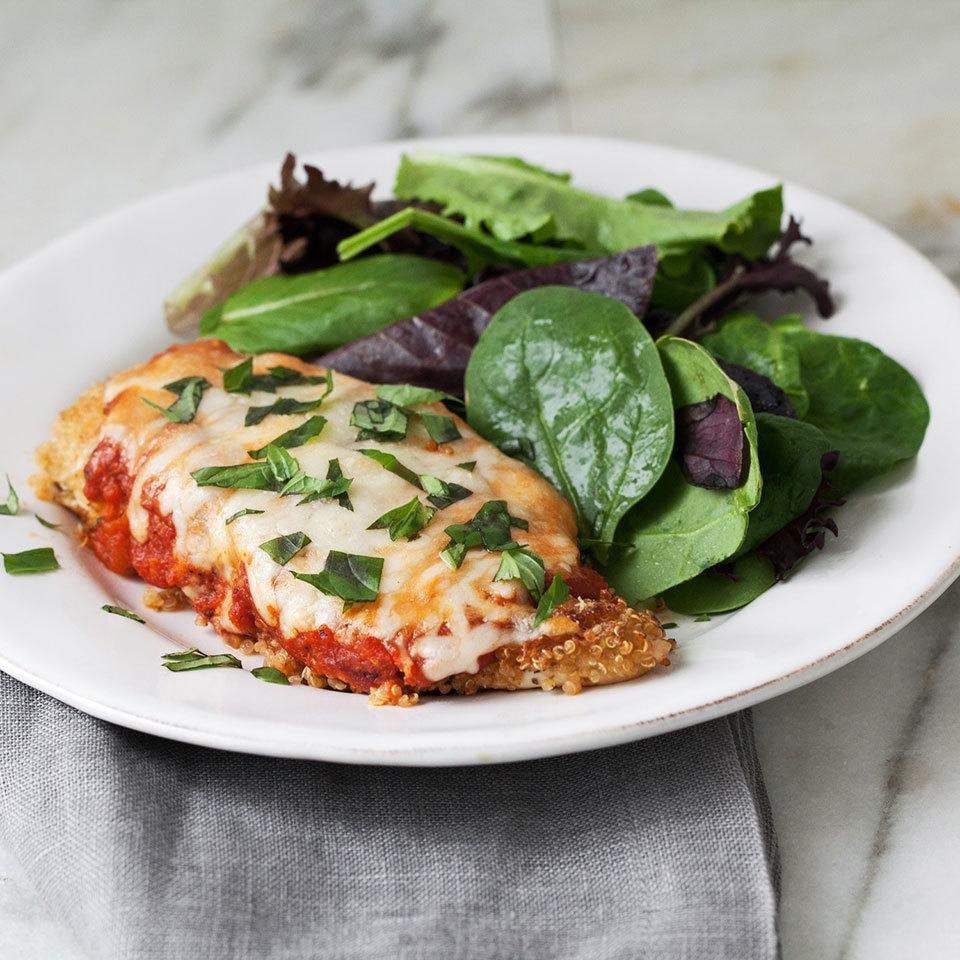 Quinoa-Crusted Chicken Parmesan:
Breadcrumbs are swapped for protein-rich quinoa for a healthy take on classic Chicken Parmesan in this easy dinner recipe. The quinoa and chicken in this dish add up to a whopping 37 grams of protein per serving. Serve with a big leafy-green salad with red-wine vinaigrette.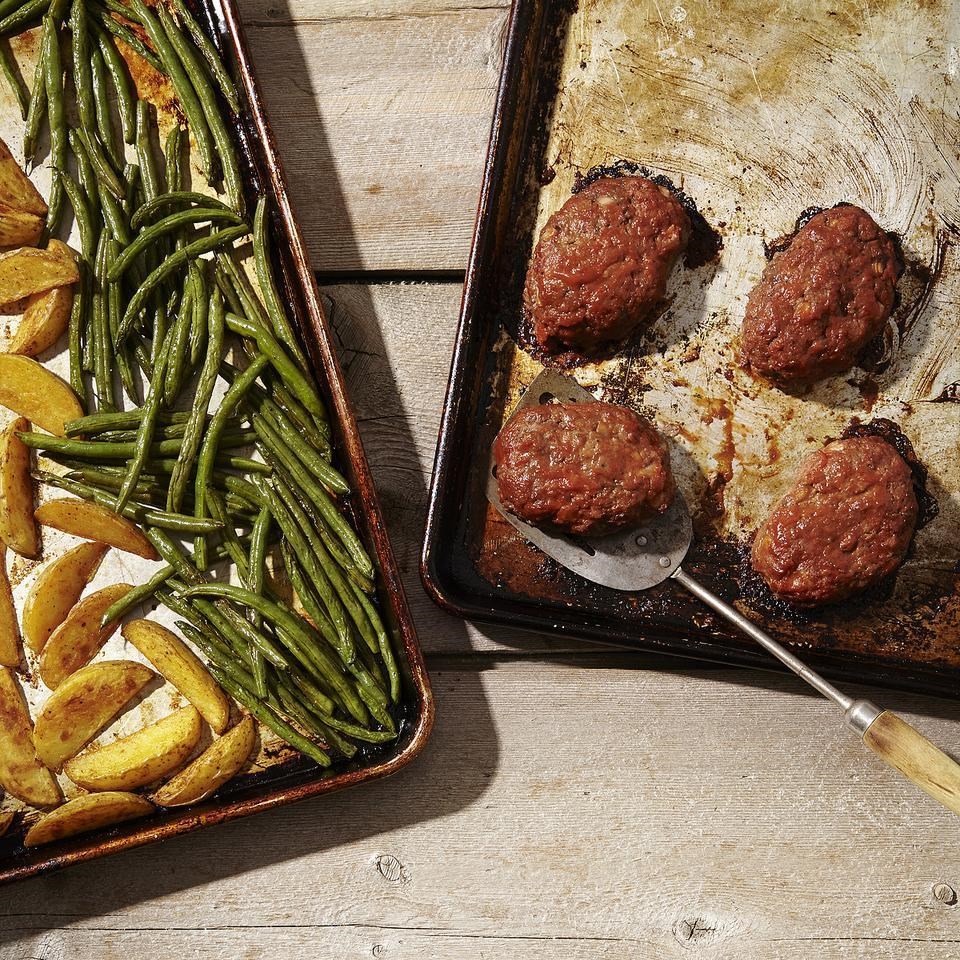 Mini Meatloaves with Green Beans & Potatoes:
This healthy meatloaf recipe and side dishes are all made in the oven on two sheet pans so that everything's ready for the dinner table at the same time. The potatoes go into the oven first to start roasting while the mini meatloaves and green beans are prepped and added to the oven partway through. This lean-beef dinner adds up to 29 grams of protein per serving.
Don't Miss!
Video: How to Make Quinoa-Crusted Chicken Parmesan
High-Protein Dinner Recipes
How a High-Protein Breakfast Can Help You Lose Weight
7-Day High-Fiber Meal Plan: 1,500 Calories
7-Day Diet Meal Plan to Lose Weight: 1,500 Calories