Vibrant-green and fiery-orange produce dominate in this week's "superfood" meal plan. We chose recipes that use fresh, fall superfoods you can easily find at your local grocery store for an affordable price, like Brussels sprouts, collard greens, golden beets, and butternut squash. These nutrient-rich vegetables make for a delicious dinner and pack a powerful punch of vitamins, minerals and fiber that work in the body to decrease inflammation, protect against some cancers, and fuel healthy gut bacteria, boosting immunity and keeping digestion regular. You can feel good about feeding your family these truly super dinners this week.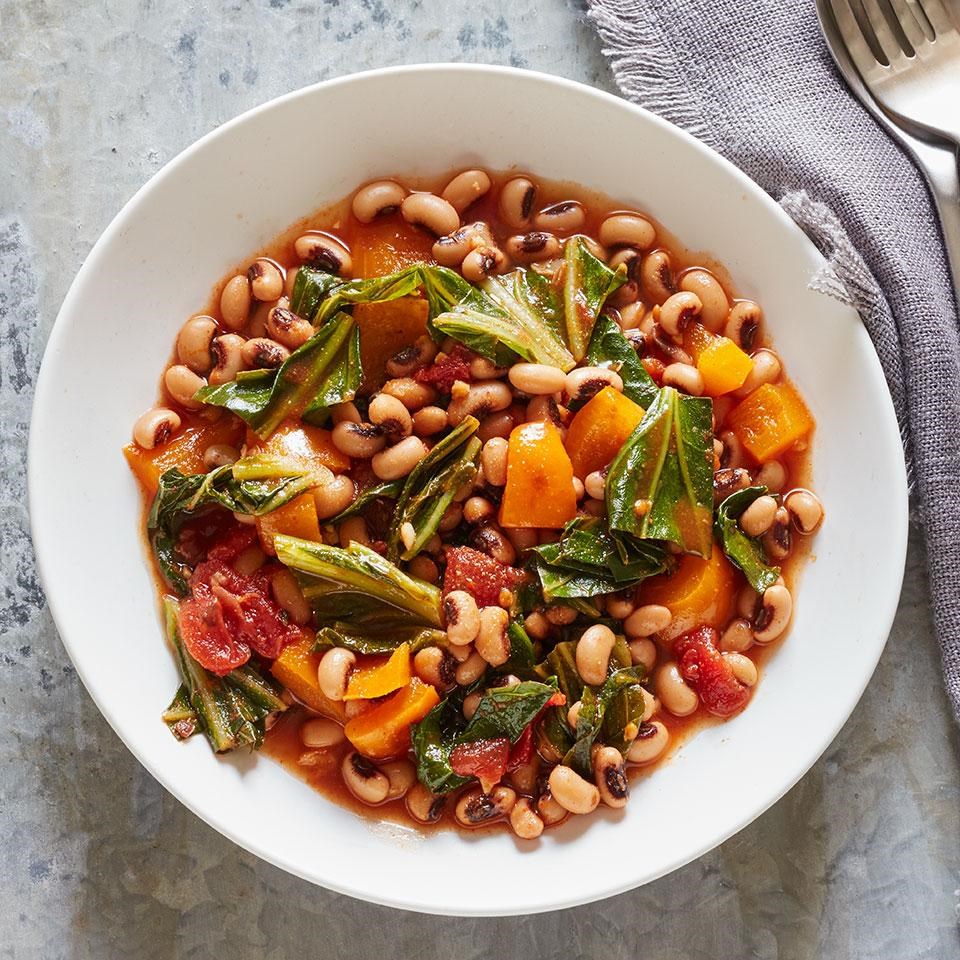 Hoppin' John with Orange Bell Peppers:
In this healthy Hoppin' John recipe, colorful veggies like orange bell pepper, collard greens and tomatoes, add a mix of helpful vitamins and minerals. Smoked paprika and cayenne pepper bring on the flavor and surprisingly, ounce-for-ounce, these two spices contain roughly 2 1/2 times the beta carotene of boiled sweet potatoes. Serve this dish as a main-dish stew or serve a smaller portion as a side along with some fiber-rich brown rice.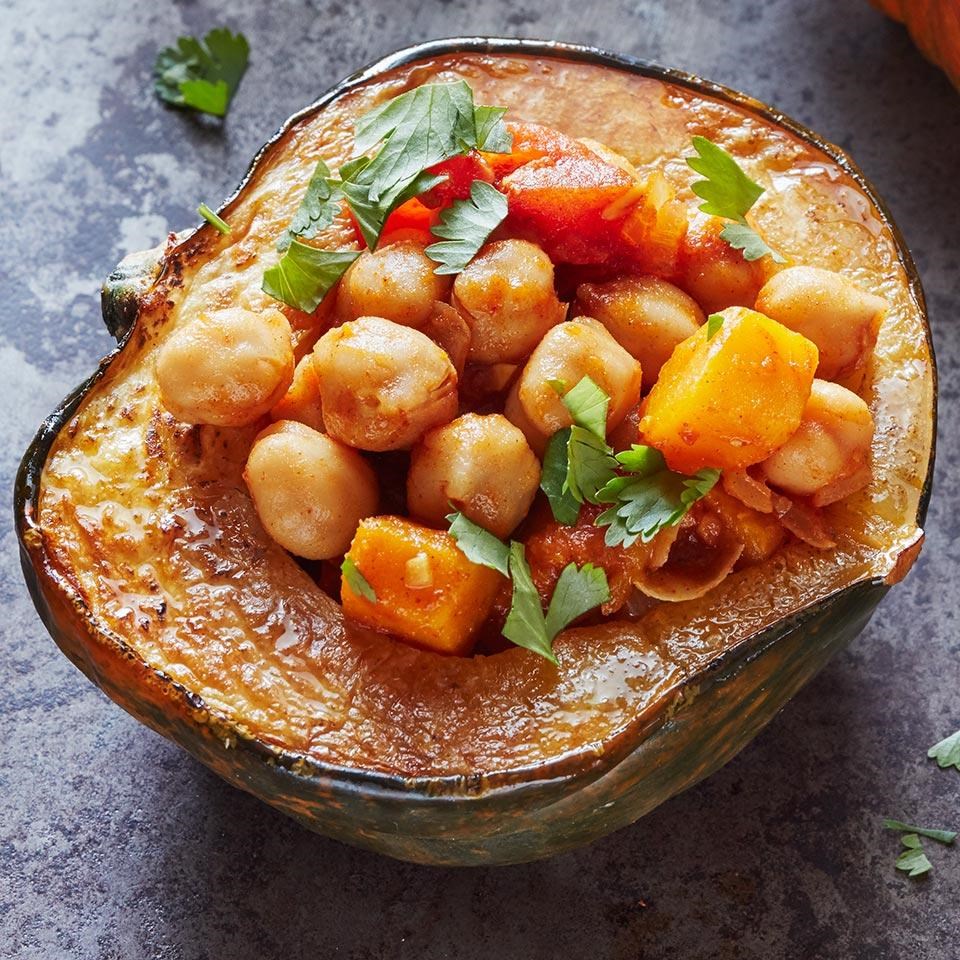 Moroccan Chickpea-Stuffed Acorn Squash:
This tasty vegetarian dish capitalizes on the abundance of delicious winter squash available this time of the year—here we use roasted acorn squash as the bowl and add in even more squash to the filling. Kabocha, sweet dumpling or carnival squash make good alternatives as a squash "bowl". You can pair this dish with a big leafy green salad, or go ahead and help yourself to 2 halves each for a hearty main dish dinner.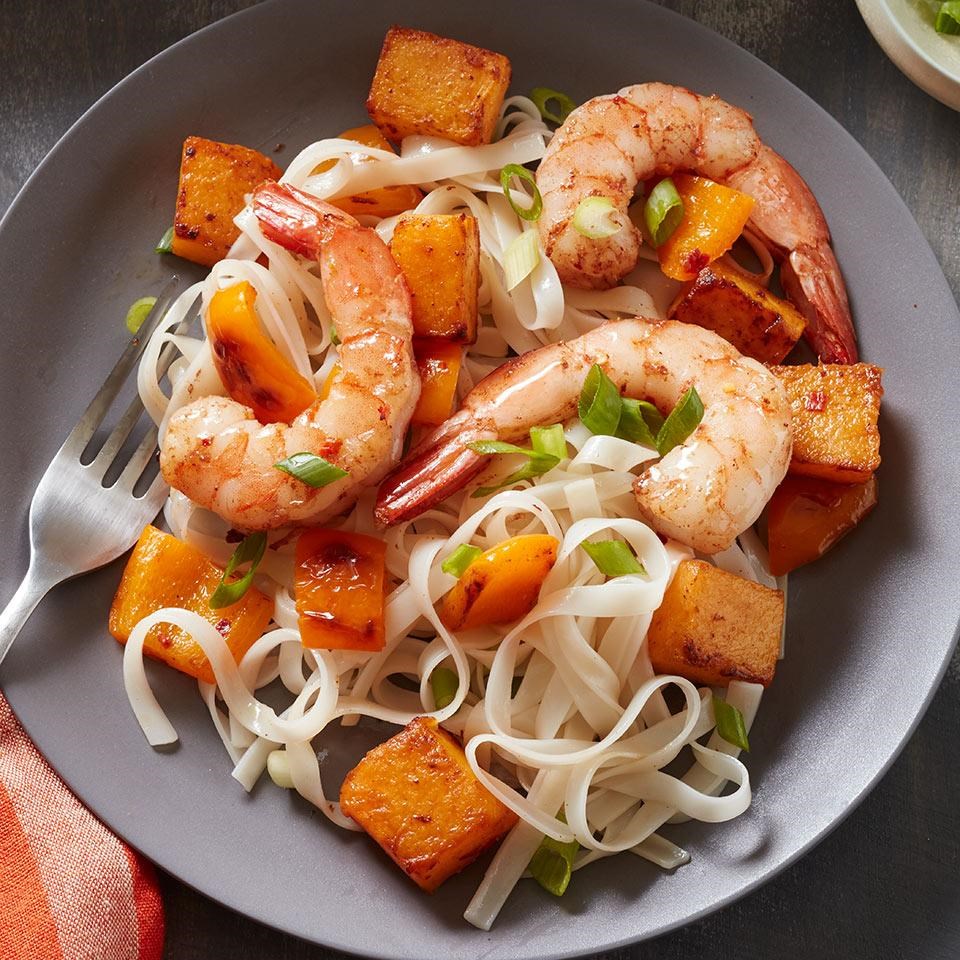 Rice Noodles with Butternut Squash & Five-Spice Shrimp:
In this traditional Chinese-noodle recipe, spices like fresh ginger, crushed red pepper and Chinese-five spice, add flavor and health-promoting phytochemicals to this dish, while butternut squash and orange bell pepper provide powerful inflammation-fighting carotenoids.
African Sweet Potato & Chicken Stew:
In this African peanut and chicken stew recipe, nutrient-rich sweet potatoes and no-salt-added tomatoes keep this creamy stew healthy. To complete the bowl, the flavorful chicken stew is served over whole-wheat couscous seasoned with lime juice and chopped fresh cilantro.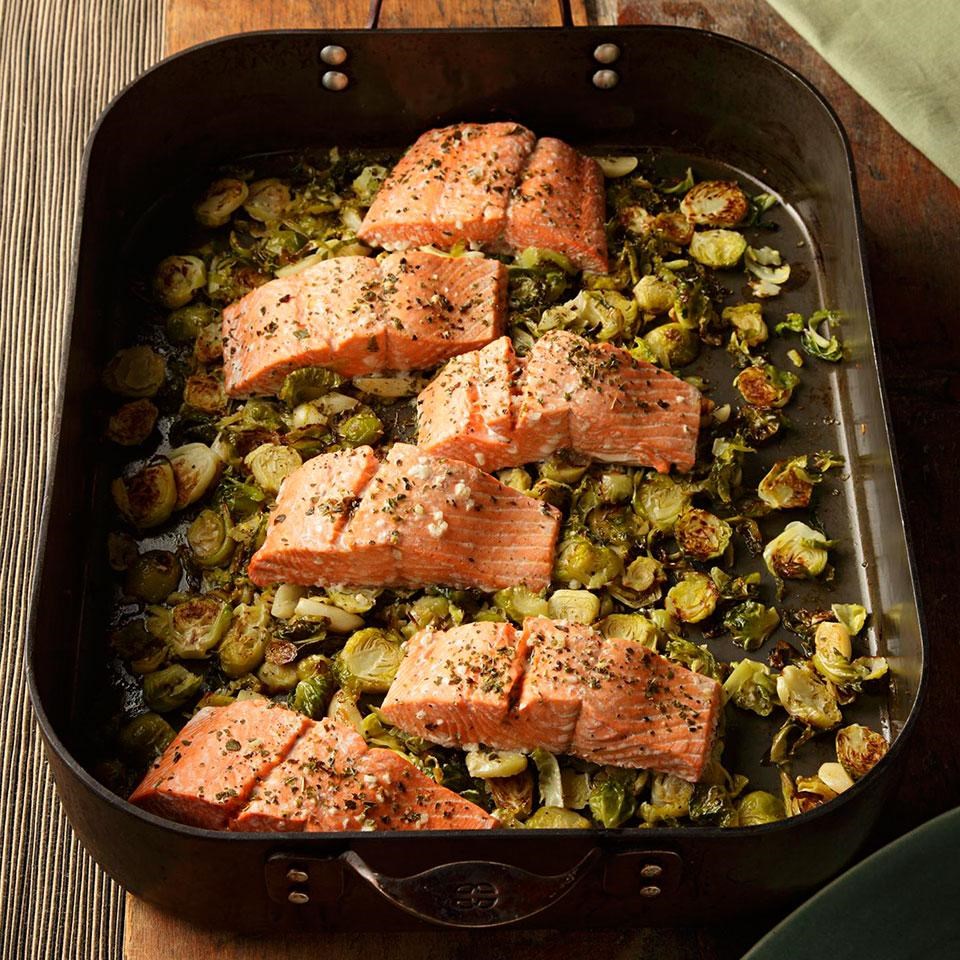 Garlic Roasted Salmon & Brussels Sprouts:
Roasting salmon on top of Brussels sprouts and garlic, flavored with wine and fresh oregano, is a meal that is simple enough for a weeknight meal yet sophisticated enough to serve to company. Serve this dish with a hearty whole grain, such as brown rice, quinoa, or whole-wheat couscous.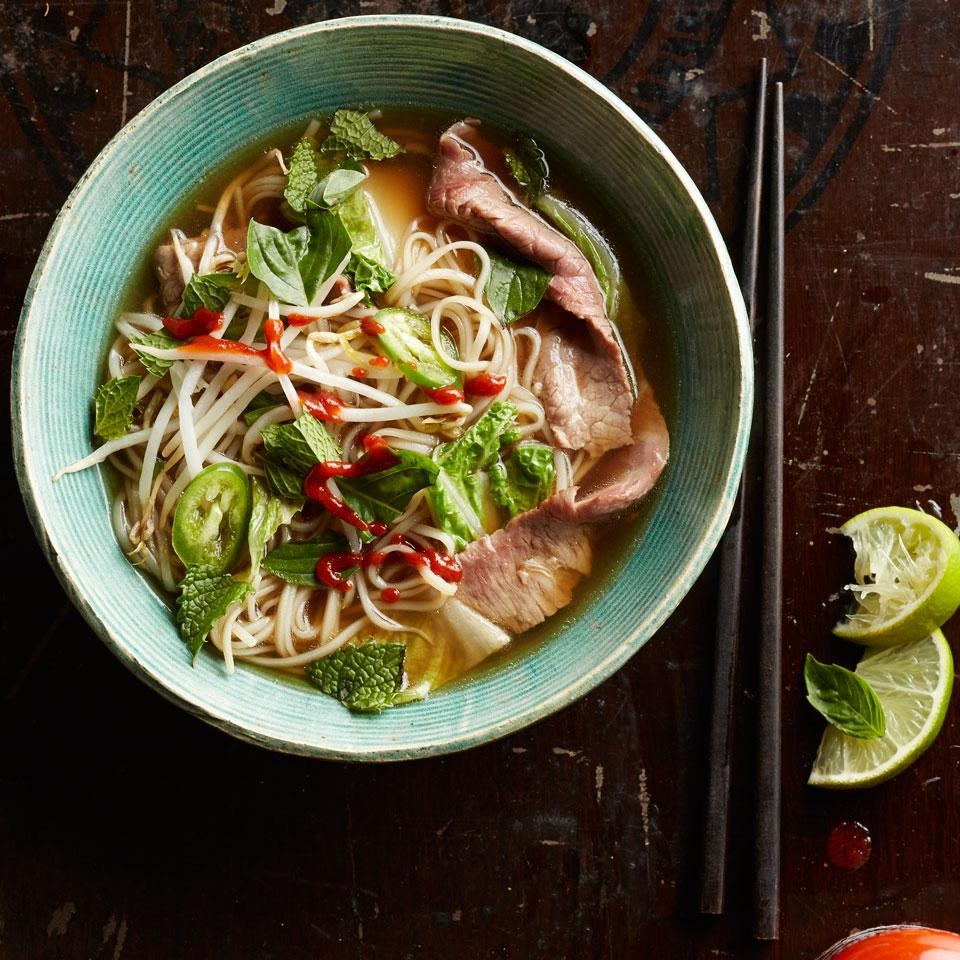 Quick Beef & Napa Cabbage Pho:
Classic Vietnamese noodle soup typically takes hours to make, but this healthy pho recipe gets tons of flavor from cooking the aromatics and spices before adding the broth. The combination of herbs, spices, cabbage, and fresh jalapeno provide a healthy amount of beneficial nutrients in just one serving. Finish off the dish with a drizzle of hoisin, Sriracha and fresh lime wedges.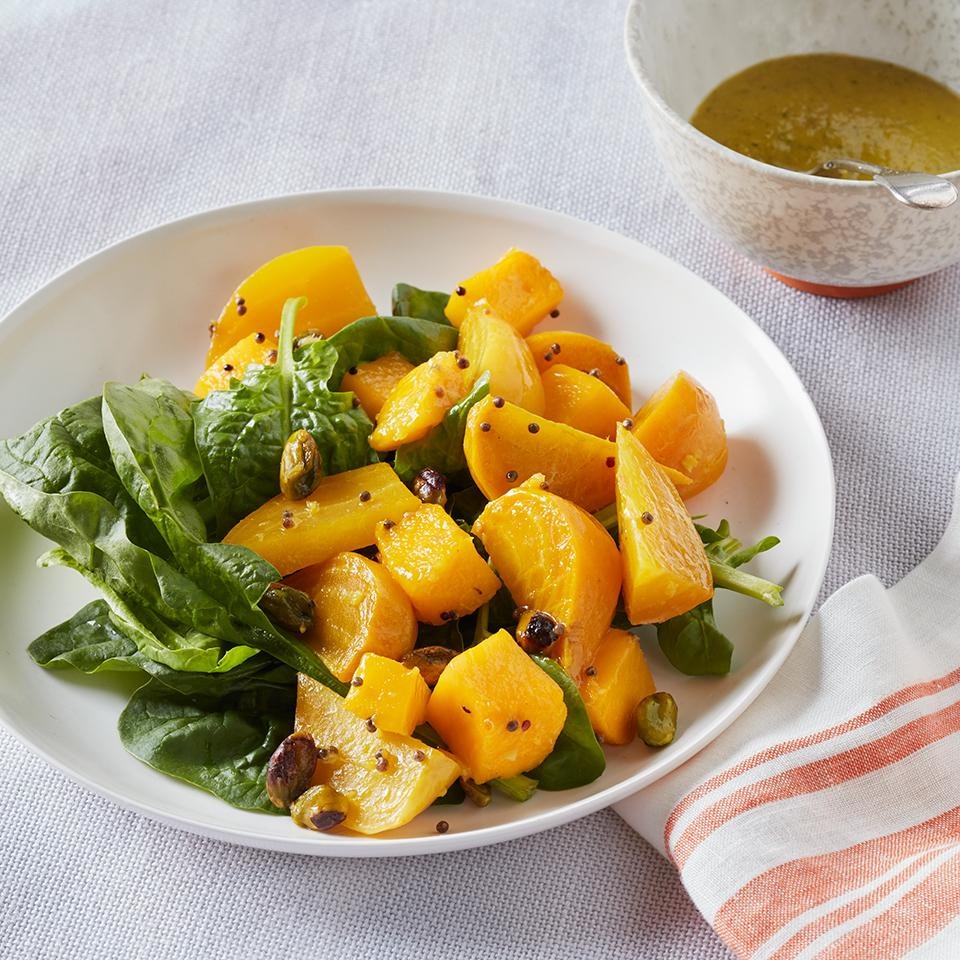 Golden Beet Salad with Apricot Vinaigrette:
In this vibrantly-colored dinner, golden beets and diced mango are drizzled with a sweet and silky spiced-apricot dressing. The fruitiness and spices are well-balanced in this dish, but if you like, add another dimension with a sprinkle of chopped fresh herbs, such as tarragon or mint. Serve this salad over a bed of spinach and add protein-rich chicken to round out the meal.
Don't Miss!
Watch: How to Make Spiralized Sweet Potato Carbonara
10 Everyday Superfoods
12 Superfoods for $1 or Less
Printable 7-Day Superfood Meal Plan
14-Day Clean Eating Meal Plan: 1,200 Calories
14-Day Clean Eating Meal Plan: 1,500 Calories
14-Day Clean Eating Meal Plan: 2,000 Calories