Making a delicious dinner doesn't need to be an elaborate event requiring 20 different ingredients. With the right recipe, you can easily get a crave-worthy meal on the table without all the fuss. The simple dinners in this week's meal plan use just 5 ingredients—not including staples like water, oil, vinegar, salt and pepper—to make for an easy week and a short shopping list.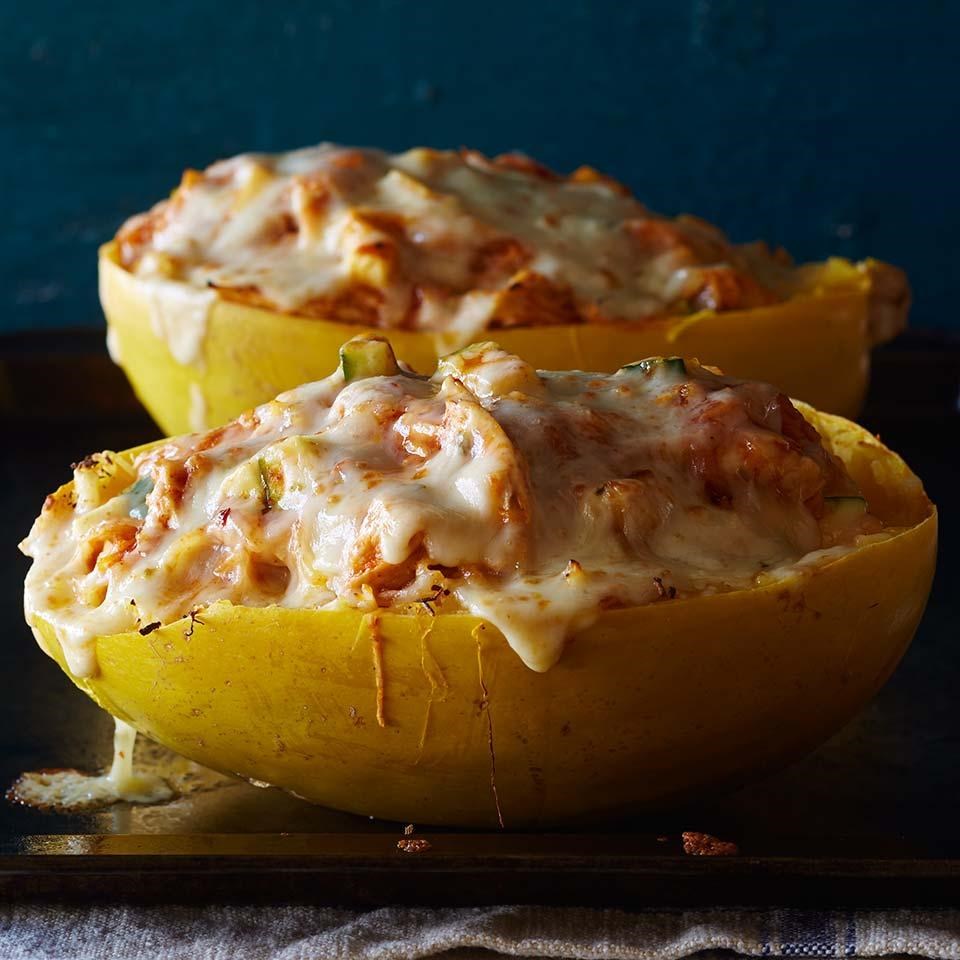 Chicken Enchilada–Stuffed Spaghetti Squash:
This healthy 5-ingredient spaghetti squash recipe is a satisfying low-carb alternative to taco night. Use leftover cooked chicken for an even faster dinner. To keep the nutrition in check, look for an enchilada sauce with less than 300 mg of sodium per serving, such as Hatch brand.
Spaghetti Genovese:
Traditionally, this Italian pasta recipe combines pasta and pesto with potatoes and green beans. In our recipe for Spaghetti Genovese we give pesto a nutritional boost by adding spinach and toss it all together with fiber-rich whole-wheat pasta for a warm, comforting weeknight meal. Serve with a side salad tossed with balsamic vinaigrette.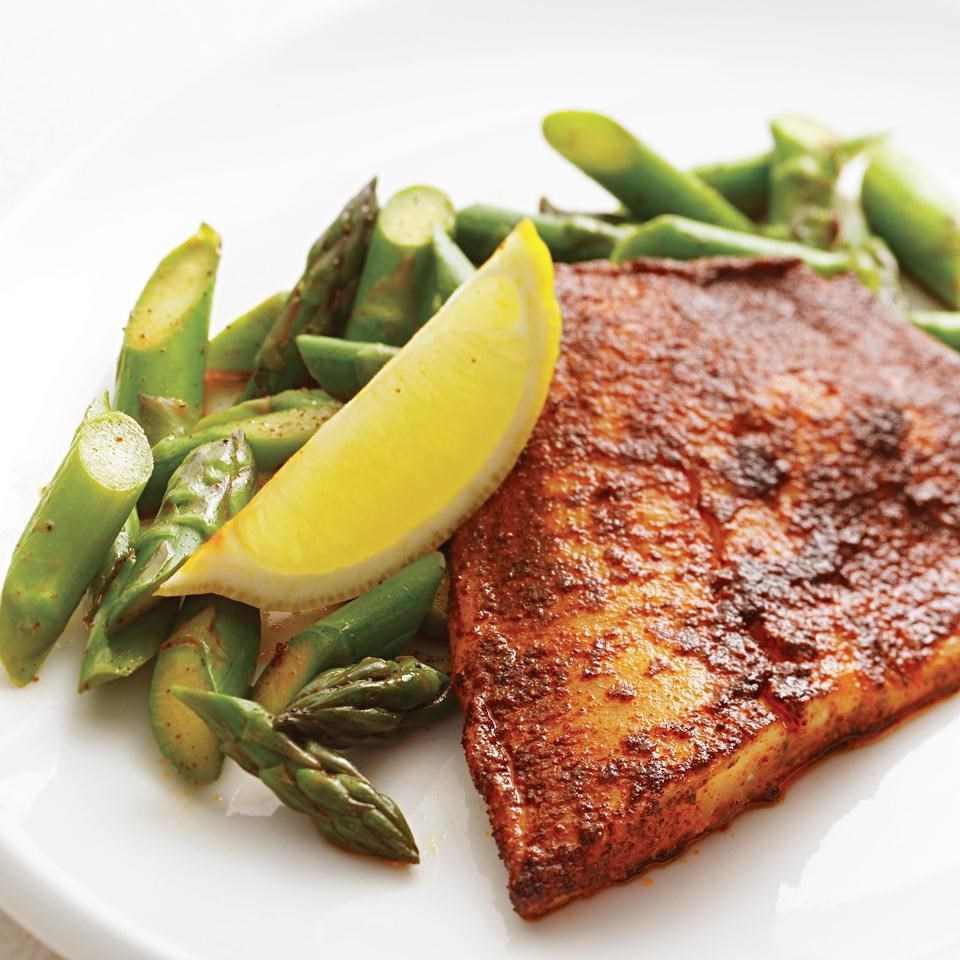 Chili-Rubbed Tilapia with Asparagus & Lemon:
Tilapia, a relatively plentiful fish, has the unfortunate reputation of being dull. All it needs is a zesty spice rub to take it to the next level. Served with steamed asparagus and finished with fresh lemon juice, you'll have a easy and delicious dinner ready in a short 20 minutes. You could also use the rub on chicken breasts or toss it with lightly oiled shrimp before cooking.
Turkey Burgers with Mango Chutney:
Prepared mango chutney and grilled red onion flavor this quick turkey burger and make for a mouthwatering dinner. Serve the burgers with grilled baby red potatoes and a frosty beer.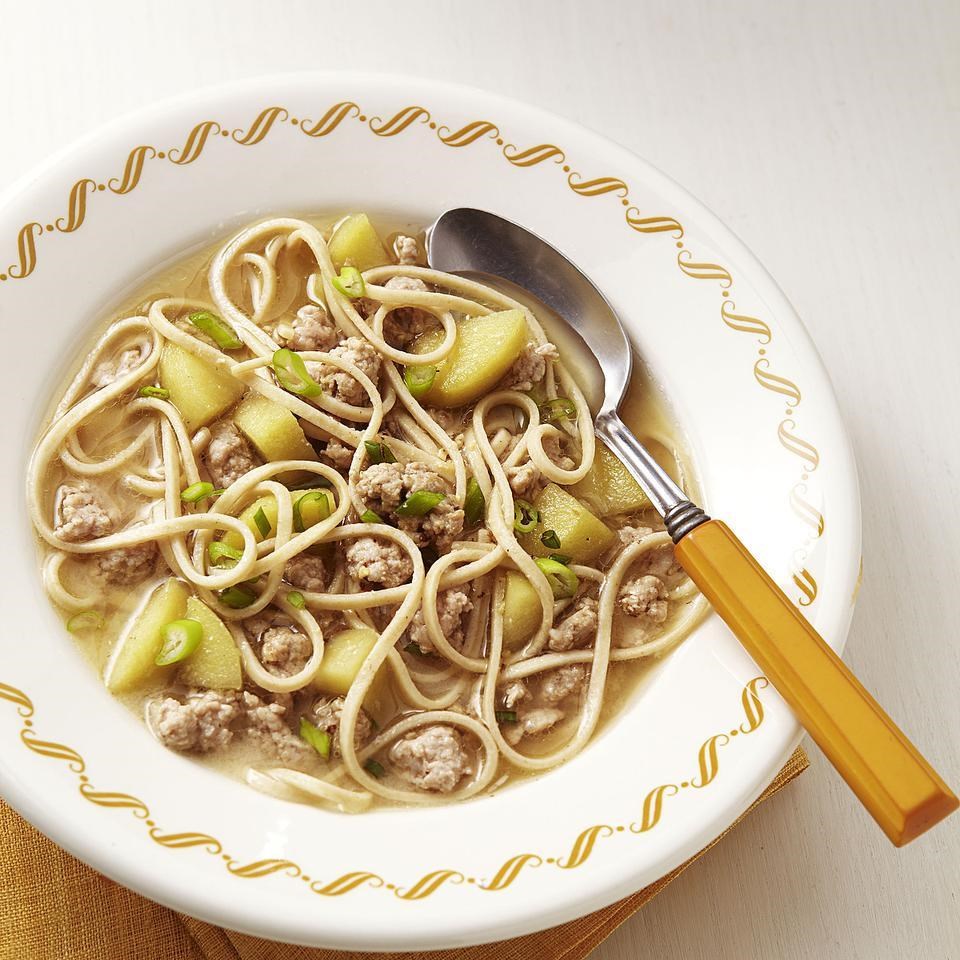 Pork, Apple & Miso Noodle Soup:
Apples and mild white miso lightly sweeten this easy noodle soup recipe. It's got plenty of flavor with few ingredients, but feel free to add a dash of hot sauce for zing. Serve the soup with a leafy green salad drizzled with vinaigrette.
Grilled Pizza with Pesto, Tomatoes & Feta:
This super-simple, tasty dinner uses prepared pizza dough, found in most supermarkets, and pesto from a jar for an easy dinner. Round out the meal with a side salad with vinaigrette.
Roast Chicken & Sweet Potatoes:
Caramelized sweet potatoes and red onion are the bed for chicken thighs that cook up fast in a very hot oven—perfect for a quick healthy chicken dinner.
Don't Miss!
Watch: How to Make 5-Ingredient Chicken-Enchilada Stuffed Spaghetti Squash
Healthy 5-Ingredient Dinner Recipes
7-Day Meal Plan to Eat on the Cheap
A Week of 5-Ingredient Dinners for Less Than $50
7-Day No-Cook Meal Plan
Easy One-Dish Dinners Meal Plan