What's better than a simple, delicious dinner? Only having a few dishes to wash afterwards! This week's meal plan features no-fuss dinners that are quick and easy to prep, and are made using only one pot, pan or dish, so the clean up is just as simple. You'll have dinner on the table in no time and can get to relaxing for the evening soon after you're done your meal.
Quick Paella with Shrimp & Mussels: Our quick take on paella is studded with mussels and shrimp and made using just one skillet. Traditional paella made with short-grain rice takes a while to cook and can be a bit tricky. Instant brown rice is a great shortcut—what it lacks in authenticity it more than makes up for in convenience. Make sure you seek out saffron, which gives the dish its distinctive yellow color and signature flavor. Serve with a spinach salad to round out the meal.
Slow-Cooker Vegetarian Lasagna: Sure, the slow cooker's great for stews and soups, but it also happens to make a mean lasagna! In this ingenious slow-cooker recipe, all you have to do is chop your veggies, then layer the ingredients (raw) into the crockpot. Serve the lasagna with a leafy green side salad with Caesar dressing.
Crunchy Confetti Tuna Salad: The herb-infused dressing in this healthy tuna salad recipe calls for equal parts Greek yogurt and low-fat mayo to keep it light. Lots of fresh veggies, including bell pepper, carrot, radishes and celery, also give boosts of flavor, color and nutrients. Toss it all together in one bowl and voilà—dinner is served. Enjoy this crunchy salad on lettuce leaves, over a green salad or as an open-face sandwich on whole-grain toast.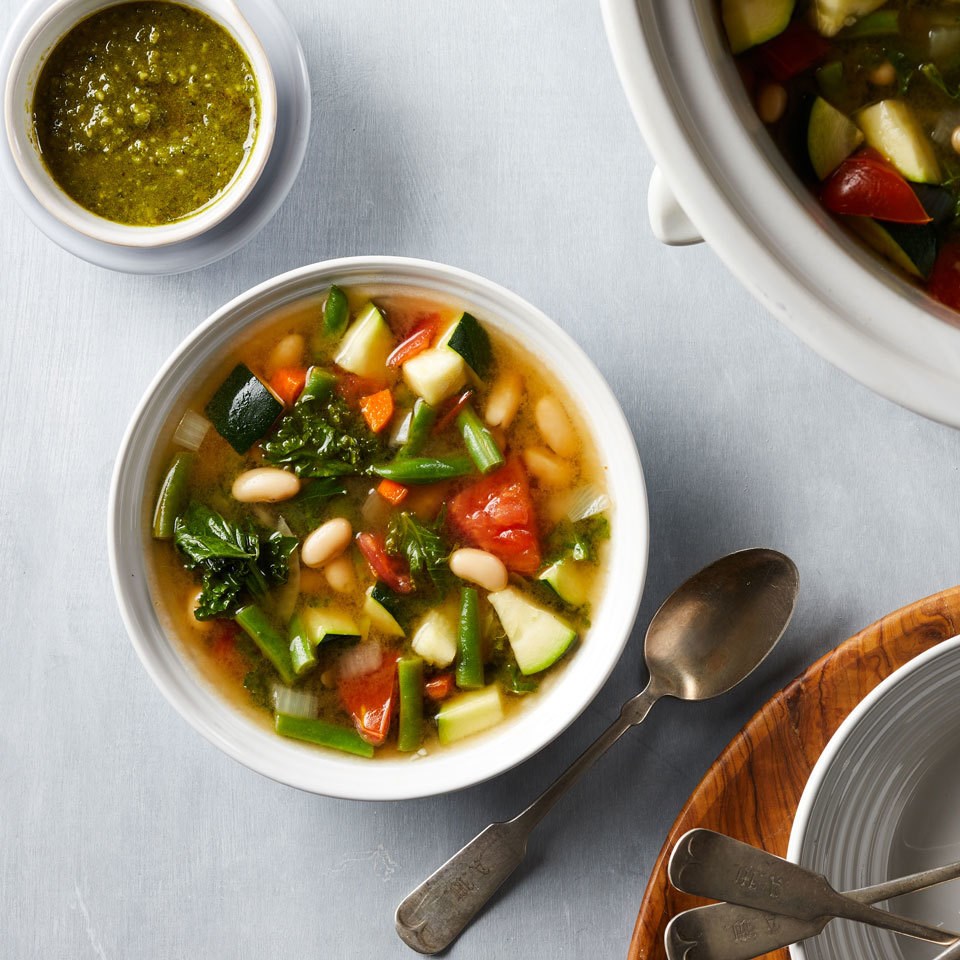 Slow-Cooker Vegetable Soup: Make a big batch of low-calorie veggie-packed soup with ease in this load-and-go crock pot recipe. This hearty vegetable soup fills you up without a lot of calories, plus it's an easy way to eat more vegetables. Serve with a piece of hearty whole-grain bread, toasted and drizzled with olive oil.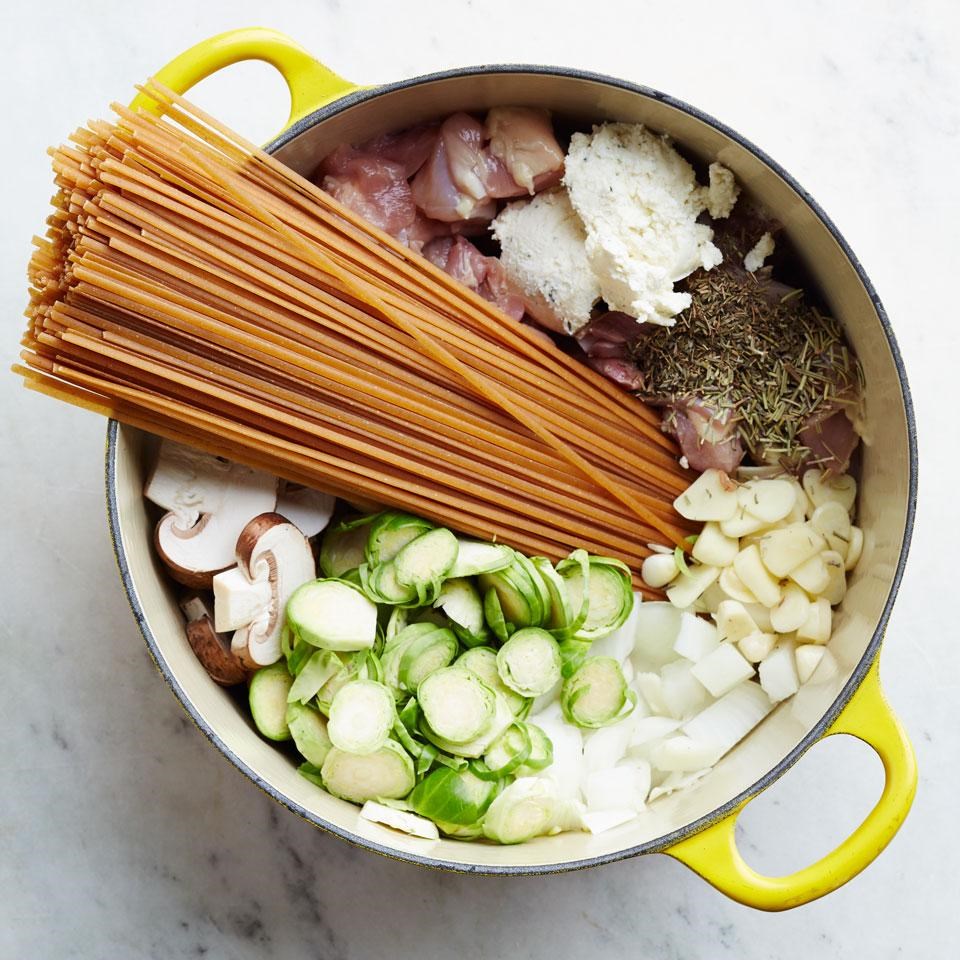 Creamy Chicken, Brussels Sprouts & Mushrooms One-Pot Pasta: You'll only have to dirty one pot in this easy pasta recipe that cooks chicken and vegetables right along with the noodles. Plus, by using the exact amount of water you need to cook the pasta, the starch that usually gets drained off with your pasta water stays in the pot, giving you delectably creamy results.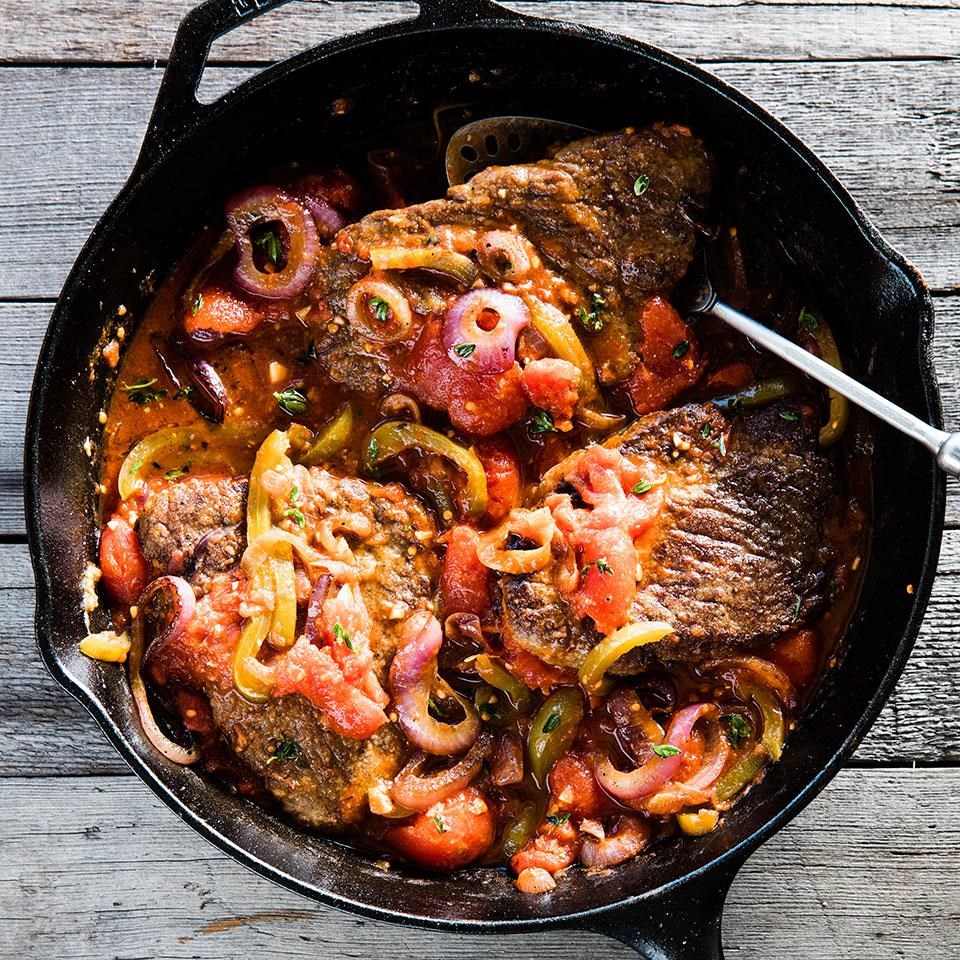 Skillet Swiss Steak: This weeknight-fast Swiss steak recipe is made on the stovetop in just 30 minutes. Sautéed peppers, onions and tomatoes make a quick, savory sauce, using the same skillet for easy clean up.
Orange-Tomato Couscous with Chicken: This cinnamon- and cumin-spiked couscous with chicken takes its inspiration from Morocco. It's made mostly with pantry staples—all you have to pick up is some chicken thighs, a bunch of cilantro and an orange. Cooking this dish all together in a Dutch oven makes for an intensely flavorful meal. The orange slices become tender after cooking—you can eat them skin and all. For a variation, substitute diced, boneless leg of lamb for the chicken. Serve with steamed green beans or a spinach salad.
Don't Miss!
Watch: How to Make One-Pan Roasted Salmon & Brussels Sprouts
Healthy One-Bowl Dessert Recipes
Healthy High-Fiber Meal Plan
7-Day Superfood Meal Plan
7-Day Vegetarian Meal Plan: 1,500 Calories
7-Day Diet Meal Plan to Lose Weight: 1,600 Calories