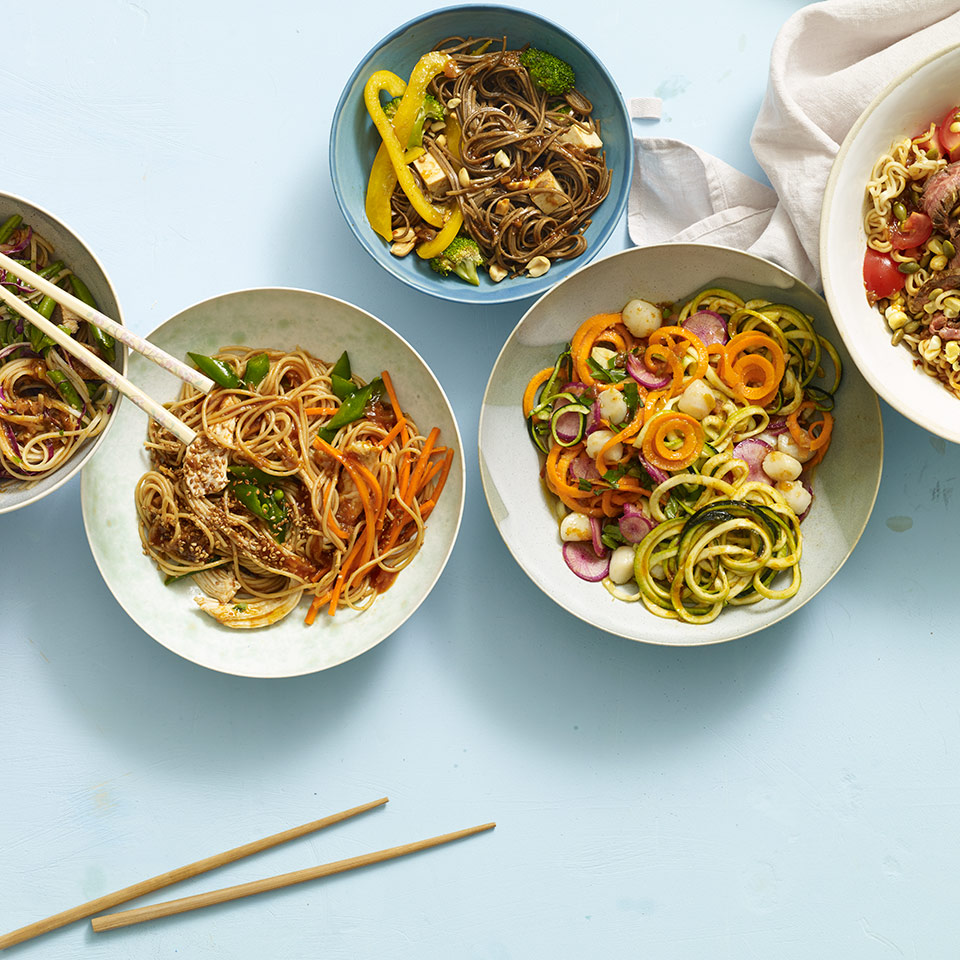 What's my go-to summer potluck dish? Sesame noodles! They're easy to make and hold well, so I can make them in advance. This handy sesame noodle recipe formula has endless flavor combinations, so I can make a batch for pretty much every party I go to without my friends giving each other the side-eye and saying, "Oh no, Carolyn brought sesame noodles again."
All you have to do is add a flavoring to the sauce and switch out the vegetables and noodles. And the best part is, they only take 20 minutes to put together. With so many combos to try, you will be serving up these cool noodle salads all summer long.
1. MAKE THE SAUCE:
Combine 3 Tbsp. toasted (dark) ­sesame oil, 2 chopped scallions, 1 Tbsp. each minced garlic and ginger and 1 tsp. brown sugar in a small saucepan. Heat over medium heat until it starts to sizzle, then cook for 15 seconds. Remove from the heat and stir in 2 Tbsp. each reduced-sodium soy sauce and a flavoring of your choice, such as barbecue sauce, chipotle chiles in adobo sauce, curry paste, fish sauce, gochujang, hoisin, ketchup, lemon or lime juice, nut butter, sesame paste or tahini, or sweet chili sauce.
2. COOK YOUR NOODLES:
Cook 8 ounces of your favorite noodles according to package directions. Try buckwheat noodles, ramen-style curly egg noodles, thin or wide rice noodles, shirataki noodles or whole-wheat spaghetti or linguine. Be sure to rinse the cooked pasta until it's cold, then give it a good shake in the colander until it's well drained. If you're a spiralizing pro, swap 5 cups of raw zucchini, carrot or other veggie noodles for the cooked pasta.
3. PACK IN THE VEGGIES:
Add some crunch to your sesame noodles with loads of vegetables. The sky's the limit here. No one will judge you if you use this formula as a vehicle for cleaning out your fridge. Combine the cooked noodles in a large bowl with 2 to 3 cups of chopped, sliced or shredded raw vegetables, such as baby arugula, kale or spinach, bell pepper, broccoli, cabbage, carrots, cauliflower, corn, green beans, jicama, kohlrabi, peas, radishes, scallions, snap or snow peas and/or tomatoes.
4. ADD PROTEIN:
Give your sesame noodles staying power and bump them to dinner status by adding 8 ounces of cooked lean protein, such as shredded chicken, shelled edamame, cubed pork, bay scallops, sliced shrimp, sliced steak or cubed baked tofu to the noodle mixture.
5. FINISH IT:
Now mix it all up with the sauce you made at the beginning and toss until it's well coated. Serve your sesame noodles sprinkled with 3 Tbsp. chopped fresh herbs, crumbled toasted nori or toasted seeds or chopped nuts.
Here are 5 combos to get you started: