Keep your cool with this week of easy no-cook dinners. The recipes in this meal plan require just a little prep work, and no oven, stove, grill or microwave are required, so you can stay cool, calm and collected when the weather heats up.
Watch: How to Make Stuffed Avocados with Chicken Salad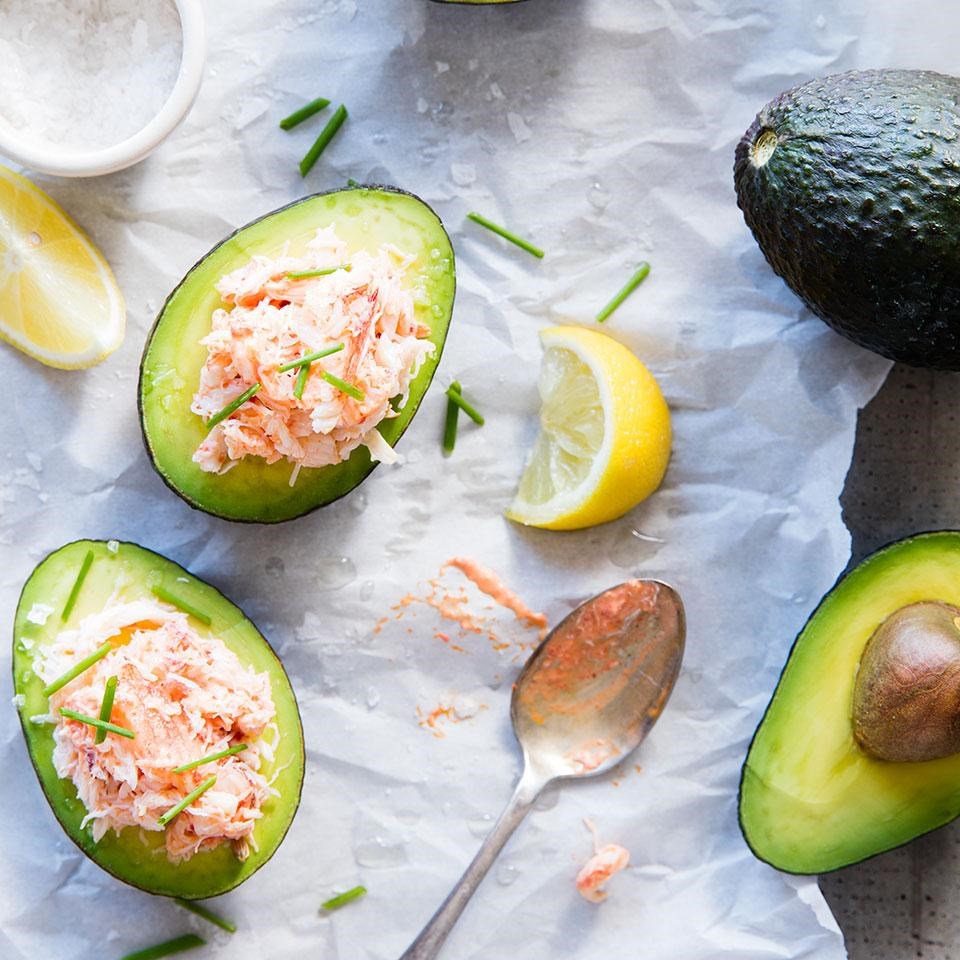 Stuffed Avocados: Forget the bread; next time you're serving chicken (or seafood or tuna) salad for lunch, try mounding it in an avocado half instead. This no-cook meal comes together quickly for an exciting take on a traditional favorite. Serve the avocados with a leafy green salad with vinaigrette.
Edamame Hummus Wrap: Made with protein-rich edamame instead of chickpeas, this hummus recipe is the perfect vegetarian filling for a grab-and-go wrap. A quick pulse in the food processor is all that is needed to make the tasty spread, and sliced veggies give the wrap a nice crunch. Double the recipe and use the hummus for a healthy snack with cut-up vegetables.
Thai Chicken Salad: Sweet chili sauce spikes the creamy yogurt dressing in this healthy chicken salad recipe for a fun taste of Thai flavors. Using pre-cooked chicken makes this dish fast and easy. Serve the salad open-face on toasted pita bread or scoop it atop more shredded napa cabbage. Enjoy Kiwi & Mango with Fresh Lime Zest for dessert.
Zesty Shrimp & Black Bean Salad: Loaded with fresh tomatoes, peppers and cilantro and seasoned with cumin and chile, this shrimp and black bean salad recipe has all the flavors of a great fresh salsa and is quick and easy to make—a little chopping, wisking and mixing is all that is required to get this delicious no-cook dinner on the table. Serve the salad with tortilla chips or fresh corn tortillas.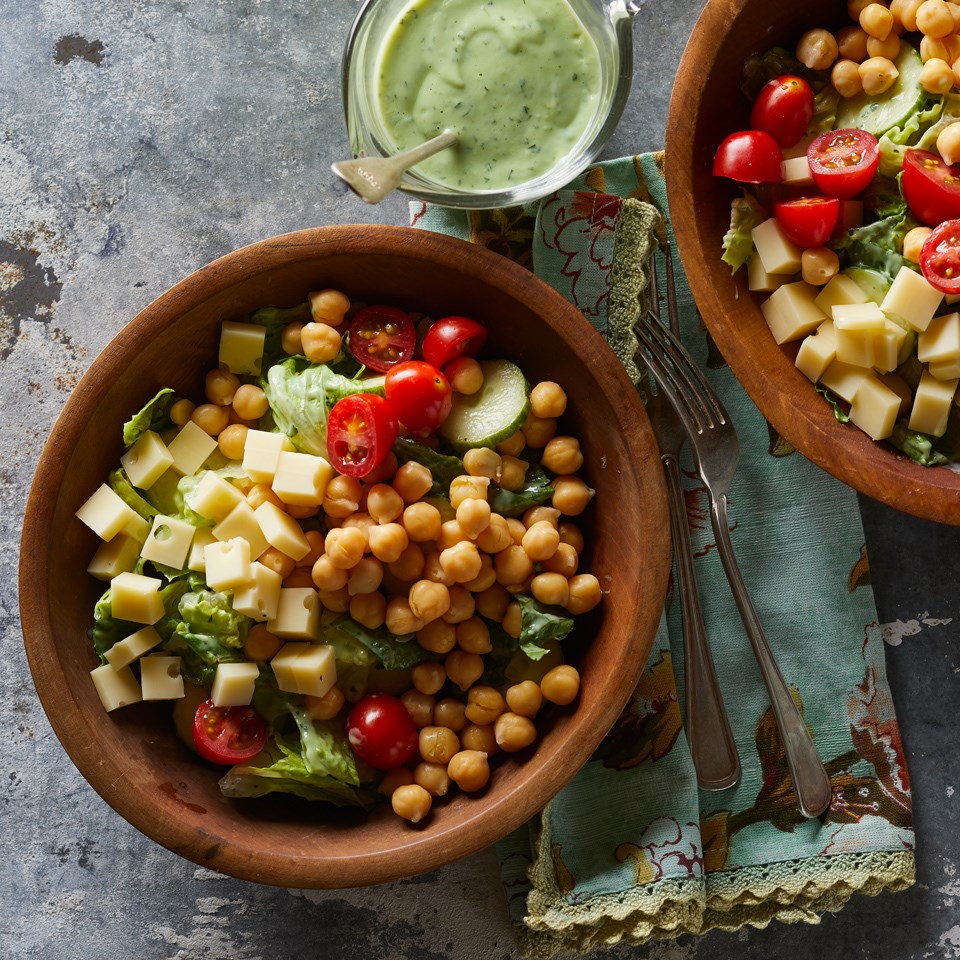 Green Goddess Salad with Chickpeas: In this cucumber, tomato, Swiss cheese and chickpea salad recipe, a healthy green goddess dressing is made from avocado, buttermilk and herbs. The extra dressing is delicious served with grilled vegetables for dinner on a different night. This no-cook dinner is fast, easy, and filling. Enjoy with the Strawberry Fruit Salad for dessert.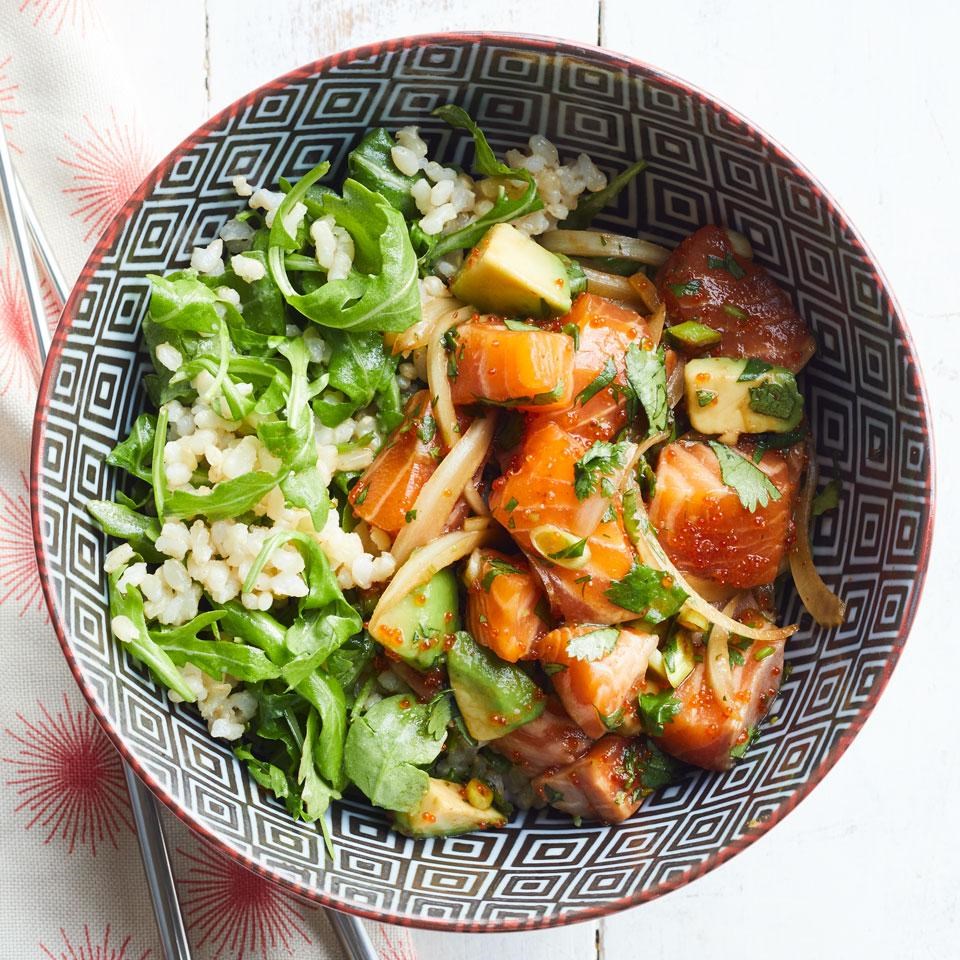 Salmon & Avocado oke Bowl: This impressive Hawaiian-inspired Poke bowl (pronounced poh-kay) is easy to prepare at home with this quick recipe. Sriracha and Chinese-style mustard add a touch of heat to the classic poke seasoning of soy sauce and sesame oil. Serving it over a pre-cooked brown rice salad makes it a meal.
White Gazpacho: White gazpacho is made with bread, almonds, grapes and garlic and is one of the traditional Spanish gazpacho variations. In this white gazpacho soup recipe we add cucumbers and honeydew, whir it in a blender and it becomes silky, a little toasty (from the almonds) and refreshing. Serve the gazpacho with a leafy green salad with vinaigrette.
Don't Miss!
Our Most Mouthwatering Meal Plan Yet
7-Day Meal Plan For an Easy Week
Download a FREE No-Cook Dinner Recipe Cookbook
Healthy No-Cook Recipes and Tips