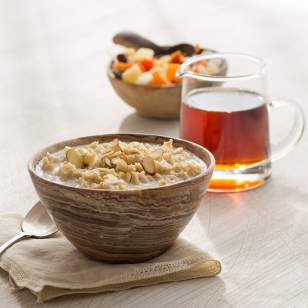 Busy mornings get a little easier when you can "just add water" and have breakfast ready in minutes. Instant oatmeal is filling, fast and has plenty of flavor variations to try, but not all of them live up to oatmeal's healthy reputation. Here's our advice to keep this quick breakfast healthy.
Know Your Fiber:
Some oatmeals (especially "high fiber" oatmeals) use guar gum to inflate their fiber number. Guar gum is a safe ingredient, but be aware that it only has soluble fiber, not insoluble.
Be a Sodium Sleuth:
If you're eating a whole-grain breakfast with your health in mind, double check the sodium. Even if your bowl doesn't taste salty, some flavored instant oatmeals have more than 300 mg per serving.
DIY Sugar:
Keep added sugar in check by picking a plain or unsweetened variety and adding 1 to 2 teaspoons of your own sweetener. And check "lower sugar" labels—some manufacturers swap in sucralose (a non-nutritive sweetener) for sugar.
Watch Packet Sizes:
Single-serve packets aren't standardized. Smaller packets could leave you hungry while heartier portions may go over a sensible sugar or sodium limit, but only because you're getting more food.
Our faves:
? Bob's Red Mill Gluten Free, Classic
? 365 Organic Instant, Original
? Umpqua Oats, Blueberry Apple Not Guilty
? Trader Joe's Complete, Maple & Brown Sugar
? Bob's Red Mill Gluten Free, Blueberry and Hazelnut
? Kashi GoLean Hearty, Honey & Cinnamon
Numbers to Look For:
Serving Size
Fiber
Sugar
Sodium
½ cup dry (42 g)
= 4 g
= 9 g
= 240 mg