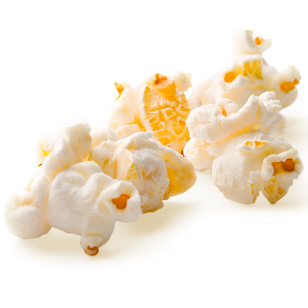 Naked, homemade, air-popped popcorn is a super-healthy snack—it's a whole grain with 4 grams of fiber per serving and almost no salt, sugar or fat. But let's be honest—plain popcorn is a little bland. Fortunately, there are plenty of flavorful options popping up in stores. Here's how to pick a better bag.
Go for the Good Oils:
Most bagged popcorn is made with neutral vegetable oils, but some are popped with olive, coconut or avocado oils for a hint of flavor. Some use trans-fat-laden partially hydrogenated oil—so check the label.
Watch out for Sneaky Salt:
Salt and popcorn are a classic pairing, but sodium is especially problematic when it comes to cheese-flavored varieties. Some have upwards of 600 milligrams of sodium in one serving—a quarter of your daily limit.
Be a Sugar Sleuth:
On its own, popcorn has no added sugar, but check the nutrition facts, especially on kettlecorn varieties. Some can have more than double our recommended 6-gram sugar cap per serving.
Think like a Minimalist:
Though they're generally cleaner than microwave popcorn, some prepopped bags contain iffy ingredients, such as food dyes or MSG. Whenever possible, pick one with the shortest ingredient list.
The Scoop on GMOs:
Popcorn is not presently made from genetically modified corn. However, some brands may use GM oils. Look for the organic or GMO-free label if you want to skip GMOs altogether.
Our popcorn picks:
? Smartfood Delight Sea Salt
? 365 Organic Reduced Fat & Sodium
? Lesser Evil Buddah Bowl Foods Classic Cheddah
? American Farmer All Natural Sweet & Salty Kettle Popped Corn
? Pop Art Thai Coconut Curry
Numbers to Look For:
Serving Size
Amount Per Serving
Sugar
Sodium
1 ounce
about 3 1/2 cups
= 6 g
= 200 mg