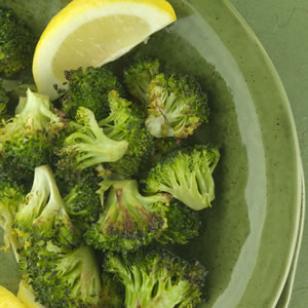 Based on the abundance of cleanses on the market, you'd think a regular detox regimen is a must-do. Not so. Our bodies are pretty adept at eliminating most harmful substances we encounter, thanks to our kidneys, liver, lungs and GI system. And, buyer beware: the
cleanses and detox diets
out there vary widely and often aren't based in science. There are, however, a few foods that research shows can amp up your body's natural detox process.
There are plenty of health reasons to
eat more fiber
and helping your body detox might be one of them. Soluble fiber—like what's in apples, oatmeal, eggplant—can bind to lead and mercury in your body, helping to eliminate them, says a
Journal of Hazardous Materials
study.
Another key food? Broccoli. In a study in Cancer Prevention Research, people from an area of China with heavy air pollution who drank a broccoli beverage daily for three months cleared the most airborne toxins from their systems. "Broccoli aids detoxification because it has the highest amount of the phyto­nutrient glucoraphanin," explains Ashley Koff, R.D.
Cilantro and foods rich in selenium—like garlic and mushrooms—may also be detox aids. Preliminary research (in mice) found eating cilantro helped to ward off lead accumulation. Another study found that, within a mercury-exposed population in China, people who took a daily selenium supplement cleared twice as much mercury from their bodies.
Bottom Line: Go ahead, punch up your diet with these detox-promoting foods. But if broccoli juice doesn't stoke your appetite, that's OK—your body has a built-in cleanup crew.
Have a question for the nutritionist? Email us: askus@eatingwell.com