I try to make a ginormous salad every day for lunch or dinner. Healthy salad recipes pack in a lot of nutrients for not a lot of calories—as long as you pay attention to the ingredients. It's easy to come up with healthy salad recipes in the summer when the market is overflowing with summer-ripe tomatoes, loads of veggies and a variety of salad greens. But dinner salads can be just as delicious and satisfying all year long. This foolproof salad formula will have you tossing up easy, healthy salads all year long.
Don't Miss: 29 Addicting Recipes to Feed Your Salad Habit
Basic Dinner (or Lunch) Salad Recipe
Makes: 1 large salad
3 cups leafy greens (see below)
1-2 cups vegetables (see below)
1/2 cup cooked whole grains (see below)
3-4 ounces protein (see below)
3 1/2 tablespoons vinaigrette (see below)
Here are the 5 steps to the best healthy granola bars:
1. Lay Down the Leafy Greens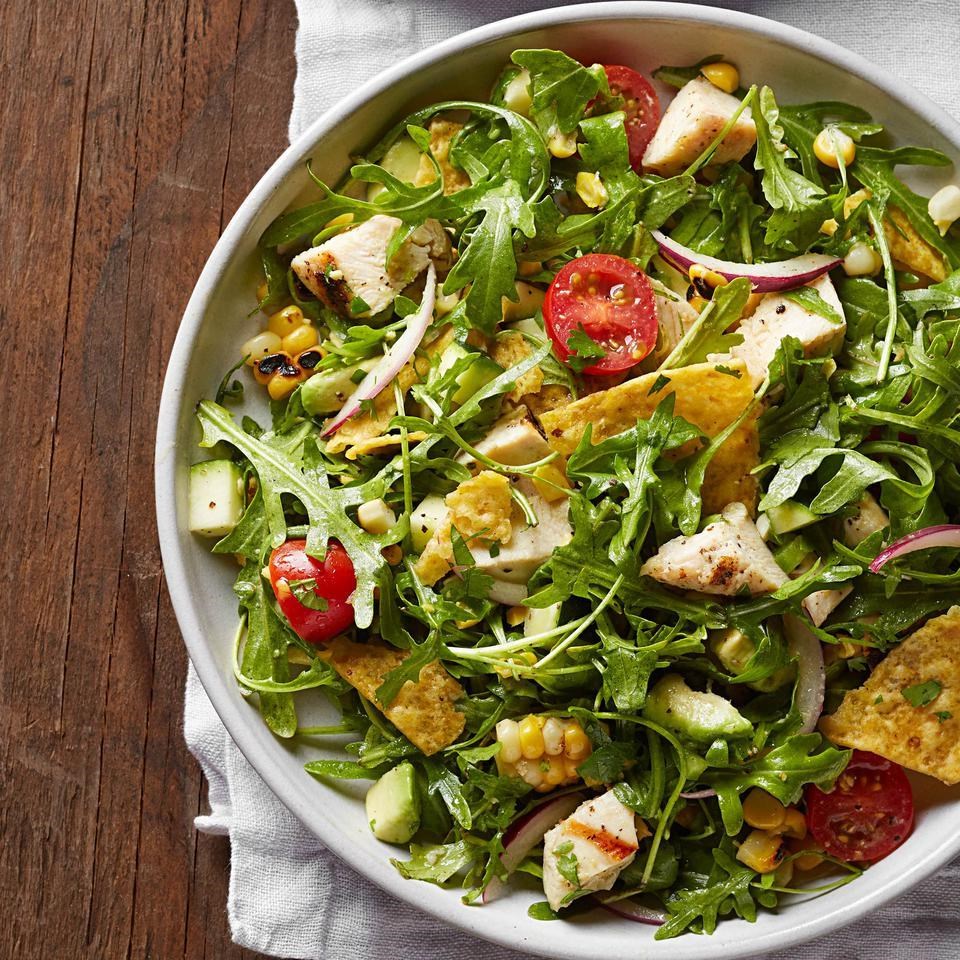 Pictured recipe: Grilled Chicken Taco Salad
For a single dinner (or lunch) salad, start with 3 cups of leafy greens.
During cooler months, reach for the sturdy bitter stuff. Try:
kale
spinach
arugula
endive
escarole
In warmer months, tender greens are available like:
lettuces
watercress
mesculun
baby greens (spinach, kale, etc.)
Related: Your Guide to Greens that Aren't Romaine
2. Add a Rainbow of Veggies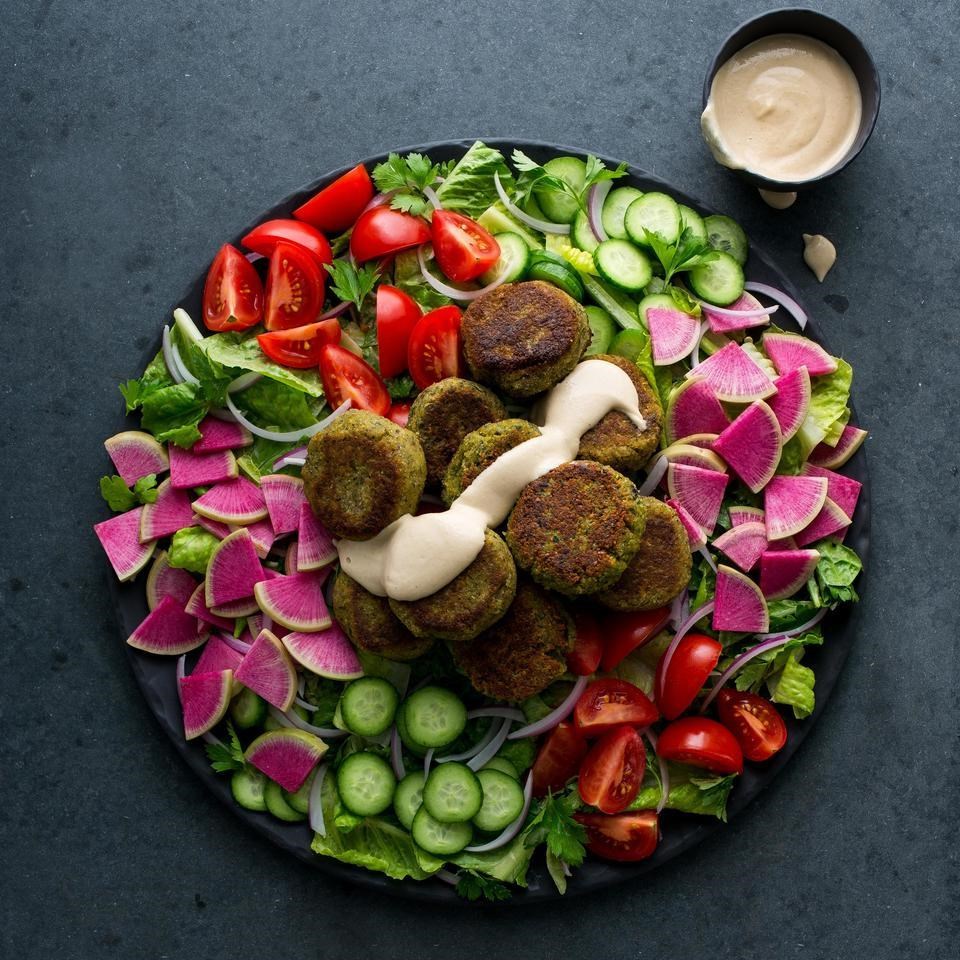 Pictured recipe: Falafel Salad with Lemon-Tahini Dresing
Add 1 to 2 cups of other vegetables on top of the greens base:
In cooler months hearty veggies like roots are in season, try roasting before adding to your salad to make them soft and sweet. Plus, the warmth helps to lightly wilt the sturdy greens for easier digestion. Try:
beets
squash
broccoli
red cabbage
carrots
Brussels sprouts
fennel
During warmer months when plenty of fresh veggies are available you can skip roasting and just add them raw, grated, sliced or diced. Or if you have leftover grilled veggies, toss those on! Try:
cucumber
tomato
radishes
corn
green beans
snap peas
zucchini
Related: How to Cook 20 Vegetables
3. Go for Whole Grains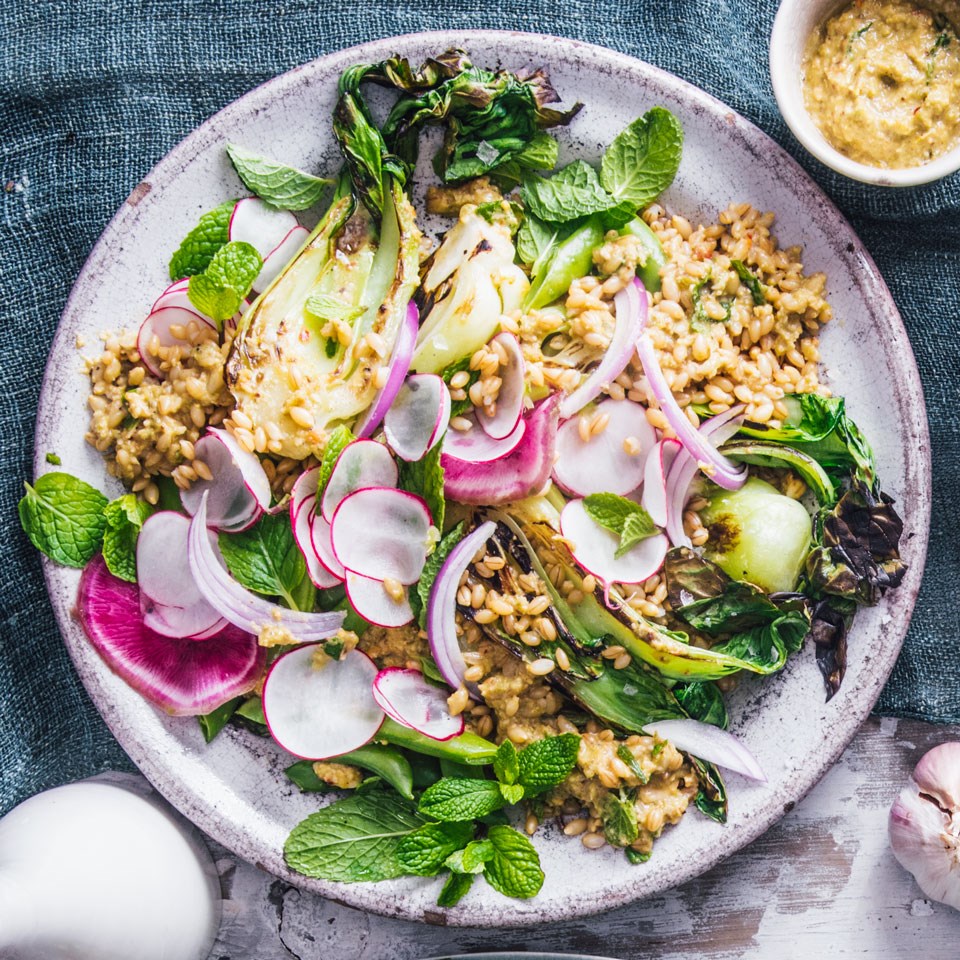 Pictured recipe: Barley Salad with Sugar Snap Peas, Baby Bok Choy & Green Romesco Dressing
Bulk up your plate with up to 1/2 cup of cooked grains all of which are good any season. Try:
barley
farro
brown rice
quinoa
freekeh
wheat berry
sorghum
toasted whole grain bread crumbs or croutons
Related: All the Grain Salad Recipes You Need
4. Add Protein for Staying Power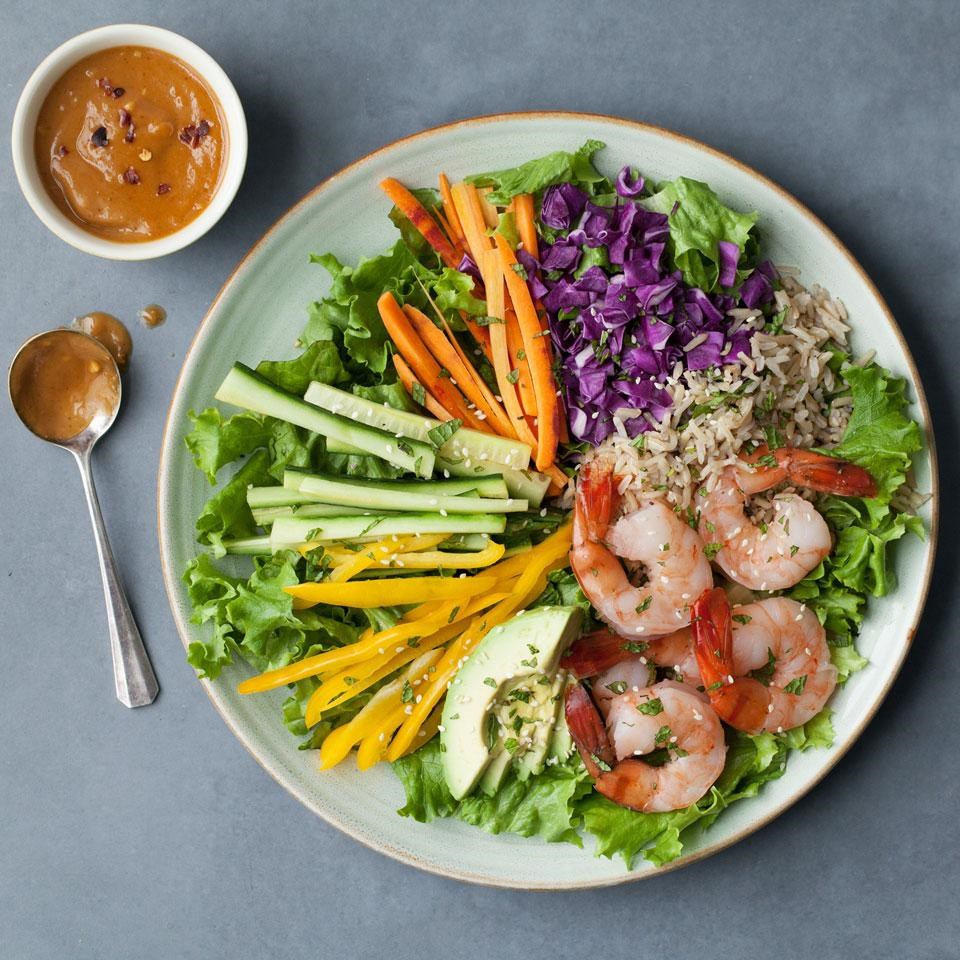 Pictured recipe: Spring Roll Salad
Top your salad with 3 to 4 ounces of protein to make it even more satisfying. During cooler months use poached or roasted proteins like and in warmer months, try grilling. You can also top with whatever protein leftovers you have in the fridge all year long. Try:
chicken
shrimp
steak
hard-boiled egg
1/2 cup beans
hummus
Related: Top Vegetarian Protein Sources
5. Dress It Up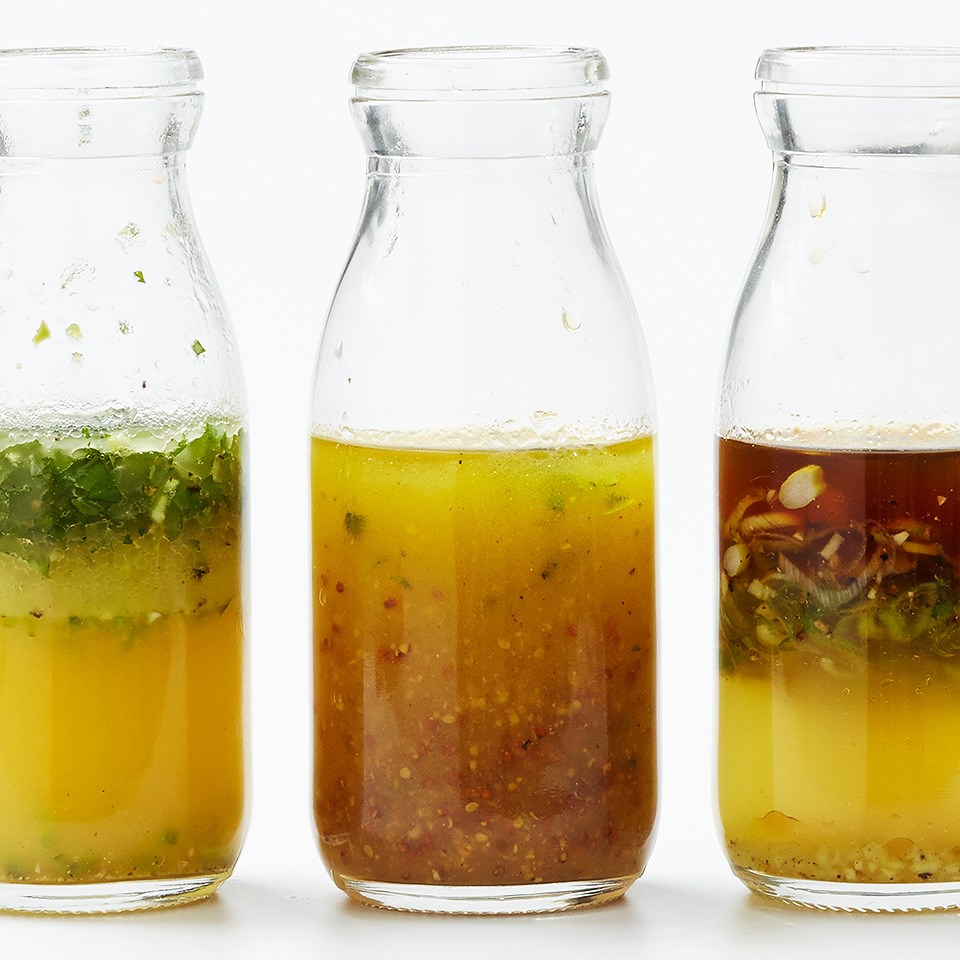 Pictured recipe: Honey-Mustard Vinaigrette with Lemon
Now that your bowl o' salad is ready, you need to toss it with a dressing. Don't be a fat phobe! Dressing improves your salad's flavor—and its fat helps you absorb certain nutrients, such as beta carotene. This basic vinaigrette goes with just about any healthy salad recipe:
Ingredients:
2 tablespoons olive oil
1 tablespoon red-wine or white-wine vinegar
1/2 teaspoon Dijon mustard
1/2 teaspoon minced shallot
1/4 teaspoon pepper
1/8 teaspoon salt
Whisk all ingredients together in a small bowl. Makes about 3 1/2 Tbsp., enough for 1 large salad.
Short on time? Use 2 tablespoons of a store-bought dressing with a simple ingredient list.
Try this: How to Make Perfect Homemade Vinaigrette Every Time
Watch: How to Make a Killer Healthy Salad Every Time
Don't Miss:
Healthy Lunch Salad Ideas for Work
31 Healthy Salads to Eat this Month
High-Protein Soup & Salad Lunches