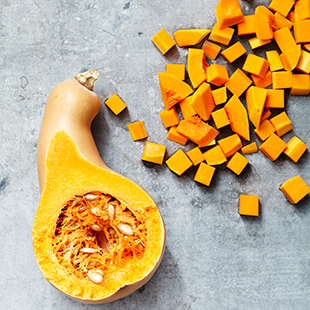 I love butternut squash. But since I commute an hour a day and have a 3-year-old to feed ASAP when walking in the door (plus a hangry husband), I try to keep weeknight dinners to 30 minutes, tops. Since it takes about 15 minutes to peel, seed and cut up a whole one, squash is usually designated to weekend duty at my house.
So discovering precut butternut squash was pretty awesome. And while convenience products can be more expensive, this one costs a mere $1.50 more to buy it already prepped, which is worth it to me and my weeknight sanity.
In the past I've avoided precut vegetables because I've had a few purchases go awry—slimy chopped onions and desiccated broccoli come to mind. But when developing and testing recipes in the EatingWell Test Kitchen, we never came across a spoiled bag or box of precut squash.
When shopping for precut butternut squash, we found it's usually sold one of two ways: a 20-ounce package of large cubes (5 cups of 1- to 2-inch pieces) or a 16-ounce package of smaller diced squash (3 cups of 1/2-inch pieces).
In the recipes that follow, we call for "cubed" squash if we mean the larger pieces and "diced" squash if we mean the smaller. If you find the larger cubes but need the smaller pieces, cut them into 1/2-inch dice before cooking. Or if you buy the smaller dice but need the larger cubes, measure what you need from 2 packages and reduce the cooking time a bit.
Butternut squash is a nutritional gold mine—a single cup of cubes boasts more than four times your daily value of vitamin A, which promotes healthy eyes. And adding as little as a teaspoon of oil or butter increases your body's absorption of vitamin A by up to 650%. Squash is also a good source of fiber, which helps you feel full and may lower your risk of heart disease.
Now it's time to get cooking! Here are 4 fantastic weeknight-friendly recipes featuring this great convenience product.



Butternut Squash & Black Bean Tostadas

: Ancho chile powder adds a mild, sweet-spicy flavor to the squash-and-bean base for these vegetarian tostadas. Look for it in the spice section of well-stocked supermarkets. Other mildly spicy chili powder can be used in its place. Don't forget to put your arsenal of hot sauces on the table for drizzling. Serve with an icy-cold amber beer or a margarita.



Squash & Red Lentil Curry

: This curry has a rich flavor and complexity that tastes like it took hours to prepare. Serve with brown jasmine rice or store-bought chapati.



Roasted Autumn Vegetables & Chicken Sausage

: Sheet-pan suppers are a boon for busy cooks because you use fewer pots and pans. While the vegetables and sausage are roasting in the oven, you can scurry around the house getting things done. Go for whatever variety of chicken sausage you prefer, but we're partial to the flavor of chicken-apple in this dish. Serve with crusty bread and a dollop of whole-grain mustard.



Roasted Salmon & Butternut Squash Salad

: A bit of maple in the dressing picks up on the sweetness of the squash, while cider vinegar cuts through the buttery salmon. Double the dressing to use on your lunchtime salads this week. Serve with a glass of Beaujolais.