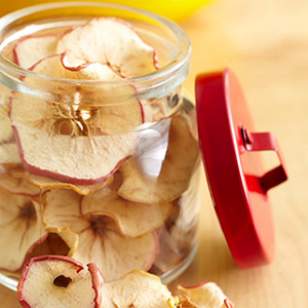 Americans throw away about 90 billion pounds of food each year. Here are some clever ways you can help reduce food waste at home.
- Make "ice cream" from frozen, overripe bananas: Whirl chunks in the food processor for a minute or two, and watch them magically turn into a creamy treat.
- Turn
apple peels into sweet chips
—and potato peels into savory ones—by tossing with a bit of oil and roasting in a single layer at 400°F for 12-15 minutes.
- Shred broccoli and cauliflower stems to use in soups or slaws.
- Use that sprouting garlic. It's still perfectly safe. Either cut out the sprouts or chop them along with the clove—or plant your sprouting cloves, sprout-side up and in about 90 days you'll have new bulbs.
- Blitz stale bread in the food processor to make breadcrumbs.