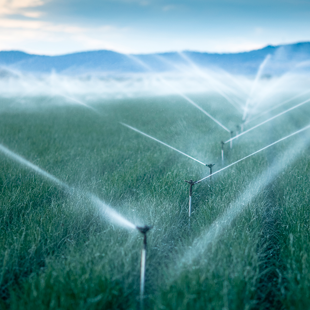 We need water to survive and so does our food. Our agriculture system depends on this resource for watering crops and sustaining animals. California is a big agriculture state and 2014 was its fourth driest year on record. There's a renewed focus on water and our food (for ways to conserve at home click here). Here are some staggering numbers you should know when it comes to food and water.
61%
The amount of California's water usage that is dedicated to irrigation for agriculture.
50%
The amount of the nation's fruits, nuts and vegetables grown in California.
37%
The amount of our natural water supply that goes to grow food—through irrigation, aquaculture and livestock production.
2,000 Gallons
The daily water footprint (both direct and indirect water use) of the average American. That's about twice the worldwide average, and the equivalent of running the dishwasher 400 times.
25 Gallons
Approximately how much water you use taking a 10-minute shower. Aim for 5 minutes or less to save more than 300 gallons of water per month.
1/2
The portion of your water footprint attributed to your diet (food and drink).
How Thirsty Is Your Food?
Here's a snapshot of the average water footprint (both direct and indirect) of some of our favorite foods and drinks. By Kate Geagan, M.S.,R.D.
3 oz. Beef
347 Gallons
1 oz. Chocolate
127 Gallons
1 oz. Almonds
120 Gallons
3 oz. Chicken
98 Gallons
1 Large Egg
44 Gallons
1 Cup of Coffee
34 Gallons
1 Glass of Wine
24 Gallons
1 Cup of Tea
9 Gallons
---
Sources: Waterfotprint.org, Usgs.gov, National Water Footprint Accounts, Mekonnen & Hoekstra 2011