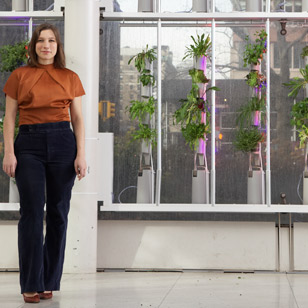 Britta Riley shows that you can grow food anywhere, from an apartment window garden to the American Museum of Natural History.
Watch: 4 Must-Have Healthy Salad Ingredients
Who She Is
Growing up on a farm in rural Texas, Britta Riley learned to garden from the older German women who lived nearby. As an adult, Riley moved to Brooklyn. Five years later, the novelty of city living wore off.
She missed the connection she felt to nature when she was able to garden. "And I was disappointed by the bland, flavorless vegetables I was getting at the grocery store," Riley said.
But neither her windowsill nor the fire escape of her apartment building proved to be good for gardening. What Riley thought could work, though, was this: stringing planters vertically up her window.
What She Did
An artist, Riley's hardly an expert in agriculture. So she started a crowd-sourced online forum, now 40,000 strong, called Windowfarms to gather advice for her design.
Over 2 1/2 years, she and others cobbled together designs that users tinkered with.
In 2011, she finally had a design she felt was right for an at-home window-garden kit. So Riley launched her business with a Kickstarter campaign.
Her product: a vertical hydroponic garden kit that can be assembled in 10 minutes. There are now more than 10,000 people growing Windowfarms. The company also offers a delivery of fresh plants each month.
Why It's Cool
Windowfarms provides the tool for anyone to garden anywhere.
In just an 8-inch-square footprint with 4 1/2 feet of height plus some natural light, you can grow tomatoes, basil, kale and more in these gorgeous columns. (Rule of thumb: one column produces enough for a side salad a day.)
"If you listen to people who grow their own food talk about the experience, you hear a deepening intuitive knowledge of their bodies' relationship with the world," Riley says.
Another cool thing: Windowfarms are assembled by disabled veterans and other physically handicapped workers in a factory in New York state.