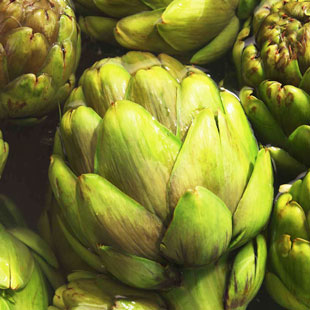 Ocean Mist Farms, the nation's largest artichoke producer, has surprisingly homegrown roots.
Watch Us Make a Healthy Artichoke Dip
Perched on its tall, thick stem, the edible bud of the artichoke is one of nature's oddest floral arrangements. But don't be fooled by its exotic-looking exterior: this thistle claims some surprisingly homegrown roots.
That's largely thanks to four families in Castroville, California, who still grow artichokes cultivated from rootstock their ancestors brought over from Italy more than 90 years ago.
That rootstock—handed down like a family treasure—has helped turn Ocean Mist Farms into the nation's largest artichoke producer. About 95 percent of the country's artichokes are grown on fields in Castroville, a city dubbed "Artichoke Capital of the World."
Don't Miss: How to Cut and Cook an Artichoke
Seek out heirloom green globes for meatier hearts and fleshier leaves or look for other varieties, such as the wine-colored sangria artichoke.
To prepare, trim the stem and the ends of each petal, then steam, bottoms up, until the stems are tender and an outer leaf can be easily pulled off, 20 to 40 minutes, depending on size.
Eating artichokes may help keep your heart healthy and reduce your cancer risk, thanks to antioxidants quercetin and anthocyanins. Plus, one medium artichoke delivers 10 grams of fiber. So go on and have a heart (or two!). Try one of these delicious healthy
artichoke recipes
or dip the leaves in our
hollandaise sauce
.