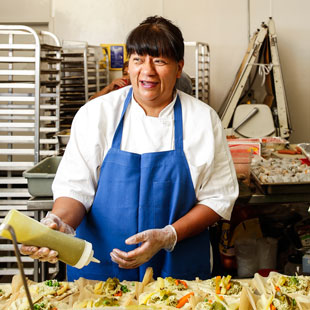 The founder of Alicia's Tamales Los Mayas in San Francisco has been stuffing tamales since she was a kid in Mazatlan, Mexico.
Who She Is
: "There's a lot of history in tamales. In Mayan times, only kings and queens ate them," explains Alicia Villanueva, a 53-year-old mom of three, who has been stuffing tamales since she was a kid, with her mom and grandmother in Mazatlan, Mexico.
"When I came to the United States, I wanted to introduce my Mexican cuisine. Tamales are special. During holidays, the family comes together to cook tamales."
When she arrived to California 14 years ago, she sold tamales door-to-door. Each week she cooked 100 tamales. Most were gobbled up, but she was working hard and could barely cover her bills. The family struggled.
What She Does
: Villanueva still works hard, but now her food cart and catering business in San Francisco, Alicia's Tamales Los Mayas, sells 13,000 tamales a month and employs "eight beautiful ladies."
She offers four savory tamale varieties, including a chicken tamale with veggies and salsa verde. Her mango tamale dessert recently won 1st place in a local competition.
Soon her tamales will be available at local Whole Foods stores. It's a huge change from the early days of her business. "I'm living my amazing dream right now. Every morning, I just want to say thank you."
Why It's Cool
: In 2010, Villanueva entered the five-year incubator program at La Cocina (Spanish for "the kitchen"), a nonprofit in San Francisco's Mission District that helps low-income, mostly female immigrant food entrepreneurs create thriving businesses.
La Cocina's
kitchen space, classes and support have boosted more than 30 startups that sell everything from Nepalese soul food to Russian piroshki.
La Cocina is a busy place with many cooks working to prep food for catering orders and food carts. Yet everyone is filled with gratitude and camaraderie. "La Cocina makes it possible for me to have a nice future for my kids. This is the best place; it's magical," says Villanueva with great emotion.
Wrapped with Love
: Tamales made by Alicia Villanueva have been shipped as far away as Australia and England.
Check out all her Mayan-inspired specialties at facebook.com/Aliciastamaleslosmayas