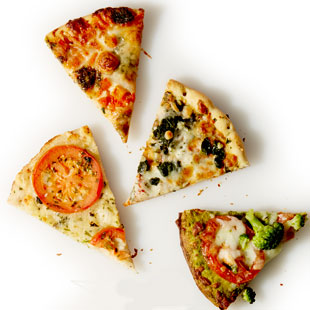 When it comes to being ready for a last-minute dinner, a frozen pizza could be your best friend. But just because you're taking a shortcut doesn't mean you have to sacrifice a healthy dinner. Here's what to look for.
A Better Bottom:
More dough means more calories, so choose thin-crust over deep-dish when buying frozen. Buy pizzas that have whole grains in the crust whenever you can and skip ones stuffed with cheese.
Keep it Simple:
Less is more when you're picking pizzas. Some loaded frozen pizzas (see our brand picks) are tasty, but many had soggy toppings in the end. Meat-lover pizzas were higher in calories and sodium on a whole. Adding your own veggies helps the toppings stay crunchy and you can choose what you like.
Mind Your Portions:
One serving of reheated pizza won't seem like much when it's on your plate (you get about a third of the packaged pie). To round out the meal, fill the rest of your plate with a lightly dressed green salad.
Beware of Crust Ingredients:
Avoid hydrogenated oils (they deliver trans fats), which are in some crusts.
Brands We Like:
• Amy's Roasted Vegetable Pizza (vegan)
• Amy's Pesto Pizza
• Dr. Oetker Ristorante Pizza Mozzarella
• American Flatbread Sliced Tomato & 5 Cheese
• DiGiorno Thin & Crispy Spinach and Garlic Pizza
Numbers to Look For:
Serving Size
Calories
Sodium
2 slices (frozen pizza ö 6)
= 350
= 600