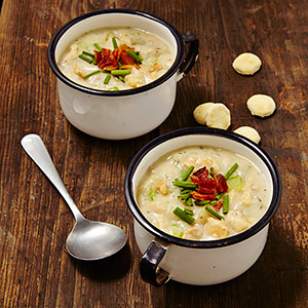 I have a thing for chowder.
I am lucky that my mother-in-law lives year-round on Cape Cod: we visit there several times a year and I get to eat some of the best clam chowder—or as we say in some parts of New England, clam chowdah. (She's in Massachusetts, after all.) In Maine, where I lived until recently, I consumed gallons of chowder in varying forms—clam chowder, corn chowder, seafood chowder, the list goes on.
I love to make chowder at home, too, and when the weather cools down, one chowder recipe or another appears on my weekly menu along with some homemade bread. (This one's my
go-to chowder recipe
.)
So when the EatingWell Test Kitchen set to work on creating some new chowder recipes, I was really excited to try them. Not only did we whip up one of the best clam chowder recipes I've ever had, but we made it healthier to boot.
Did you know that when you make your own chowder you can save 300 calories, 20 grams of saturated fat and 500 milligrams of sodium per serving compared to many store-bought or restaurant chowders? That's a pretty hefty makeover, if I do say so myself.
So How Did We Make a Lighter Clam Chowder?
1.
First, we skipped the heavy cream and used flour-thickened broth. This is a great tactic for lightening up just about any creamy soup, so don't be afraid to apply the technique to your favorite recipes.
2.
Then we chose reduced-sodium broth with just a touch of added salt for the most flavor bang for your buck.
3.
Finally we loaded the chowders up with fresh veggies to boost the nutrients.
Are you ready to get cooking?
Get our Healthier Clam Chowder Recipe
. And if clams aren't your jam, try one of our other variations: