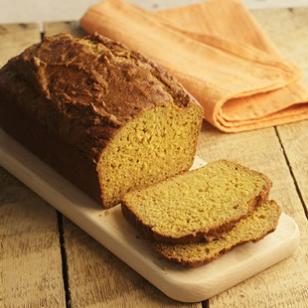 As the leaves on the trees change from green to yellow and red, the cooling weather means one thing for me: it's pumpkin time.
Starbucks rolls out the Pumpkin Spice Latte, Halloween pumpkins start bringing their glow to the farmers' markets and gardening stores, and my Pinterest board lights up with pumpkin recipes.
Pumpkin and all types of winter squash have always been a favorite food of mine. So it's a good thing they're loaded with vitamin A, vitamin C and fiber, because I'm planning to eat my fair share as fall in Vermont is already settling in.
To keep things easy, all these recipes use canned pumpkin. But if you would like to use fresh pumpkin or squash, cut a small, 4-to-6-pound pie pumpkin or winter squash in half and remove the seeds. Lightly coat the inside with oil and roast at 350øF until very tender, 50 minutes to 1 hour. Scoop out the flesh and pass it through a food mill or process in a food processor until very smooth.
Here are a few of my favorite pumpkin recipes-2 breakfasts, 2 dinners and 2 desserts-plus links to many more.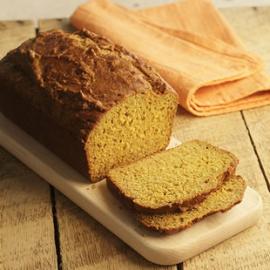 Pumpkin Bread and/or Muffins
Pumpkin bread and muffins hold a special place in my heart. My mom used to make pumpkin muffins from canned pumpkin year-round. I used to eat 3-yes, 3-every morning for breakfast.
Just lightly sweet yet made with whole-wheat flour, this recipe makes enough for two 9-by-5-inch loaves or one loaf and 12 healthy pumpkin muffins.
Add your favorite spices, such as cinnamon, nutmeg, cloves or ginger, or stir in nuts, chocolate chips, dried fruit or shredded coconut for extra flavor and texture.
Pumpkin Pancakes
These whole-grain pumpkin pancakes make breakfast even more special.
Pro Tip:
Be sure to let the batter sit for at least 10 minutes before cooking the pancakes. The resting time allows for the baking powder to activate and creates the most tender and soft pancakes.
For Fast Breakfasts:
Have extras? Freeze them for a homemade pancake breakfast even on busy weekday mornings. Don't forget real maple syrup!
Southwestern Pumpkin Burgers
Canned pumpkin-the unseasoned kind, not pumpkin pie filling-is a star ingredient in these healthy Southwestern-style burgers.
Meat-free protein:
Combined with onion, bell pepper, corn, garlic, chili powder and cumin, these vegetarian burgers are anything but boring.
Serving idea:
We wrap them in tortillas and top them with lettuce, salsa and cheese, but you could also try these pumpkin burgers on a hamburger bun or on top of a salad.
Pepperoni Pizza
Yes, you read that right: Pepperoni Pizza! This quick and healthy pizza recipe uses unseasoned canned pumpkin puree in the tomato sauce to give the recipe an extra health kick.
Make it yours:
With whole-wheat pizza dough, a touch of garlic powder and part-skim mozzarella, feel free to use your favorite toppings. I like to add arugula, mushrooms and caramelized onions.
Pumpkin Coconut Tart
With a whole-wheat and almond crust and a spiced filling made with canned pumpkin, rum, cinnamon and coconut milk, this tart is not just beautiful, it tastes truly spectacular. Try it instead-or along with-classic pumpkin pie for the holidays. If you don't want to use rum, apple cider is a lovely substitute.
Frozen Pumpkin Mousse Pie
Ice cream pies aren't just for the summer! This frozen pumpkin mousse pie takes only 20 minutes of active time to throw together and can easily be made ahead of any event.
Dress it up:
Serve with a sprinkle of cinnamon or nutmeg, or topped with toasted pecans or coconut.