The sky's the limit when it comes to smoothie combinations you can whip up in your blender. You don't always need to follow a recipe, but if you're not careful even green smoothies packed with things like kale or bananas can easily turn into sugar- and calorie-bombs. So we've done the calculations for you to get a super-healthy, delicious green smoothie every time.
Try one of our suggested green smoothie combos below—and check out our other green smoothie recipes—or create your own favorite flavor!
Related: Best Smoothie Ingredients & 10 To Ditch
1. Liquid ( 1/2 cup)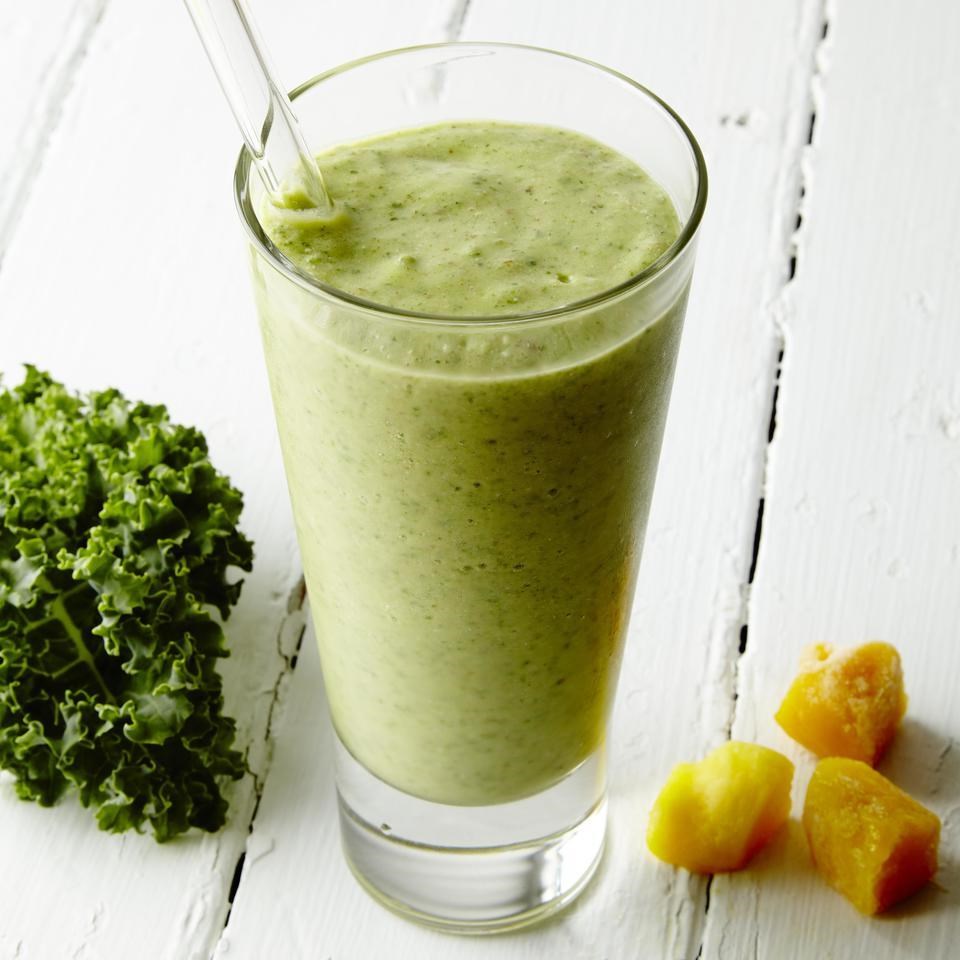 Pictured Recipe: Mango-Coconut Green Smoothie
You'll need some liquid to get everything whirring in your blender, but choose wisely. Skip juices—they're high in sugar (even when they're 100% fruit juice).
Try these:
Unsweetened almond milk or other unsweetened nondairy milks (soy, rice, hemp)
Low-fat milk
Coconut water
Water
2. Frozen Banana (1 cup)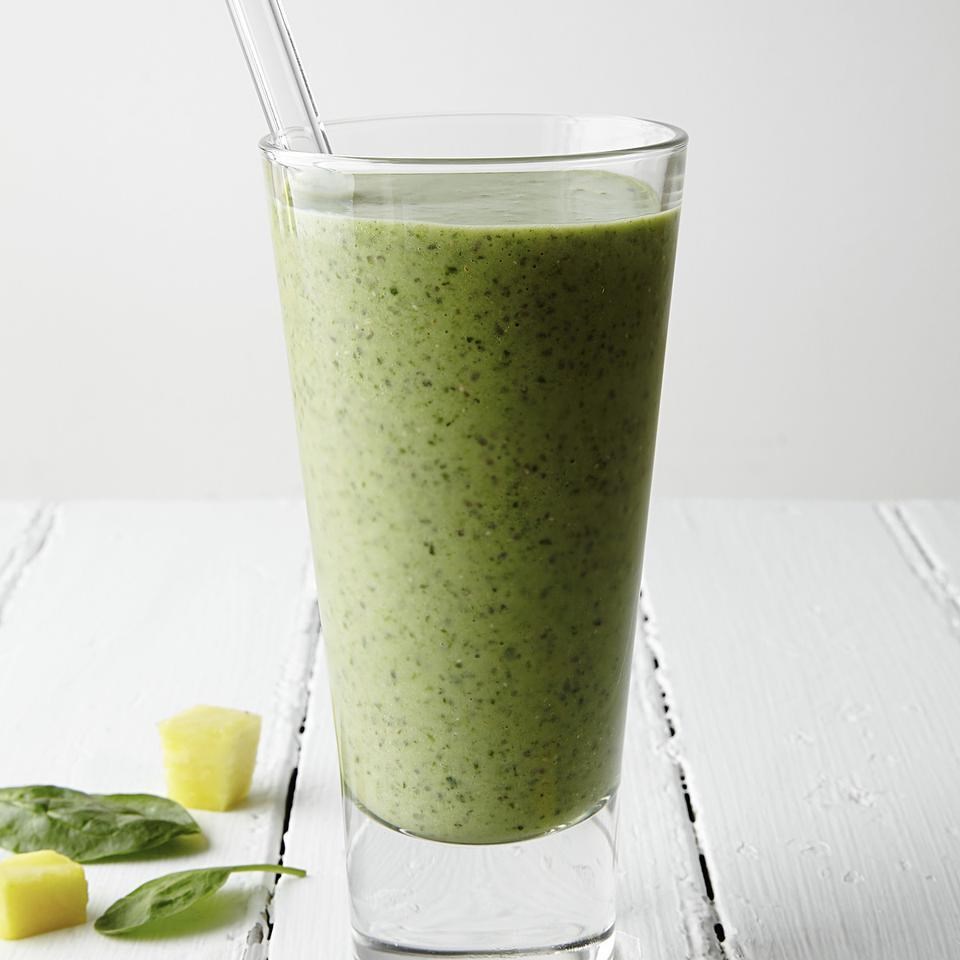 Pictured Recipe: Pineapple Green Smoothie
For natural sweetness and always rich, creamy (not icy) body, frozen banana slices are a must. Another bonus: bananas are a relatively inexpensive fruit.
3. Frozen Fruit (1/2 cup)
Frozen fruit makes a frosty smoothie without added ice (some blenders can't handle ice cubes). Buy already frozen fruit or freeze your own.
Try these:
Blueberries
Cherries
Strawberries
Pineapple
Mango
Apples
Raspberries
Blackberries
Grapes
4. Protein (1/3 cup)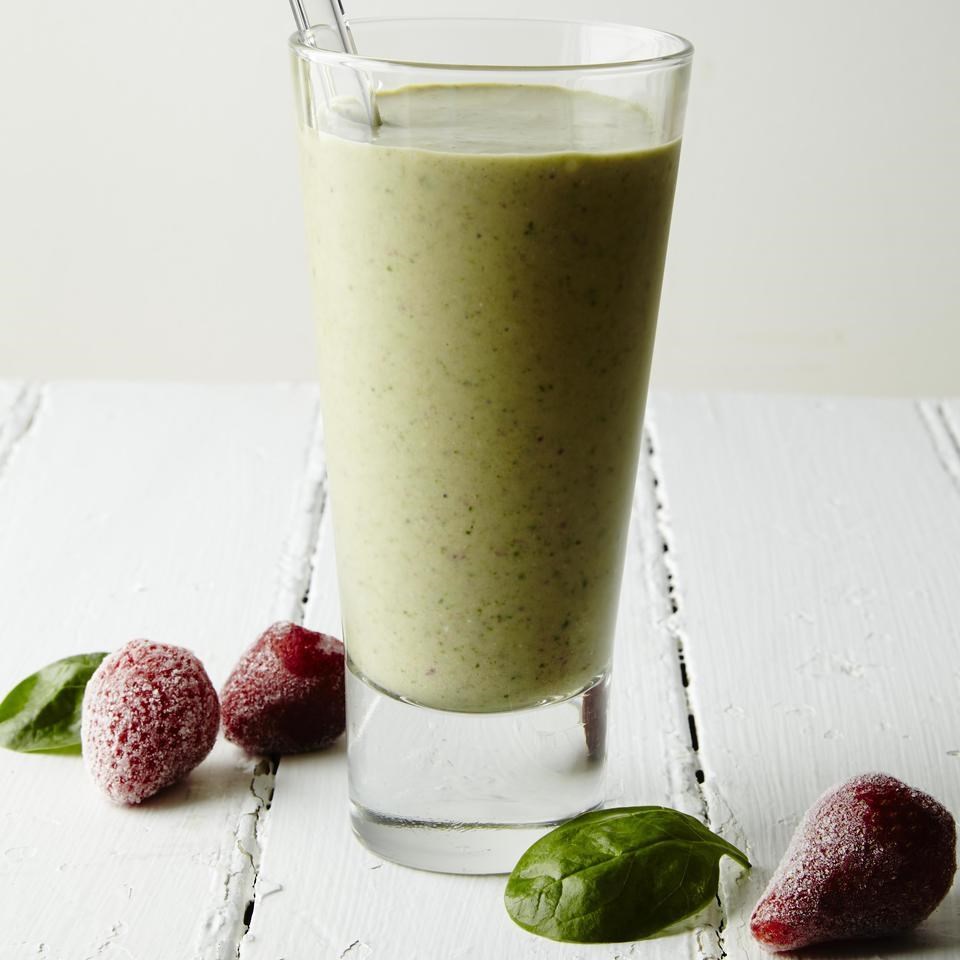 Pictured Recipe: Peanut Butter & Jelly Smoothie
To give your smoothie staying power add protein. Protein slows the digestion of carbs, keeping you full longer.
Try these:
Nonfat or low-fat plain Greek yogurt
Nonfat or low-fat cottage cheese
Silken tofu
5. Greens (1 cup)
Add 1 cup of greens to help meet your daily veggie quota without overpowering your smoothie.
Try these:
Baby spinach
Kale (stemmed and chopped)
6. Health Boost (1 Tbsp.)
Throw in chia seeds or flaxseeds, for a boost of omega-3s and fiber. Or add nut butters for healthy fats and a little more protein.
Try these:
Chia seed
Flaxseed
Hemp seed
Peanut butter
Almond butter
Related: Health Benefits of Flax Seeds, Chia Seeds and Hemp Seeds
7. Optional Sweetener (up to 2 tsp.)
Have a sweet tooth? Add up to 2 tsp. liquid sweetener like maple syrup or agave.
Related: