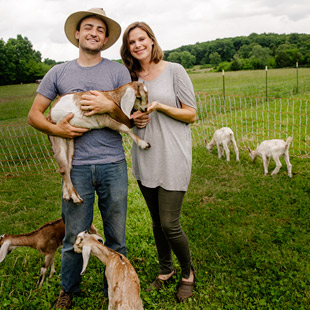 Formerly in NYC's finance and fashion worlds, the owners of Little Seed Farm found a new life in Tennessee.
Who They Are
Living in New York City, James and Eileen Ray, 20-somethings working in finance and fashion, respectively, knew they wanted to leave city life and start a farm. They discovered an abandoned farm in Tennessee. "The price was right, the weather mild enough to let animals forage year-round and the local food scene not too developed," James says. But the place was a wreck: the soil depleted of nutrients, the land overgrown with thorny bushes and grasses. "The worst forage possible," notes James. The Rays decided to raise goats, which are happy to eat plants other animals will snub. With hard work, the soil improved, the landscape diversified and the dilapidated barn is now a creamery and milking parlor. Thus was born Little Seed Farm.
What They Do
"My second word was cheese. I love cheese," says Eileen. So their first offering was a herd share: 50 members joined, receiving ¼ pound of organic cheese each week. Eileen made 22 different cheeses—from creamy chèvre to squeaky curds of Cheddar. This year, 100 members signed up. The pair found another clever use for their grass-fed goat's milk: soap. James has taken a culinary approach to his soap making. He even partnered with a local brewery on some blends. The "summer" soap combines milk, citrusy pale ale, lemongrass and basil; it smells good enough to eat.
Why It's Cool
The duo is part of a small, but growing group of hipsters revitalizing the current face of farming. The Census of Agriculture points to a graying trend: in 2012, the average farmer's age was 58, up 3 years from 2002. "Our generation has strayed so far from physical labor—but it's a really rewarding lifestyle," says James. And a successful one: starting with three soap blends in 2012, they now offer 11, selling nearly 6,000 bars in 2013. This year they hope to sell around 30,000—largely through
littleseedfarm.com
.