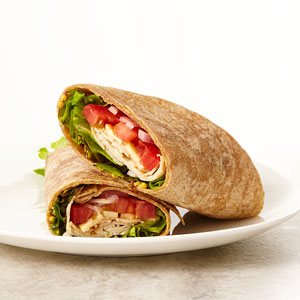 It doesn't really matter what you call them: wraps and flour tortillas are essentially one and the same—both made with flour, water, oil and salt. Regardless of how these bread-alternatives are labeled, here's what you need to know before you shop.
Choose Whole-Wheat:
Pick a wrap with whole-wheat flour listed as the first ingredient for a nutrient and fiber boost. Don't be fooled by brightly colored spinach and tomato wraps—there's no real vegetable bonus to speak of and they're often colored with artificial dyes.
Two-for-One:
Some wraps are so big that one wrap is actually two servings. If you're counting calories, check the serving size so you know what you're getting.
Ingredients to Avoid:
Shortening, which is made with hydrogenated or partially hydrogenated oils, is still a main fat source in lots of wraps, so read your labels carefully.
Faux Fiber:
Wraps touted as low-carb or high-fiber often add fiber powders like inulin and oat fiber—and it's unclear whether they have the same health benefits as fibers found in whole foods. (Also, they sometimes lend an undesirable chewy texture or bitter flavor.)
Keep an Eye Out:
Wraps can be near the deli, with Mexican foods or next to cheese in the dairy case. You may need to search a little for the healthiest ones!
Brands We Like:
Maria and Ricardo's Whole Wheat Tortillas, Trader Joe's Handmade 100% Whole Wheat Flour Tortillas, Food For Life Ezekiel 4:9 Sprouted Grain Tortillas.
Numbers to Look For:
Fiber
= 3 g
Sodium
= 350 mg
Serving Size: varies