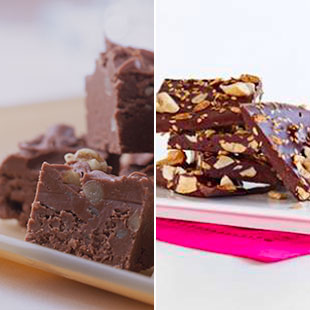 When I'm invited to someone's house for dinner, I never show up empty-handed. Call me Southern (which is a compliment!) but I think bringing a little offering says, "Thank you so much for inviting me over and serving me food." I used to bring a bottle or wine or flowers, but recently I've been whipping up homemade treats. This holiday season I'm making EatingWell's new homemade chocolate bark recipes. Why? Because bark is a lot healthier and easier to make than chocolate fudge. It's also delicious—during the testing phase, the EatingWell staff chased me down every afternoon to get their chocolate fix.
The biggest difference between chocolate bark and chocolate fudge is the texture and taste. Fudge is usually softer, chewier and sweeter because it contains butter, added sugar, milk, corn syrup and/or sweetened condensed milk—ingredients you won't find in bark. These additional ingredients explain why fudge and bark have vastly different nutrition numbers. Healthy dark chocolate is the main ingredient in our chocolate bark, providing a healthy dose of flavanols, compounds that promote heart health and may help reduce inflammation. Here's a comparison of EatingWell's Cashew & 3-Seed Dark Chocolate Bark with a traditional chocolate fudge recipe.
Nutrition breakdown (per 1 1/2–inch piece):
EatingWell Cashew
& 3-Seed Chocolate Bark

Traditional Chocolate Fudge

Calories

59
190

Total Fat

4 g
9 g

Saturated Fat

2 g
6 g

Carbohydrates

7 g
30 g

Sodium

14 g
100 g
Based on the numbers and the thickness of fudge, a typical serving of fudge has more than three times the calories, saturated fat, carbohydrate and sodium as chocolate bark. If you're a chocolate lover and want a healthier sweet treat, chocolate bark is the clear winner.
It's also much easier to make bark! Making fudge means hovering over a candy thermometer to make sure the sugar doesn't burn, but our basic recipe for chocolate bark is simple: melt dark chocolate, stir in half of your flavorings, spread the chocolate on a baking sheet and top with the remaining flavorings. That's it. You can even use your microwave to melt the chocolate, so there's nothing to cook (or burn!) on the stovetop and no sticky pan to clean.
When testing the recipes for chocolate bark, I made six different types in just a couple hours (not a bad time investment for homemade holiday gifts). My favorite concoction is the
Cashew & 3-Seed Chocolate Bark
with aniseed and sesame seeds, but the overwhelming
EatingWell
staff favorite is the
S'mores Chocolate Bark
with graham crackers and mini marshmallows. I'll let you—and your lucky gift recipients—choose your favorite!
What is your favorite flavor of chocolate bark?