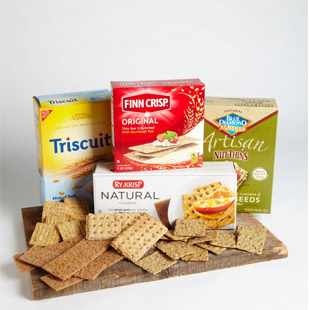 Keeping a box or two of crackers on hand is helpful for whipping up a quick appetizer when guests (not always expected) drop by. They're also a staple for an easy snack. Unfortunately, many crackers contain excessive sodium, sugar and unhealthy fats. Here's what to seek out on labels and some brands that meet our criteria.
Numbers to Look For:
Saturated Fat
= 0.5 g
Sodium
= 200 mg
Dietary Fiber
= 2 g
Sugars
= 2 g
Serving Size: About 30 grams (serving sizes may vary).
Ingredients to look for:
Healthy oils (olive, canola), whole grains (whole wheat, brown rice, whole rye)
Watch out for:
Partially hydrogenated oils, cottonseed oil, palm oil, sugar
Check Your Oil:
Some crackers list 0 grams of trans fat but are still made with partially hydrogenated oils. Double-check the ingredient list and pick heart-healthy oils instead.
More Than Wheat:
Whole-wheat is a healthy choice—and crackers are now also made with quinoa, brown rice, whole rye, amaranth and more good-for-you whole grains.
Flavor Trip-Up:
Flavored crackers, while tasty, can tip the sodium scales with 300 mg or more per serving—and that's before salty toppings like dips and cheese.
Healthy Crackers We Love:
Triscuit Hint of Salt
FinnCrisp
RyKrisp
Blue Diamond Almond Artisan Nut-Thins with Sesame Seeds (Gluten-Free)