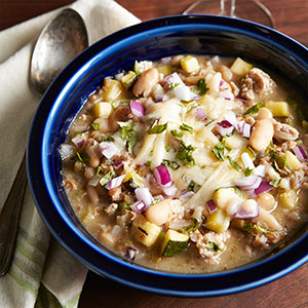 I'm sad that my month of planned dinners is ending next week, but we saved the best recipes for last. These healthy dinners will have your house smelling delicious and your plates full of comforting foods.
Starting with a creamy white chili, we'll then make our way through crispy pork, lamb chops with an orzo salad, quick shrimp risotto, French toast and end with a savory bread casserole. And don't forget the sides: easy vegetables, salads and proteins to round out your meals.
Here are the recipes for the week:
Sunday:
White Turkey Chili
Serve with: Tortilla chips and guacamole
Chili is the ultimate no-sweat party food and a perfect Sunday dinner. This White Turkey Chili is spiced with oregano, cumin and coriander and gets a veggie boost from zucchini. We suggest serving it with tortilla chips and guacamole, but I also will top it with fresh chopped tomatoes, scallions and little shredded white Cheddar. Don't forget the hot sauce!
Monday:
Pork Milanese with Mashed Sweet Potato
Serve with: Broccolini
You'll swear these crispy pork medallions were deep-fried, when in fact they achieve their delectable crust with a nonstick skillet and a tiny bit of oil. While the sweet potato and pork are cooking, steam broccolini and season with a squeeze of lemon and freshly ground pepper. This balanced dinner is on the table in less than 30 minutes.
If you've been following the 28-day plan, the only cooking you will be doing today is your garlic bread. While the eggplant parmesan is baking, rub sliced bread—such as a crusty country loaf—with a garlic clove sliced in half. Drizzle with olive oil and place on a baking tray. Place in the oven when the timer for your eggplant parmesan has 2 minutes remaining.
The sweet grapes with the salty feta in this orzo salad make it a lovely accompaniment to quick and easy lamb chops. For a gluten-free variation, try quinoa instead of the orzo.
Healthy and delicious risotto in 30 minutes? We did it! This one-pot creamy risotto gets its texture from reduced-fat cream cheese and a hit of color and fiber from frozen corn and edamame. Feel free to switch up the vegetables: frozen broccoli and peas would also be fantastic.
For a fun Friday meal, we're making breakfast for dinner. Why wait for brunch when you can make French toast and homemade sausage patties tonight? To make this even more fun, I think I'll add a mimosa.
I love tonight's dinner because it reminds me of Thanksgiving, my favorite holiday. Switch turkey for chicken and stuffing for bread casserole and it is basically the same meal. This bread casserole is crispy from the bread, savory from the caramelized leeks and gooey from the melted cheese. And with a simple roast chicken, what more can you want?