There's nothing more enticing than walking into the kitchen and taking in the heady scent of onion, garlic and chili powder from a big pot of chili bubbling on the stove. And if you're throwing a party, serving up steaming bowls of chili with all the fixings is a fun, casual way to serve a crowd.
At your next gathering, serve chili family style—right from the pot—with lots of different toppings. Go for classics, such as cheese, sour cream and hot sauce. Add plenty of fresh options, too: scallions, jalapeños, onion, radishes, avocados and cilantro.
Worried that chili isn't good for you? Don't be. We've got four tricks to keep it healthy but still hearty:
4 Rules for How to Cook Healthy Chili:
1. Start with lean meat (or none at all).
2. Slip in at least 3 cups of fresh vegetables to boost fiber.
3. Add whole-grain bulgur to replace some of the meat and slash saturated fat while keeping portion size satisfying.
4. Watch the salt by choosing lower-sodium canned foods such as no-salt added tomatoes and beans and liquids such as reduced sodium broth.
Related: Follow Our Recipes for:
Cowboy Beef & Bean Chili (pictured)
Anything but dainty, this healthy cowboy beef and bean chili recipe is hearty with the addition of mushrooms and beer.
Print, share and save this recipe.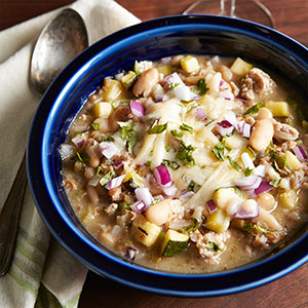 White Turkey Chili
This healthy white turkey chili recipe is gorgeous, with flecks of green from zucchini, oregano and green chiles.
Print, share and save this recipe.
Vegetarian Chili
Packed with vegetables, beans and spices, this zesty, healthy vegetarian chili recipe is loaded with protein from textured vegetable protein, also known as TVP. We like the combination of okra, corn, tomatoes and beans, but feel free to use your favorites, such as peas, carrots or mushrooms.
Print, share and save this recipe.
Buffalo & Black Bean Chili
In this healthy buffalo and black bean chili recipe, the buffalo is cooked with sweet red bell peppers and spiced with two types of chili powder, cocoa powder and espresso powder, making this chili mouthwatering and memorable.
Print, share and save this recipe.
Tomatillo and Pork Chili
In this healthy Mexican-inspired tomatillo and pork chili recipe, poblano peppers, chipotle chiles and oregano add spice without adding too much heat.
Print, share and save this recipe.
Lamb & White Bean Chili
In this healthy lamb and white bean chili recipe, the addition of eggplant makes this chili velvety and creamy, while the cinnamon and allspice make the house smell amazing while the chili is cooking.
Print, share and save this recipe.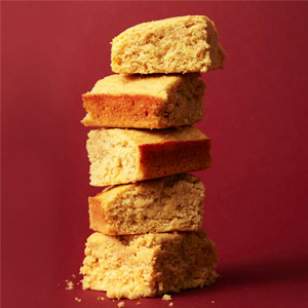 Whole-Grain Cornbread
Don't Miss: And don't forget to whip up a batch of our new recipe for Whole-Grain Cornbread. Anyway you stir it, it's time to get out your pot and cook up some chili!
Print, share and save this recipe.