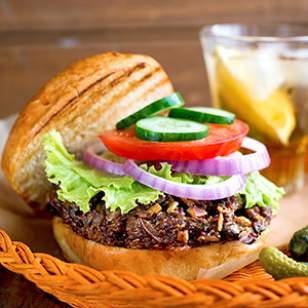 This quinoa veggie burger recipe is a meat-lover's burger: toasted pecans, mushrooms, Cheddar cheese, fresh herbs and red quinoa pack this vegetarian burger full of delicious flavor. It's one of the new tasty quinoa recipes I liked from the last issue of EatingWell Magazine, so I was happy when my husband surprised me by saying, "Let's make these quinoa veggie burgers." (He's mostly a don't-fence-me-in creator in the kitchen, but he was so inspired by that delicious-looking photo that he was willing to follow a recipe for a change.)
These quinoa veggie burgers are worth following a recipe for. Not only are they simple to put together, but you can make your time in the kitchen go even further by freezing part of the batch you make for a future meal. And if you can find red quinoa, they will be especially beautiful. The quinoa takes just 15 minutes, unattended, to cook; while it cooks and cools you sauté onion, mushrooms, garlic and herbs, which makes your kitchen smell wonderful. Mix that with the quinoa, some Cheddar, toasted pecans, oats and an egg to bind it all together. Form the patties on a baking sheet and while they bake you have time to take all your favorite burger fixings out to the picnic table or wherever you're enjoying the sunset from these days. Then it's time to dig in and enjoy!
Quinoa Veggie Burger
Print, share and save this recipe!
Red quinoa, which you can generally find in stores where white quinoa is sold, gives the quinoa veggie burgers the perfect color. If you can only find white quinoa, that's fine too. These quinoa veggie burger patties hold together well for freezing, making for a quick and easy meal. Defrost overnight in the refrigerator before cooking. Serve with your favorite burger garnishes.
(Adapted from "Quinoa Revolution" by Patricia Green and Carolyn Hemming; Pintail Books, 2012.)