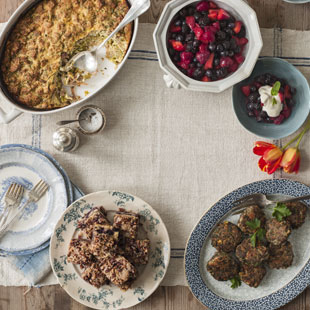 The author of the Silver Palate cookbook shares her expert ideas on hosting an easy make-ahead brunch
There's always a reason to get together for that ultimate convivial weekend meal, brunch. So removed from the frenzy and formality of the dinner party, brunch has a laid-back, "I've got the whole afternoon ahead of me" feel. With brunch, the entire family, kids and grandkids included, can come, since it's never bumping into anyone's bedtime. And when you plan and make the meal ahead, you too can enjoy the party.
No one knows brunch better than Julee Rosso. She's the co-author of the beloved Silver Palate Cookbook, which is on so many of our shelves, dog-eared and stained. For the last 22 years, Rosso and her husband, Bill, have owned the elegant Wickwood Inn in Saugatuck, Michigan. In the morning, Wickwood guests are gently enticed from their fluffy comforters by the scents of brewing coffee and the cinnamon and vanilla of fresh-baked pastries. "Guests want to indulge at brunch. They love the variety, the lushness and abundance. And they especially love the berry salad!" says Rosso. Her secret to making it easy: "We prep as much as possible the day before. We make sausage patties, sauté onions, grate cheese and cut up strawberries so they can release their juices."
For this brunch, Rosso adapted favorites from her inn and gave us tips on how to get it all done ahead of time. One of Rosso's tricks for a successful party is "Always greet your guests with a drink." So you'll start the meal by toasting with sunrise-colored Bellinis. Move on to Rosso's Very Berry Fruit Salad, then little sausage patties dressed up with flecks of pistachio and a spring strata loaded with onions, herbs and asparagus. Finally, to finish there's a perfect bite of sweet berry coffee cake with a pecan-sugar-crumb topping. If only every day started this way…