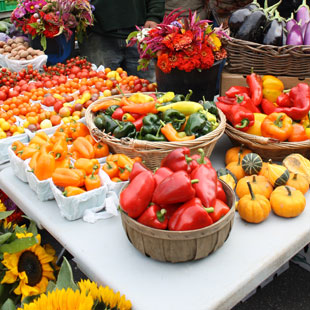 Find out how increasingly popular online farmstands combine the bounty of local farmers' markets with the convenience of online shopping.
A new crop of online farmstands is providing family farms and small-scale food vendors with an aggregated venue to sell their products online. With no membership requirements, minimum orders or commitments, these sites give you a way to get the best local farms and food artisans have to offer with just a few clicks of your mouse. You pay by credit card and your selection is delivered to your doorstep or a convenient pick-up location.
The websites are sprouting faster than spring peas. Former Wall Streeter Todd Greenfield has created the most ambitious to date, americasfarmstand.com, with nationwide farms and delivery. Greenfield spends two weeks of each month visiting and selecting the small family farms and artisans that appear on the site. Rob Spiro, a former software techie with Google, has built up Goodeggs.com, which brings Bay Area produce to some San Francisco neighborhoods and hopes to expand in the coming year. And in Vermont, Suzy Hodgson has cofounded yourfarmstand.com, which now supports more than 12 local markets in towns around that state and plans to expand across the country to any community that wants to start a market.
The convenience isn't just for consumers. "It's great for farmers too," notes Hodgson. "Manning a farmstand means at least six hours away from the field." If farmers have a bumper crop of tomatoes, the website offers them the flexibility to easily sell their extra produce. Plus, it's one more way to reach people.
Americasfarmstand.com
Region: Nationwide
Beyond Meat & Veggies: Maine lobsters, dill pickles, dog food, grapeseed oil
The Deal: Hand-selected sustainable family farms around the country, most organic.
Relayfoods.com
Region: Virginia, Baltimore, D.C.
Beyond Meat & Veggies: Local trout, pet food, buckwheat pound cake
The Deal: While the emphasis is on local and organic products, it also offers some conventional grocery store brands.
Greenling.com
Region: Texas
Beyond Meat & Veggies: Local kombucha, lemon marmalade, a prepacked "local box" of produce, which could include limes, avocados, arugula and pea sprouts
The Deal: Dedicated to local agriculture and sustainable farming, but also offers Heifer International shares and some national organic food brands.
Yourfarmstand.com
Region: Vermont, with plans to expand
Beyond Meat & Veggies: Croissants, applesauce, mustard, honey, maple syrup
The Deal: Neighborhood farms and food artisans (after receiving setup support, each local market is independently operated).
Goodeggs.com
Region: California's Bay Area, with plans to go nationwide
Beyond Meat & Veggies: Gluten-free breads, fresh crab, piroshki, baby food, bagels, soul food
The Deal: Only local farms and food artisans.