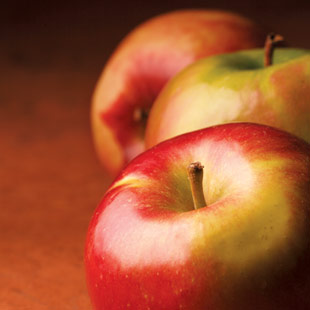 Say "fall" and "food" and the first things I think of are apples and squash—two foods that are most certainly in the arsenal of ingredients that help you to stay trim when the weather turns cool. Here's why I love these slimming fall foods, plus three others you should be eating this season:
Apples:
I always have an apple stashed in my bag for an on-the-go snack. Low in calories and high in fiber (95 calories and 4 grams of fiber per medium fruit), apples are satisfying
and
sweet. And in a recent study from Florida State University,
dried
apples also helped participants lose some weight. Women who ate a cup of dried apples daily for a year lost weight and lowered their cholesterol. The researchers think that antioxidants and pectin (a type of fiber) may be responsible for the benefits—and say fresh apples probably would be even more effective. Find out:
What's the Best Apple for Eating and Baking?
| | |
| --- | --- |
| | Squash: No doubt squash (I love butternut) is good for you: 1 cup, cooked, delivers 214 percent of the recommended daily value for vitamin A and a third of your recommended daily dose of vitamin C. As far as "starchy sides" go, squash is a calorie bargain: just 80 calories per cup. (The same amount of sweet potato will cost you 180 calories. Not that there's anything wrong with sweet potatoes. They're a fabulous fall food too.) I also love to add pureed squash to soup: it makes this soup creamy for few extra calories—and no extra fat. |
| | Broccoli: We eat a lot of broccoli in my house, partly because my little boys love it just as much as my husband and I do. Usually, I roast it with a little olive oil until it's tender and just slightly crispy and serve it as a side. (Lifesaver: EatingWell's handy guide to roasting vegetables.) Often, I use it to "bulk up" a whole-wheat penne recipe: studies show that incorporating vegetables into a dish like pasta help you to eat fewer calories. Why? You're adding volume—which helps you to feel fuller—with very few calories. I also love it raw, dipped in hummus. A cup of broccoli (31 calories, 2.4 grams of fiber) plus 2 tablespoons of hummus (about 50 calories, 2 g fiber) is a satisfying low-cal snack. |
| | Kale: These days, this dark leafy green is sort of the icon of good health. Like broccoli, cauliflower and cabbage, kale is a cruciferous vegetable, packed with those isothiocyanates that amp up your body's detoxifying power; plus, it has tons of vitamin A and loads of fiber. We eat kale a couple times a week (full disclosure: I buy the prewashed bagged kind—it's just as nutritious). I like to make it into a hearty salad or bake the leaves into kale chips. They're amazing: for 110 calories, and half the total fat of potato chips, they deliver 6 grams of fiber per serving. The perfect fix for my salt cravings. Get our easy kale chips recipe and more: 18 Kale Recipes You Should Try Right Now. |
| | Cabbage: At 17 calories per cup—and no, that's not a typo—cabbage pretty much counts as a "free food" in my book. Slaw is a standard at my house: I shred cabbage, carrots and broccoli stalks in my food processer, then dress it up with a drizzle of olive oil, lots of rice vinegar and season with salt and pepper. This simple side is particularly awesome with pulled pork or chicken sandwiches. Cabbage also adds texture to a tossed salad and makes a great topping for tacos. Health bonus: Studies suggest that cabbage may help fight breast, lung, colon and other types of cancer. |