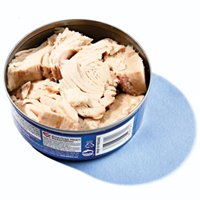 Wash Away Sodium:
Most of the sodium in our diets—approximately 77%—comes from prepared or processed foods, but sometimes using convenience items, like canned beans and tuna, can make it easier to eat more healthfully. The good news: rinsing those canned foods will remove much of their sodium.
More Ways to Cut Sodium:
Low-Sodium Dinner Recipes
6 Easy Ways to Cut Sodium
The #1 Food You Should Cut Back On—and 3 Ways to Do It
Every day for American Heart Month, we're posting a quick tip to help you eat for a healthier heart. Join the Healthy Hearts Club group for daily heart-healthy tips throughout the month of February.