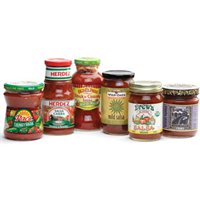 When It Comes to Sodium, Shop Around. Comparing the sodium content for similar foods can save hundreds of milligrams of sodium. For example, the sodium content for frozen pizzas ranges from 450 mg to more than 1,200 mg. The range among salad dressings is 110 to 505 mg. Salsas: 120 to 240 mg.
More Ways to Cut Sodium:
The #1 Food You Should Cut Back On—and 3 Ways to Do It
Every day for American Heart Month, we're posting a quick tip to help you eat for a healthier heart. Join the Healthy Hearts Club group for daily heart-healthy tips throughout the month of February.